Review by Gary Tooze
Studio:
Theatrical: Sony
Video: Sony Pictures Classic
Disc:
Region: 'A'
Runtime: 1:52:43.757
Disc Size: 38,445,877,459 bytes
Feature Size: 29,541,181,440 bytes
Total Bitrate: 34.94 Mbps
Chapters: 16
Case: Standard Blu-ray case
Release date: March 10th, 2009
Video:
Aspect ratio: 1.85:1
Resolution: 1080p
Video codec: MPEG-4 AVC Video
Audio:
Dolby TrueHD Audio English 2735 kbps 5.1 / 48 kHz / 2735 kbps / 24-bit (AC3 Core: 5.1 / 48 kHz / 640 kbps)
DUB: Dolby Digital Audio French 640 kbps 5.1 / 48 kHz / 640 kbps
Commentary: Dolby Digital Audio English 192 kbps 2.0 / 48 kHz / 192 kbps / Dolby Surround
Commentary: Dolby Digital Audio English 192 kbps 2.0 / 48 kHz / 192 kbps / Dolby Surround
Subtitles:
English, English (SDH), French, none
Extras:
• Commentary by Producer Neda Armian, Screenwriter Jenny Lumet and editor Time Squyres
• Commentary
with actress Rosemary DeWitt
• Nine Deleted Scenes (18:52)
•
Cast and Crew Q + A (49:21)
• A Look Behind the Scenes of Rachel Getting Married (15:48)
• The Wedding Band (7:47)
BD-LIVE enabled
Bitrate: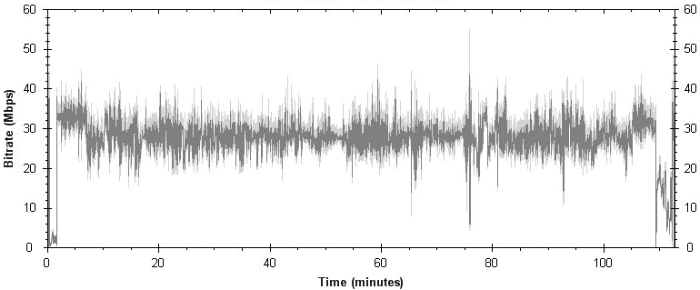 Description: When Kym (Anne Hathaway - Golden Globe Nominee, Best Actress, Motion Picture (Drama)), returns to the Buchman family home for the wedding of her sister Rachel (Rosemarie DeWitt), she brings a long history of personal crises, family conflict and tragedy along with her. The wedding couple's abundant party of friends and relations have gathered for a joyful weekend of feasting, music and love, but Kym - with her biting one-liners and flair for bombshell drama - is a catalyst for long-simmering tensions in the family dynamic. Filled with the rich and eclectic characters that remain a hallmark of Jonathan Demme's films, Rachel Getting Married paints a heartfelt, perceptive and sometimes hilarious family portrait.
The Film:
The rules say that critics don't discuss movies after screenings. After I saw Jonathan Demme's "Rachel Getting Married" for the second time, however, a friend asked: "Wouldn't you love to attend a wedding like that?" In a way, I felt I had. Yes, I began to feel absorbed in the experience. A few movies can do that, can slip you out of your mind and into theirs.

[...]

Demme's achievement is shared with the original screenplay by Jenny Lumet. This is her first writing credit, but the story might have felt like second nature to her. She is descended from artists; her grandparents on her mother's side were the singer Lena Horne and the jazz legend Louis Jordan Jones; her grandparents on her father's side were Baruch and Eugenia Lumet, an actor-director and an actress. Her father is director Sidney Lumet, and her mother, writer Gail Lumet Buckley. The apple did not fall far from those trees. I don't have to be told that her life has included countless gatherings of the nature of Rachel's wedding. Although I do not know Sidney Lumet well, I know enough to say he is kind and warm; I suspect he was an inspiration for the character Paul, who can hear Carol even when she isn't talking.
Excerpt from Roger Ebert at The Chicago Sun Times located HERE
Image :
NOTE: The below Blu-ray captures were ripped directly from the
Blu-ray disc.
With an extremely kinetic hand-held camera Demme's Rachel Getting Married may not be the best case for extolling the glories of high-definition on Blu-ray. To represent the 'Indie' feel that the director loves there isn't a time I can recall in the film's almost 2-hour running time when the camera is totally static. This is not to say it doesn't look faithful - or poor. It appears to look exactly as intended. Lighting is not a key production factor and a healthy chunk of the film is shot outdoors. I have no evidence to support that the film looked any better theatrically - in terms of detail, colors or depth. It can tend to look like a polished home video (with HD-CAM as the film negative format) and this feeling is a strong part of the film's enjoyment in my opinion. Throw out the glitz and glossy transfers of blockbuster - this is 'real life' evolving a story directly in front of you. Technically it seems competent being dual-layered with the feature taking up almost 30 Gig and the bitrate is strong - approaching the mid-30's. Daylight scenes and close-ups can look exceptional but overall purchasers should be prepared to embark on more grassroots visuals - which suit the film absolutely perfectly. I don't know that this Blu-ray image will dramatically surpass the SD-DVD, but when it does it will be in more subtle points of appearance - but regardless, colors, detail and depth will surely be best represented by this 1080P offering - certainly the best way to bond with Rachel Getting Married in your home theater.
CLICK EACH BLU-RAY CAPTURE TO SEE ALL IMAGES IN FULL 1920X1080 RESOLUTION
Audio :
We are given TrueHD 5.1 which sounded perfect with extraneous party sounds (glasses, chatter, laughter etc.) coming from all parts of the room. It again supports the 'Indie' representation. Original music by Donald Harrison Jr. and Zafer Tawil with 'The Wedding Band' sounded pure, sweet and real - which is the best compliment that I can extol. There are a French language DUB and the 2 commentaries are in 2.0 channel. Subtitles are offered in only English and French and lead us to believe this may be region-locked - but we modify if this proves to be inaccurate.
Extras :
Supplements offer the choice of two commentaries - the first a joint effort with producer Neda Armian, screenwriter Jenny Lumet and editor Time Squyres and the second with actress Rosemary DeWitt. Like the film there is a laid back quality about the way the information is imparted with each participant giving their frame of reference for the selected topics and oncsreen activity from production, to the script, to performance. There are Nine Deleted Scenes running almost 20 minutes and a 3 featurettes. A Look Behind the Scenes of Rachel Getting Married runs about 15 minutes, there is a brief segment on The Wedding Band music and a more extensive Cast and Crew Q + A with Demme and many of the cast and crew in attendance. This runs almost 50 minutes long. Finally there is a trailer and the Blu-ray is BD-LIVE enabled.
BOTTOM LINE:
Certainly a very warm, rewarding and 'human' film experience that many can relate. The Blu-ray won't blow your socks off visually with ultra bright visuals and a glossy pristine look - thankfully. This is one to expect the film's Altman-like brilliance to carry your enjoyment. Demme's created a real gem here and I hope this starts a new trend of similar masterpieces.
Gary Tooze
March 1st, 2009