Review by Gary Tooze
Studio:
Theatrical: MGM
Video: MGM
Disc:
Region: 'A'
Runtime: 1:46:14.368
Disc Size: 46,012,873,209 bytes
Feature Size: 29,027,733,504 bytes
Average Bitrate: 36.43 Mbps
Chapters: 35
Case: Standard Blu-ray case
Release date: March 24th, 2009
Video:
Aspect ratio: 2.35:1
Resolution: 1080p
Video codec: MPEG-4 AVC Video
Audio:
DTS-HD Master Audio English 4093 kbps 5.1 / 48 kHz / 4093 kbps / 24-bit (DTS Core: 5.1 / 48 kHz / 1509 kbps / 24-bit)
DUBs: Dolby Digital Audio French 448 kbps 5.1 / 48 kHz / 448 kbps
Dolby Digital Audio Portuguese 448 kbps 5.1 / 48 kHz / 448 kbps
Dolby Digital Audio Spanish 448 kbps 5.1 / 48 kHz / 448 kbps
Subtitles:
English, Chinese (traditional and simplified), French, Korean, Portuguese, Spanish, none
Extras:
•
'Another Way to Die' Music Video (4:31)
•
'Bond on Location' featurette (24:45 in HD - as are all featurettes!)
• 'Start of Shooting' featurette (2:54)
• On Location (3:14)
•
'Olga Kurylenko and the Boat Chase' featurette (2:15)
•
'Director Marc Forster' featurette (2:45)
•
'The Music' featurette (2:36)
• 4 Crew Files - Behind the Scenes Clips (45:30)
•
Theatrical and Teaser trailers
•
Previews of
Valkyrie
,
Australia
, and
The Day the Earth Stood Still
Bitrate: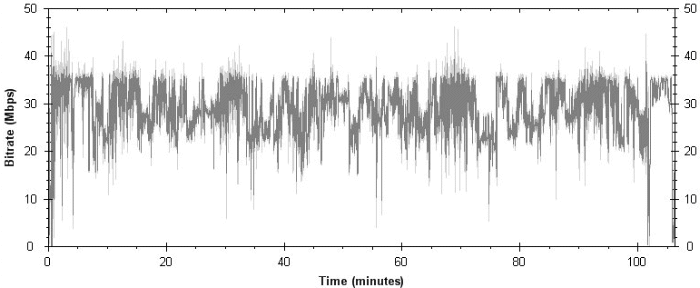 Description: Daniel Craig returns as James Bond in this thrilling, action-packed adventure which starts shortly after Casino Royale ends. Betrayed by the woman he loved, 007 fights the urge to make his latest mission personal. On a nonstop quest for justice that crisscrosses the globe, Bond meets the beautiful but feisty Camille (Olga Kurylenko), who leads him to Dominic Greene (Mathieu Amalric), a ruthless businessman and major force within the mysterious "Quantum" organization. When Bond uncovers a conspiracy to take control of one of the world's most important natural resources, he must navigate a minefield of treachery, deception and murder to neutralize "Quantum" before it's too late!
The Film:
Quantum Of Solace picks up moments after the credits rolled at the end of Casino Royale, with Daniel Craig's bereaved and blooded Bond in Siena, wrecking his Aston Martin in a pre-credits car chase complicated by thick traffic, twisty mountain roads and emotional Italian drivers. In his car-boot, with a bullet in his leg, is Mr White (Jesper Christensen), a higher-up in the cartel (Quantum) which employed and then killed the baddie of the earlier film, and who Bond blames for the death of the girl he loved last time round. Mr White is taken to be grilled by M, just as the local horse race (the palio) is taking place (obviously, the filmmakers saw the documentary The Last Race too), only for the villain to sneer that MI6 and the CIA obviously know nothing about Quantum's many well-placed agents, whereupon someone presumably trustworthy pulls a gun – and Bond is back in action, leaving wounded enemies and allies behind as he barges through crowds, runs up stairs, dangles from scaffolding and dodges swinging girders to get his man.

In an era marked by franchise bloat, it's entirely admirable that Quantum of Solace is the shortest Bond movie to date – it drops a great many of the long-running series mannerisms (callous quips, expository lectures, travelogue padding, Q and Moneypenny) as it globe-trots urgently from Italy to Haiti to Austria to Italy again to Bolivia to Russia with stopovers in London and other interzones.
xcerpt from Empire Online located HERE
Image :
NOTE: The below Blu-ray captures were ripped directly from the
Blu-ray disc.
The image of Quantum of Solace in Blu-ray is not pristinely sharp but balances nicely between rough hone grain and apparent detail. It can look extremely impressive at times. Outdoor shots are brilliant and colorful; wand indoor sequences exhibit strong black levels. This 1080P image has a thickness that really resembles film - especially outside the abundant action sequences. Detail is only notable in high levels via infrequent close-ups but the image presentation is consistent and life-like. This is, expectantly, a dual-layered disc reaching almost the 50 Gig capacity and hence the bitrate is impressive. I wouldn't be surprised if this was an extremely faithful representation of the theatrical film - dependant, of course, on the system you are viewing it on. This image doesn't give a glossy artificial look, but a realistic dense grain-filled one. It is exceptional.
CLICK EACH BLU-RAY CAPTURE TO SEE ALL IMAGES IN FULL 1920X1080 RESOLUTION
Audio :
Outside 3 foreign language 5.1 DUBs, we have an intense DTS-HD Master Audio English at 4093 kbps. It's as aggressive as you might expect for a Bond film.
The film's mix has a strong range covering even more subtle aspects of the onscreen activity. Of course, explosions, car and plane chases and extensive gunplay explode around the room with realistic fury
. It's as dynamic as one might surmise. Subtitles are offered in a variety of options indicating this may, indeed, be region-free - but we will post as it becomes confirmed (either way).
Extras :
Perhaps somewhat lighter than fans might anticipate. Aside from two healthy pieces there are a number of small featurettes running about 3 minutes or less each and a music video and trailers. 'Bond on Location' is in HD - and runs around 25-minutes highlight brief segments on production with sound bytes from many involved in the film including Barbara Broccoli, Michael Wilson, Gemma Arterton, Daniel Craig and Marc Forster. 4 Crew Files - Behind the Scenes Clips are in SD and run over 45 minutes - not offering much in the way of value. So no commentary and certainly some 'filler'.
BOTTOM LINE:
I wasn't that keen on the Craig Bond Casino Royale and liked this more. Certainly segments were not as overly long and drawn out as they were in that film (with 1/4 of that film being a poker game). Bond's professionalism was reminiscent of Connery and his 'emotional pain' was subtly portrayed although still wearing his revenge on his sleeve. Anyway, this Blu-ray has an excellent transfer although extras are weak. With the explosive audio is produced a wonderful night in the home theater. So, for that, we recommend.
Gary Tooze
March 12th, 2009