Review by Gary Tooze
Studio:
Theatrical: Warner
Video:
Warner Home Video
Disc:
Region: FREE!
Runtime: 1:37:06.111
Disc Size: 22,064,938,979 bytes
Feature Size: 15,496,802,304 bytes
Average Bitrate: 18.10 Mbps
Chapters: 25
Case: Standard Blu-ray case
Release date: February 10th, 2009
Video:
Aspect ratio: 2.35:1
Resolution: 1080p
Video codec: VC-1 Video
Audio:
Dolby Digital Audio English 640 kbps 5.1 / 48 kHz / 640 kbps
DUBs: Dolby Digital Audio French 640 kbps 5.1 / 48 kHz / 640 kbps
Dolby Digital Audio Portuguese 640 kbps 5.1 / 48 kHz / 640 kbps
Dolby Digital Audio Spanish 640 kbps 5.1 / 48 kHz / 640 kbps
Subtitles:
English, English (SDH), French, Portuguese, Spanish, none
Extras:
• The Nature of Love (21:23 in HD!)
• In Rodanthe with EmmyLou Harris(12:15 in HD!)
• A Time for Love: Keeping Up With Nicholas Sparks (11:25 in HD!)
• Deleted and Alternate Scenes with optional commentary (7:20 in HD!)
• Music Video (4:09 in HD)
• BD-Live
Second disc - Digital Copy Disc
Bitrate: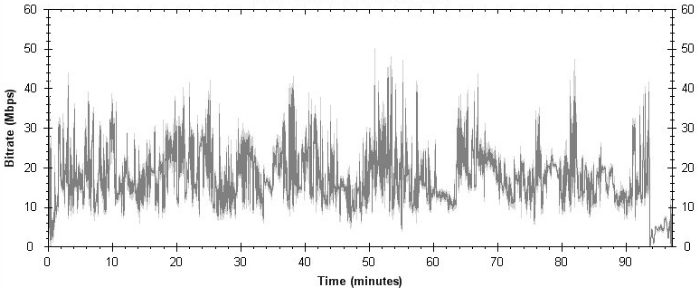 Description: The stars of Unfaithful rekindle their screen chemistry in this rich tale of hearts awakenings from the bestseller by Nicholas Sparks (The Notebook, Message in a Bottle). Richard Gere is Paul, a surgeon who long ago unwittingly traded career for family. Diane Lane is Adrienne, a devoted mother trying to move on after her husbands infidelity and struggling with his desire to return to their marriage. At a remote inn on the Outer Banks, both separately expect to do some serious soul-searching. But an approaching storm forces each to turn to the other for strength, setting the stage for a life-resonating romance.
The Film:
"Nights in Rodanthe" is what Variety likes to call a "weeper." The term is not often intended as praise. The movie attempts to jerk tears with one clunky device after another, in a plot that is a perfect storm of cliche and contrivance. In fact, it even contains a storm -- an imperfect one.

The movie stars Richard Gere and Diane Lane, back again, together again, after "Unfaithful" (2002). I have no complaints about their work here. Admiration, rather, as they stay afloat despite the film's plot, location, voice-overs and not-very-special effects. They are true movie stars and have a certain immunity against infection by dreck...
Excerpt from Roger Ebert at the Chicago Sun-Times located HERE
Image :
NOTE: The below Blu-ray captures were ripped directly from the
Blu-ray disc.
Image quality on the Blu-ray of Nights in Rodanthe looks quite good but far from great. Strength in close-ups and detail though never seems consistent and there may be a touch of boosting in some of the colors and black levels producing some undesirable edge-enhancements. There seems to be an abundance of blue in the image. I wouldn't say it is overly-manipulated and doesn't look too glossy but it leans in that direction. There is background noise and the bitrate is unremarkable on this single-layered Blu-ray disc. While it looks far better than SD - there are some limitations in the visuals but this matches the film itself so it may be considered a wash to some. Acceptable for the content but not reaching the highest levels of the format.
CLICK EACH BLU-RAY CAPTURE TO SEE ALL IMAGES IN FULL 1920X1080 RESOLUTION
Audio :
Nothing exceptional in the 5.1 track - no HD lossless options are offered. Some Ocean sounds and wind make it to the rear speakers but it not demonstratively separated or shows any great depth or range. This is mostly a dialogue-driven front-speaker affair. For DD 5.1 the mix seems competent - nothing more. There are DUBs and subtitle options available. Being Warner will we assume this is Region FREE.
Extras : 8
No commentary but plenty of featurettes - and all in HD. None of these seem available on the DVD edition. Nothing is grand enough to discuss being commonplace with sound bytes and discussions with the principals jammed between clips from the film. There is also a BD-Live and a second disc - Digital Copy.
BOTTOM LINE:
I admit a sexist attitude here and labeling this a 'chick-flic' would be fairly accurate in my opinion. It has weaknesses that many females will tend to accept in respecting the love story prominence of the film. I don't think there is anything wrong with this at all - I suspend my own disbelief for 1950's sci-fi films all the time - receiving generous enjoyment out of the presentations. As you might expect, most guys probably won't buy into a lot of this film although the performances are pretty solid- Diane Lane is always wonderful. If ever there was a modern tear-jerker though - this is it - although fans of Nick Sparks may judge this to be one of his lesser written efforts. The Blu-ray, with the added extras, should satisfy in the AV transfer department despite imperfections. I doubt anyone will look at this under a microscope demanding more purity in the image department. Despite it's limitations it satisfies much of its niche following not unlike a Harlequin Romance novel. For those keen to indulge - this Blu-ray will suffice.
Gary Tooze
February 16th, 2009