Review by Gary Tooze
Studio:
Theatrical: Sony Classics
Video: Sony Pictures
Disc:
Region: 'A'
Runtime: 1:56:57.010
Disc Size: 30,457,888,815 bytes
Feature Size: 26,609,780,736 bytes
Average Bitrate: 30.43 Mbps
Chapters: 16
Case: Standard Blu-ray case
Release date: March 3rd, 2009
Video:
Aspect ratio: 1.85:1
Resolution: 1080p
Video codec: MPEG-4 AVC Video
Audio:
Dolby TrueHD Audio French 1275 kbps 5.1 / 48 kHz / 1275 kbps / 16-bit (AC3 Core: 5.1 / 48 kHz / 640 kbps)
DUB: Dolby TrueHD Audio English 1324 kbps 5.1 / 48 kHz / 1324 kbps / 16-bit (AC3 Core: 5.1 / 48 kHz / 640 kbps)

Subtitles:
English, none
Extras:
• 7 Deleted Scenes with optional Audio Commentary by director Philippe Claudel (5:09)
• Theatrical Trailer
• Previews
• BD-LIVE enabled
Bitrate: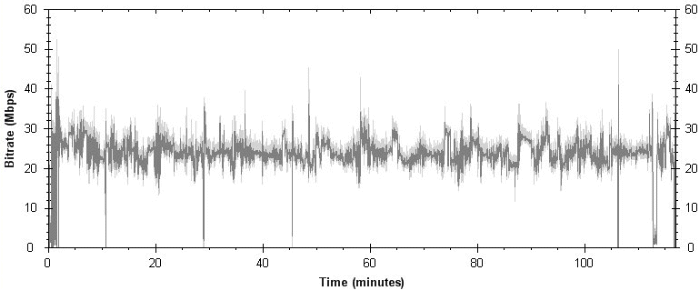 Description: Juliette Fontaine (Kristin Scott Thomas, Golden GlobeŽ Nominee for I've Loved You So Long, OscarŽ nominee for The English Patient) is a frail, haunted woman, an ex-doctor who's a shell of her former self. Having served 15 years in prison for an unspeakable crime, she's back on the "outside." With nowhere else to go, she comes to live with her loving but estranged sister Lea (Elsa Zylberstein). Together the sisters embark on a painful but redemptive journey back from life's darkest edge in this gripping drama of struggle and salvation.
The Film:
The film explores the past at arm's length; everyone is afraid to discuss it, except indirectly. No one dares ask her straight-out questions. Families are like that. There's an elephant in a lot of living rooms. At a dinner party that begins on a cheerful but somewhat uneasy note, one of the guests takes almost sadistic pleasure in asking Juliette questions it is clear she will not answer. This is social sadism in the guise of innocent curiosity.

One of the few in Juliette's corner is her probation officer (Frederic Pierrot), who understands, as the others do not, what Juliette has gone through and what 15 years in prison really do to the human spirit. She has to learn to be released, to be free, to live her life without the unconscious air of someone afraid of being locked up again. Some people appear to be friends, but only want to help her up to a point -- for example, at her first job after prison.

Everything centers on Juliette. Her transgression was more unforgivable than what Rachel's sister did. Her feelings run even deeper. She has been away for longer and finds it more difficult to gather up the threads of life. This is one of Kristin Scott Thomas' most inspired performances. The Academy may get her confused with herself.
Excerpt from Roger Ebert at the Chicago Sun-Times located HERE

Image : NOTE: The below Blu-ray captures were ripped directly from the Blu-ray disc.

Remarkably crisp image on this Blu-ray - so much so that it looks as if it may have been shot on DV - although I can find no evidence to support this and the 1.85 ratio disputes it. Detail is extremely impressive and gives the visuals some rich, 3-D, depth. Colors are also pristine with a softer palette producing consistent, gentle pastels. When the colors do get some life - they look all that more vibrant. Contrast seems some of the best I've seen in a while with pinpoint layering of dark and lighter levels. This dual-layered, Sony Blu-ray disc with over 26 Gig of space for the feature seems fairly flawless with a supporting bitrate. Outdoor scenes are bright and the MPEG-4 encode has done a magnificent job in recreating this awesome close-ups and high degree of sharpness. There is not a lot of grain or noise constricting the smoothness and this modern film appearance is wonderful indeed.
CLICK EACH BLU-RAY CAPTURE TO SEE ALL IMAGES IN FULL 1920X1080 RESOLUTION
Audio :
The Blu-ray offers TrueHD in both original French and an English DUB. The DUB seems poorly matched to the lip-sync (from what I tested) and we recommend the original French with optional white English subtitles. This is a heavy dialogue mood film with lots of quietness and no action of any notable nature. Jean-Louis Aubert's original score seems passive and soul-searching. I have no complaints with the audio rendering - the mix supports the film as it should.
Extras :
Unfortunately Sony have skimped here with only some, less consequential, deleted scenes (7 of them) with an optional commentary by director Claudel. They run a short 5 minutes and there is a trailer, some previews and an untested, at the time of this review, BD-LIVE function. I've Loved You So Long is worthy of better treatment in the supplement department.
BOTTOM LINE:

The transfer is so 'real' doing total justice the the human real
ism
of the film
. This
Blu-ray
has some spectacularly crisp images and may be one of the best looking that I have seen in a long while. This is a touching cinema experience with a strong performances by Scott Thomas - one of the best of last year
.
I've Loved You So Long
is a must-see in my opinion and the impressive
Blu-ray
is the way to do it through your home theater. Despite the lack of viable extras it is still highly recommended!
Gary Tooze
February 21st, 2009