Review by Gary Tooze
Studio:
Theatrical: Paramount Pictures
Video: Koch Vision
Disc:
Region: 'A' (probably FREE)
Runtime: 1:16:22.953
Disc Size: 23,248,058,228 bytes
Feature Size: 18,737,534,976 bytes
Average Bitrate: 32.71 Mbps
Chapters: 11
Case: Standard Blu-ray case
Release date: March 10th, 2009
Video:
Aspect ratio: 1.78:1
Resolution: 1080p
Video codec: MPEG-2 Video
Audio:
Dolby Digital Audio English 448 kbps 5.1 / 48 kHz / 448 kbps
Dolby Digital Audio English 384 kbps 2.0 / 48 kHz / 384 kbps
Dolby Digital Audio English 384 kbps 2.0 / 48 kHz / 384 kbps
Subtitles:
N
one
Extras (all in HD):
• Two Classic Gabby Cartoons (made from original feature outtakes): "Swing Cleaning" and "King For a Day" (5:53)
• The Making of a Cartoon
Bitrate: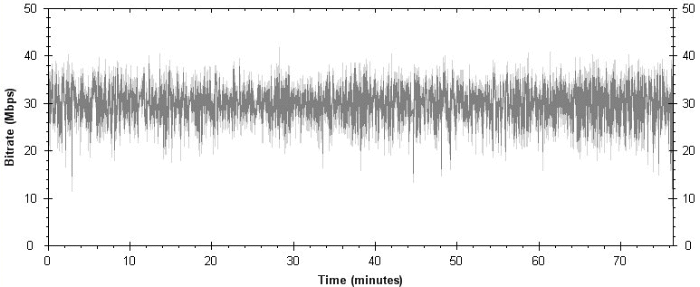 Description: Max and Dave Fleischer's animated classic. At the time of the release of "Gulliver's Travels" in late 1939, the full-length animated motion picture had reached its zenith. This great American art form turned to the retelling of Jonathan Swift's magical tales as the Fleisher's marvelous animation perfectly complimented the story. The gags were clever and the characters endearing, the music perfect, but it is the animation which remains as a lovely visual memorial to two of the men who pioneered this great art!
The Film:
Unlike Disney's "Snow White," which was preeminently a fairy tale for adults, Max Fleischer's feature-length cartoon of "Gulliver's Travels" is a fairy tale for children and for children almost exclusively. As such we have no hesitation in recommending the Paramount's new film as a pleasant and diverting animated picture-book, drawn in the brightest Technicolor, happily free from ogres, hobgoblins and other nightmare-breeders, and so broad in its humor that the littlest 4-year-old can scarcely miss its jokes.

But, by any other standards than those of the juvenile audience, the film is so far beneath the level of Mr. Disney's famous fantasy that, out of charity, we wish we did not have to make the comparisons demanded by professional responsibility. If it were only possible to soften the blow by suggesting that the second feature cartoon automatically loses the novelty-value of the first, we should be cushioning our typewriter with the excuse right now. But it is far more than novelty that "Gulliver" lacks: it is the wit, the freshness, the gayety and sparkle, the subtlety, the characterization and, for that matter, the good drawing that are the trademarks of the Disney factory.
Excerpt from the New York Times located HERE

Image :
NOTE: The below Blu-ray captures were ripped directly from the
Blu-ray disc.
Firstly, this film has slipped into the Public Domain and everyone and his brother have produced a DVD version.... but all pale in comparison to the out-of-print Hal Roach Studios Image Entertainment DVD edition using "ORIGINAL 35mm NITRATE TECHNICOLOR MASTER". This Koch Vision Blu-ray image does not appear to equal that SD-DVD although the colors are dramatically improved from most other PD DVDs. This transfer is progressive but looks quite hazy throughout using the inferior MPEG-2 encode. Another huge issue is the aspect ratio. Koch have cropped/zoomed-in this to 1.78 from its original 1.33:1. ?!? I believe this is the oldest film we have seen reach Blu-ray (edging out Pinocchio by a year - CORRECTION The Adventures of Robin Hood is indeed one year older!- thanks Mike!) but it is far from ideal. "Digitally restored and re-mastered from the original source 35mm film and enhanced for 16x9..." doesn't mean much in this case. Colors bleed and detail is non-existent. It doesn't look particularly smooth in motion either. This is probably a faithful, single-layered hi-def rendering from the source - but I am suggesting that this 'source' was quite poor to begin with. I have a strong interest in older films to Blu-ray even Public Domain stuff but for the weak and altered image we can't recommend this edition based on the image quality.
CLICK EACH BLU-RAY CAPTURE TO SEE ALL IMAGES IN FULL 1920X1080 RESOLUTION
Audio :
Audio may surpass the image quality with three options - a rather meek 5.1 boost, and enhanced 2.0 channel stereo track and a mono one (also 2.0 channel). While the mono sounded better than I anticipated it is far from a linear PCM track that would have been more ideal. The 5.1 gets little in the way of dynamic separation. There are no subtitles which might have been a decent idea. I suspect, being Public Domain, this is region FREE but I suppose we will know soon enough and post it here is it proves to be playable throughout the entire world.

Extras :
Nothing particularly notable although all three featurettes are in HD - two classic 'Gabby Cartoons' (made from original feature outtakes): "Swing Cleaning" (6:03) and "King For a Day" (6:28) and an ancient and very rough looking documentary The Making of a Cartoon (5:48).
BOTTOM LINE:
No, we can't endorse this although we love the concept of older classic to Blu-ray. This appears to have been a poor attempt and although may surpass most DVD editions for certain aspects of the image - the meager print source and aspect ratio manipulation are enough of a reason to pass. It's a shame really.
Gary Tooze
March 7th, 2009