Review by Gary Tooze
Studio:
Video: Blue Underground
Discs:
Region: FREE
Disc Size: 33,472,810,538 bytes
Feature Size: 29,734,963,200 bytes
Average Bitrate: 42.18 Mbps
Feature Runtime: 1:33:59.634
Chapters: 24
One dual-layered Blu-ray
Case: Standard Blu-ray case
Release date: January 27th, 2009
Bitrate: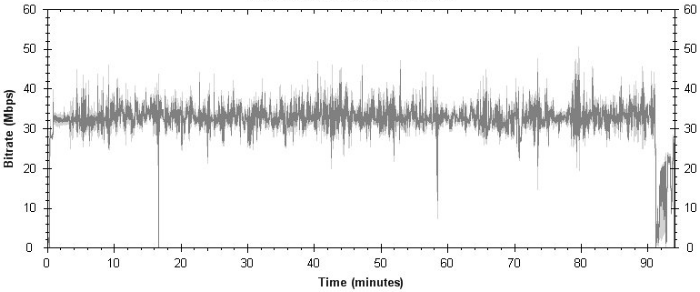 Video:
Aspect ratio: 1.78:1
Resolution: 1080p
Audio:
DTS-HD Master Audio English 2497 kbps 7.1 / 48 kHz / 2497 kbps / 16-bit (DTS Core: 5.1 / 48 kHz / 1536 kbps / 16-bit)
Dolby TrueHD Audio English 2664 kbps 7.1 / 48 kHz / 2664 kbps / 16-bit (AC3 Core: 5.1-EX / 48 kHz / 448 kbps)
Dolby Digital EX Audio English 448 kbps 5.1-EX / 48 kHz / 448 kbps
Dolby Digital Audio English 192 kbps 2.0 / 48 kHz / 192 kbps
Dolby Digital Audio English 192 kbps 2.0 / 48 kHz / 192 kbps
Dolby Digital Audio English 192 kbps 2.0 / 48 kHz / 192 kbps

Subtitles:
Feature: English, French, Spanish and none

Supplements:
• Commentary with Director Gary Sherman and David Gregory (Blue Underground)
• Second Commentary with Co-writer/co-producer Ron Shusett and actress Linda Turley
• Stan Winston's Dead & Buried EFX (SD - widescreen, 17:36)
• Robert Englund: An Early Work of Horror (SD - widescreen, 12:23)
• Dan O'Bannon: Crafting Fear (SD - widescreen, 14:24)
• Two Trailers
Product Description: Something very strange is happening in the quiet coastal village of Potters Bluff, where tourists and transients are warmly welcomed... then brutally murdered. But even more shocking is when these slain strangers suddenly reappear as normal, friendly citizens around town. Now the local sheriff (James Farentino of THE FINAL COUNTDOWN) and an eccentric mortician (Oscar winner Jack Albertson in his final feature film appearance) must uncover the horrific secret of a community where some terrifying traditions are alive and well... and no one is ever really DEAD & BURIED.
The Film:
Establishing shots of a bleak, colourless Atlantic seaboard fishing town, and the presence of Alien scriptwriter Dan O'Bannon on the credits, combine to make one expect a more adult-aimed variation on Carpenter's The Fog. Unfortunately a series of progressively grisly murders intervenes, suggesting a mere overtime-earner for the chaps at SFX; but after some irritating meanderings, the film picks up momentum and, via a splendidly staged confrontation in a Mabuse-style lab, progresses to a 'surprise' climax which, even if anticipated, must still rank a close second to the false ending of Carrie. Gruesome almost to a fault, but not quite, it emerges as an efficient shocker....
Excerpt from Timeout located HERE

Image : NOTE: The below Blu-ray captures were obtained directly from the Blu-ray disc.
The
Blu-ray
probably looks quite similar to its meager production roots - which means 'pretty weak' - especially if comparing to modern blockbuster transfers. Light damage marks and plenty of noise, some appearing as grain, infiltrate the 1.78 framed image. Colors are mostly lifeless but again - the way it was shot. There is no extravagant depth and contrast can be a bit muddy. It seems that the majority of this film was shot without great attention to bright lighting as interior shots are decided darker than one may expect. Technically it is dual-layered with the feature size being a roughly 30 Gig. I don't see evidence of DNR or edge enhancements. The encoded image is probably faithful to theatric roots but one should temper expectations to the, over 25-year age and, the limits of production. This looks nothing like Blue Underground's
Blu-ray
of The Final Countdown and, of course, this is not the same film. Bottom line is the image didn't negatively impact my appreciation of Dead and Buried and may actually have given it some nostalgic charm. I probably wouldn't have liked this as much if it was glossy and pristine. I'd then expect the effects, plot, performances to match... and they wouldn't.
CLICK EACH BLU-RAY CAPTURE TO SEE ALL IMAGES IN FULL 1920X1080 RESOLUTION
Audio & Music:
Blue Underground have added 2 lossless 7.1 bumps in the form of a DTS HD Master and a TrueHD track as well as a 5.1EX offering. I tested the three but couldn't determine any strong differences. The film doesn't have an excessive amount of audio action (screams and shrieks is about it), but dialogue and music sounded even and consistent enough without extravagance. Although, there is not much in the way of subtleties to these mixes it still seems acceptable in supporting the film in the manner fans should appreciate. There are optional subtitles offered in
English, French, or Spanish
.
Extras:
Two commentaries - the first with Blue Underground's David Gregory probing director Gary Sherman with production questions etc. and a second, a bit less formal, with co-writer/co-producer Ron Shusett and actress Linda Turley ('Midge the Waitress' from the film.) We get three featurettes - 20 minutes of Stan Winston's Dead & Buried EFX with the man discussing his career, the actor Robert Englund talks in an interview in An Early Work of Horror for about 12 minutes and Dan O'Bannon: Crafting Fear gives a solid 15 minutes with this intelligent man recollecting some psychological horror themes and his part in this production. There are also 2 trailers - nothing is in HD.
Bottom line:
Cheesy but surprisingly effective horror. I think it's great that stuff like this is reaching Blu-ray and it encourages me to watch and appreciate cinema that I would have generally given a pass to. I enjoyed this very much but fans should not expect brilliant visuals from the 1080P transfer. This is how it looks and you won't see it improved for home theater viewing anytime soon. This would be the second Blu-ray
that I've seen from Blue Underground and I encourage them to continue with clandestine cinema to this new format. This
Blu-ray
shouldn't deter anyone from this little horror. It makes it quite easy to get into an accepting mood.
Gary Tooze
January 22nd, 2009