Review by Gary Tooze
Studio: Warner
Video: Warner
Discs:
Region: FREE
Feature Runtime: 3:25:49
Chapters: 47
Disc Size: 49,115,053,618 bytes
Feature size: 42,837,405,696 bytes
Bitrate: 36.34 Mbps / VC-1 Video
One dual-layered Blu-ray
Standard Blu-ray case
Release date: January, 2009
Video:
Aspect ratio: 2.4:1
Resolution: 1080p
Video codec: VC-1
Bitrate: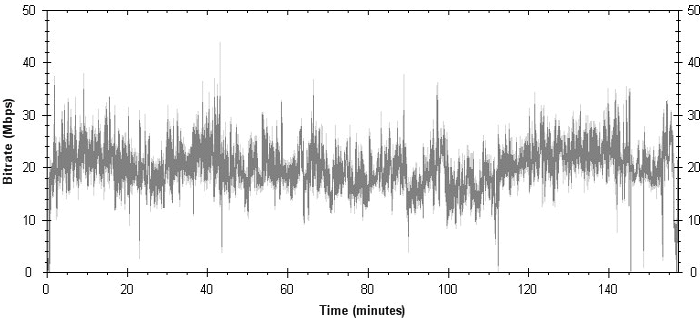 Audio:
Dolby TrueHD Audio English 1652 kbps 5.1 / 48 kHz / 1652 kbps / 16-bit (AC3 Core: 5.1 / 48 kHz / 640 kbps)
Dolby Digital Audio English 640 kbps 5.1 / 48 kHz / 640 kbps
Dolby Digital Audio French 640 kbps 5.1 / 48 kHz / 640 kbps
Dolby Digital Audio German 640 kbps 5.1 / 48 kHz / 640 kbps
Dolby Digital Audio Italian 640 kbps 5.1 / 48 kHz / 640 kbps
Dolby Digital Audio Spanish 640 kbps 5.1 / 48 kHz / 640 kbps
Commentary: Dolby Digital Audio English 192 kbps 2.0 / 48 kHz / 192 kbps / Dolby Surround
Commentary: Dolby Digital Audio English 192 kbps 2.0 / 48 kHz / 192 kbps / Dolby Surround

Subtitles:
English, Danish, Dutch, Finnish, French, German, Italian, Korean, Norwegian, Portuguese, Spanish, Swedish, none

Supplements:
• Two audio commentaries, with director Oliver Stone and another by Jamie Foxx
•
A Full Contact: The Making of Any Given Sunday (27:05 HBO First Look special)

•
Jamie Foxx Audition Tape (3-parts)
• 14 Deleted scenes with optional commentary from director Oliver Stone (32:38)
• Music Only Track (16 tracks)
• Instant Replay - Revisit the Films 10 Hardest Hitting Plays (15:42)
• Stills Gallery (the Art of Selling - posters etc, and stills from the film)
• Music Videos: "Shut Em Down" by LL Cool J and "My Name is Willie" and "Any Given Sunday" by Jamie Foxx.
Product Description: Life is a contact sport and football is life when three-time Academy Award winning filmmaker Oliver Stone and a dynamic acting ensemble explore the fortunes of the Miami Sharks in 'Any Given Sunday'. At the 50-yard line of this gridiron cosmos is Al Pacino as Tony D'Amato, the embattled Sharks coach facing a full-on blitz of team strife plus a new, marketing-savvy Sharks owner (Cameron Diaz) who's sure Tony is way too old-school. An injured quarterback (Dennis Quaid), a flashy, bull-headed backup QB (Jamie Foxx), a slithery team doctor (James Woods) and a running back with an incentive-laden contract (LL Cool J) also provide some of the stories that zigzag like diagrams in a playbook...
The Film:
Oliver Stone's "Any Given Sunday'' is a smart sports movie almost swamped by production overkill. The movie alternates sharp and observant dramatic scenes with MTV-style montages and incomprehensible sports footage. It's a miracle the underlying story survives, but it does.



The story's expose of pro football will not come as news to anyone who follows the game. We learn that veteran quarterbacks sometimes doubt themselves, that injured players take risks to keep playing, that team doctors let them, that overnight stardom can turn a green kid into a jerk, that ESPN personalities are self-promoters, that owners' wives drink, that their daughters think they know all about football and that coaches practice quiet wisdom in the midst of despair. We are also reminded that all big games are settled with a crucial play in the closing seconds.

These insights are not startling, but Stone and his actors give them a human face, and the film's dialogue scenes are effective. Al Pacino, comfortable and convincing as Tony D'Amato, a raspy-voiced curmudgeon, tries to coach the Miami Sharks past a losing streak and into the playoffs, and the movie surrounds him with first-rate performances. We're reminded that very little movie material is original until actors transform it from cliches into particulars...
Excerpt from JRoger Ebert at the Chicago Sun Times located HERE
Image : NOTE: The below Blu-ray captures were ripped directly from the Blu-ray disc.
Strong Blu-ray image - perhaps only a reasonable notch below Stone's JFK and Nixon in high definition. The camera is quite kinetic so we don't get a lot of examples of strong detail but the
VC-1 encode - frequently utilized by Warner - shows excellent colors and depth. Minor noise and grain are present. Stone's camera bounces around unlike his other films. The feature size is an impressive 42 Gig on the dual-layered
Blu-ray
- that takes up almost the entire 50 Gig capacity (its just over 49 Gig.) There is no heavy DNR or edge enhancements that I could ascertain. You may click on the screen grabs to see the full 1080 resolution. It looks about as strong as I was anticipating. This transfer is quite healthy and we endorse for visual quality. This is the 'Director's Cut' - some 6 minutes longer than the theatrical version.
CLICK EACH BLU-RAY CAPTURE TO SEE ALL IMAGES IN FULL 1920X1080 RESOLUTION
Audio & Music:

The TrueHD 5.1 is competent with noises of the football games spreading through the surround system with crowd gasps, cheers and jeers plus intense player on-field communication
. Bass is not extravagant but there is some uplifting exclamatory yells and effect noises with a gainful original score by Richard Horowitz and Paul Kelly. There are optional subtitles offered only in
English and a host of other languages assuring this to be a region-free release
.
Extras:
Quite extensive but all seems repeated from the last 2-disc DVD edition. It is stacked with 2 commentaries (Stone's articulations and a 2nd with Foxx giving his, more bland, input,) an HBO First Look special documentary, 3 Jamie Foxx auditions tapes, a half-hours worth of 14 deleted scenes with optional commentary from Stone, the isolated music track with 16 selections. 15 minutes of repeating some of the hard tackles of the film, stills galleries and 3 music videos. More than enough to suffice with kudos to Stones commentary as the best supplements of the bunch.
Bottom line:
Blu-ray
has made me appreciate Oliver Stone's work so much more. Films that I didn't bother with on DVD (for whatever prejudicial reason) I'm viewing in 1080P and thoroughly enjoying. While I don't find this the same powerhouse as
JFK
or
Nixon
it still has strong merit and seething depth. Pacino, Quaid and Foxx give all-star performances but some of the rest seem miscast. Mimicking a football game the film rises to a thrilling conclusion built, like a puzzle, with intense story outlines formulated through the first 2 hours. This is one of the best football films I've ever seen and it looks and sounds triumphant on
Blu-ray
with a host of viable extra features. Thumbs up!
Gary Tooze
January 20th, 2008