Review by Gary Tooze
Studio:
Theatrical: Paramount
Video: Paramount
Disc:
Region: 'A'
Runtime: 1:47:52.299
Disc Size: 37,133,390,052 bytes
Feature Size: 33,814,315,008 bytes
Average Bitrate: 41.80 Mbps
Chapters: 13
Case: Standard Blu-ray case
Release date: March 24th, 2009
Video:
Aspect ratio: 2.35:1
Resolution: 1080p
Video codec: MPEG-4 AVC Video
Bitrate: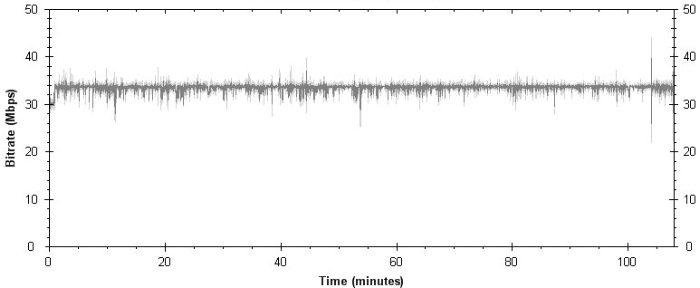 Audio:
Dolby TrueHD Audio English 3303 kbps 5.1 / 48 kHz / 3303 kbps / 24-bit (AC3 Core: 5.1 / 48 kHz / 640 kbps)
Dolby Digital Audio French 640 kbps 5.1 / 48 kHz / 640 kbps
Dolby Digital Audio Spanish 640 kbps 5.1 / 48 kHz / 640 kbps
Subtitles:
English, French, Portuguese, Spanish, none
Extras:
• Journey of Passion: The Making of A Mighty Heart (30:04)
• Public Service Announcement (Pearl Foundation) - 2:09
• Committee to Protect Journalists (8:41)
• Trailer in HD (2:23)
Description: Academy Award winner Angelina Jolie (The Good Shepherd) "gives one of the most commanding and moving performances of her career" (Richard Roeper, Ebert & Roeper) in this shocking true story based on Mariane Pearl's best-selling memoir.

After her husband, Wall Street Journal reporter Daniel Pearl (Dan Futterman, Urbania), is kidnapped by terrorists, Mariane (Jolie) heads a desperate search for clues in a frantic race against time to locate her missing husband. Directed by maverick filmmaker Michael Winterbottom (The Road To Guantanamo), A Mighty Heart is a gripping story of faith, hope and courage in the face of tragedy.
The Film:
"A Mighty Heart" begins with shots of the teeming streets of Karachi, Pakistan, a city with a population that seems jammed in, shoulder to shoulder. Terrorists will emerge from this sea of humanity, kidnap the American journalist Daniel Pearl and disappear. The film is about the desperate search for Pearl (Dan Futterman) before the release of the appalling video showing him being beheaded. It is told largely through the eyes of and based on a memoir by his widow, Mariane.
[...]
What is most fascinating about Mariane Pearl, in life and in this movie, is that she is not a stereotyped hysterical wife, weeping on camera, but a cool, courageous woman who behaves in a way best calculated to save her husband's life. Listen to her speak and sense how her mind works. While you experience the fear and tension that Winterbottom records, see also how she tries to use it and not merely be its victim. (In the same sense, the statements of the parents of Blair Holt, the boy who died in a senseless shooting on a Chicago bus, have glowed with intelligence and sanity, despite their grief.)
Excerpt from Roger Ebert at the Chicago Sun Times located HERE

Image :
NOTE: The below Blu-ray captures were taken directly from the
Blu-ray disc.
This came out in HD October 2007 - and while this probably improves by taking up more space than the single-disc capacity of that format - it may not be readily noticeable. The Blu-ray offers a healthy bitrate on the dual-layered disc and supports the film's rougher textures with visuals of the streets of India and Pakistan looking gritty, dusty and grim. There is reasonably heavy grain and if you are a fan of this style this Blu-ray will result in an impressive and theatrically accurate image. It doesn't, however, have any type of glossy, highly-detailed, appearance for most of the film but the style changes at times and this only goes to showcase versatility of the 1080P transfer. I have no complaints whatsoever but fans expecting pristine will be left wanting as the film itself did not export that look. It appears to excel over the SD-DVD (reviewed HERE) in terms of a brighter, more stable and tighter image.
CLICK EACH BLU-RAY CAPTURE TO SEE ALL IMAGES IN FULL 1920X1080 RESOLUTION
Audio :
The Blu-ray offers TrueHD in 3303 kbps as well as 2 foreign language DUBs in standard 5.1. There are very few aggressive moments - with minimal gunplay and the majority of the audio being dialogue. Extraneous sounds of crowds and marketplaces subtly separate. While the TrueHD sounds adequately crisp it may take a trained ear to distinguish it from the DVD's 5.1. Technically though - this is the best offered for home theater and there are optional subtitles.
Extras :
Duplicated from the previous SD-DVD with a quasi 'making of...' in the guise of Journey of Passion: The Making of A Mighty Heart which runs 1/2 an hour. It has input from many and gives more of a background to production etc. There is a very brief Public Service Announcement from Pearl Foundation for just over 2 minutes and a piece on a Committee to Protect Journalists for less than 10. The only think in HD is a trailer for 2.5 minutes.
BOTTOM LINE:

I liked the film both times I have seen it, and Jolie is fabulous. I don't know that the upgrade to
Blu-ray
will benefit most viewings - but it doesn't challenge the importance of the film as a whole - and it is certainly memorable. If the hi-def image and audio are paramount to your system and enjoyment - this is certainly the way to go.
Gary Tooze
March 16th, 2009