Review by Gary Tooze
Studio: Starz / Anchor Bay
Discs:
Region: 'A'
Feature Runtime: 1:54:07.841
Chapters: 26
Disc Size: 33,076,545,760 bytes
Feature Size: 29,721,077,760 bytes
Average Bitrate: 34.72 Mbps
One dual-layered Blu-ray / One digital copy DVD
Case: Standard Blu-ray case
Release date: December 19th, 2008
Video:
Aspect ratio: 2.4:1
Resolution: 1080p
Video codec: AVC
Audio:
Dolby TrueHD Audio English 3762 kbps 5.1 / 48 kHz / 3762 kbps / 24-bit (AC3 Core: 5.1 / 48 kHz / 640 kbps)
Dolby Digital Audio English 192 kbps 2.0 / 48 kHz / 192 kbps / Dolby Surround

Subtitles:
Feature: English (SDH), Spanish and none

Supplements:
• Audio Commentary with director Jeffrey Nachmanoff and Actor Don Cheadle
2 FEATURETTES:
• Action! The Stunts and Special Effects of Traitor (4:39 in HD!)
• International Espionage: An In-Depth Look at Traitor's Exotic Locations (5:13 in HD!)
• Trailers (in HD)
2nd disc - Digital Copy

Bitrate Graph: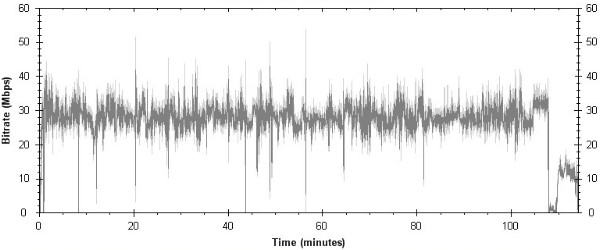 Product Description: Academy Award nominee Don Cheadle (Hotel Rwanda, Crash) and Guy Pearce (Memento, L.A. Confidential) star in Traitor, a taut international thriller set against a puzzle of covert counter-espionage operations. When straight-arrow FBI agent Roy Clayton (Pearce) investigates a dangerous international conspiracy responsible for a prison break in Yemen, a bombing in Nice and a raid in London, all clues seem to lead back to former U.S. Special Operations officer, Samir Horn (Cheadle). But a tangle of contradictory evidence emerges, forcing Clayton to question whether his suspect is a disaffected former military operative—or something far more complicated. Obsessed with discovering the truth, Clayton tracks Horn across the globe as the elusive ex-soldier burrows deeper and deeper into a world of shadows and intrigue. Traitor is written and directed by Jeffrey Nachmanoff (screenwriter of The Day After Tomorrow)...
The Film:
That's what makes the film's pure thriller elements work so well. Even in violent action scenes, the participants are forced to make instant decisions, or discoveries, about loyalties. We know from other movies how the violence will unfold, but neither we nor the combatants are sure which side everybody is on. That is true even of the urbane Omar, who is definitely a jihadist, but whose motives and their effect are paradoxical.

Don Cheadle is such a good actor. If he were more of a showboat, he would be a bigger star. But he remains the go-to man for a film like this. Except in his work like the "Ocean's" pictures or his heroic work in "Hotel Rwanda," we cannot often be certain what we are to think of his characters. He effortlessly seems too intelligent, too complex, to be easily categorized. Perhaps my doubt about the motives of Samir's father's killers was due only to confusion on my part. Even so, who would witness the death of his father by a bomb, and then be driven to become a builder of bombs? And why? It is an uncertainty potent enough to drive the entire movie...
Excerpt from Roger Ebert's review at the Chicago Sun-Times located HERE
Image : NOTE: The below Blu-ray captures were ripped directly from the Blu-ray disc.
The transfer appears competent but I don't think Traitor's style lends itself to the dramatic 1080P visuals that many have come to expect from the Blu-ray format.
There are some intentional style shots - reversal, grainy and plenty of indoor low-lit sequences
. Of course, when we do venture outside in the brighter day - colors seem all that more vibrant. Detail is acceptable but I wouldn't label it as overwhelmingly 'strong'. Black levels and contrast are quite good though. It's, expectantly, damage-free and exhibits some minor depth at times just not on the scale that some aficionados seek from
the
Blu-ray
format
. Background noise and occasional grain exist. The dual-layered disc (feature taking almost 30 Gig) is at the middle-scale of
Blu-ray
transfer status. It's consistent quality from the AVC encode is surely well above the corresponding DVD it just doesn't 'Wow' very often. Still, I'll wager it represents the film's theatrical intent as good as can be expected.
CLICK EACH BLU-RAY CAPTURE TO SEE ALL IMAGES IN FULL 1920X1080 RESOLUTION
Audio & Music:
The TrueHD track has some aggression and separation with a fair amount of action and explosions in the film. I didn't find the mix overly dynamic but sometimes I appreciate it more in that regard - when it is utilized a bit more sparingly with indulging the effects so overtly. Mark Kilian has been composing film scores for over a decade now and Traitor's original music has some decent timing - keeping effective pace with the film - and actually ending up less forgettable than some of his peers similar work. There is decent range with the music bringing the film's moods to life. There is an optional 2.0 channel track as well and English
(SDH) or Spanish subtitles available
.
Extras:
There is a fair commentary with a pretty standard discussions of production and location details (from Nachmanoff) with Cheadle chipping-in more sparingly. If you were really keen on Traitor you may wish to indulge - but those passing won't be missing very much at all in my opinion. There are 2 short featurettes (both 5 minutes) one on the stunts and the other on locations. There is sound-bite input from the principles and both are in HD along with a few trailers (also in 1080). The supplements for this disc are really nothing special. Ohhh you do get the Digital Copy for those keen.
Bottom line:
I'm never that keen to agree with Ebert but yes, I liked Traitor. I'm always rather indifferent to Guy Pearce but Cheadle has some true magnetism with the camera. I was in the mood, I guess, for the film's international flavor and espionage/thriller blend. I judge the image quality of this
Blu-ray
to be fairly mediocre but the infrequent exciting visuals and good sound from the HD track were probably what helped sell the film to me. I think, for what Anchor Bay are offering in this
Blu-ray
package - the price seems fair. An above-average thriller - great lead performance and in its best possible digital rendition for your home theater.
This makes for a confident purchase for those who feel they might like also this interesting film.
Gary Tooze
December 6th, 2008