Review by Gary Tooze
Studio: Paramount
Discs:
Region: FREE
Feature Runtime: 1:42:56.920
Chapters: 24
Disc Size: 39,846,975,699 bytes
Feature Size: 35,441,018,880 bytes
Average Bitrate: 45.90 Mbps
One dual-layered Blu-ray
Case: Standard Blu-ray case
Release date: December 30th, 2008
Video:
Aspect ratio: 1.78
Resolution: 1080p
Video codec: MPEG-4 AVC
Audio:
Dolby TrueHD Audio English 3672 kbps 5.1 / 48 kHz / 3672 kbps / 24-bit (AC3 Core: 5.1 / 48
kHz / 640 kbps)
Dolby Digital Audio French 640 kbps 5.1 / 48 kHz / 640 kbps
Dolby Digital Audio Spanish 640 kbps 5.1 / 48 kHz / 640 kbps

Subtitles:
Feature: English (SDH), French, Portuguese, Spanish and none

Supplements:
• How's It Going To End? The Making of The Truman Show (Two parts - 23:24 + 18:22)
• Faux Finishing: The Visual Effects of The Truman Show (13:16)
• Four Deleted Scenes (13:09)
-Product Placement
-Truman Suspicious
-The Future Cast Meeting
-Truman Missing
• Photo Gallery (40images)
• Teaser Trailer (1:54)
• Theatrical Trailer (2:35)
• 2 TV Spots
Bitrate Graph: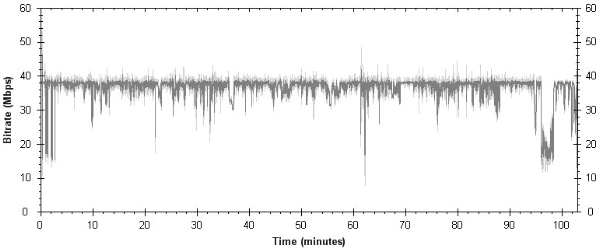 Product Description: He's the star of the show--but he doesn't know. Jim Carrey wowed critics and audiences alike as unwitting Truman Burbank in this marvel of a movie from director Peter Weir (Witness, Dead Poets Society) about a man whose life is a nonstop TV show. Truman doesn't realize that his quaint hometown is a giant studio set run by a visionary producer/director/creator (Ed Harris), that folks living and working there are Hollywood actors, that even his incessantly bubbly wife is a contract player. Gradually, Truman gets wise. And what he does about his discovery will have you laughing, crying and cheering like few film stories ever have...
The Film:
Truman's world is controlled by a TV producer named Christof (Ed Harris), whose control room is high in the artificial dome that provides the sky and horizon of Seahaven. He discusses his programming on talk shows, and dismisses the protests of those (including Sylvia) who believe Truman is the victim of a cruel deception. Meanwhile, the whole world watches Truman's every move, and some viewers even leave the TV on all night, as he sleeps.

The trajectory of the screenplay is more or less inevitable: Truman must gradually realize the truth of his environment, and try to escape from it. It's clever the way he's kept on his island by implanted traumas about travel and water. As the story unfolds, however, we're not simply expected to follow it: We're invited to think about the implications. About a world in which modern communications make celebrity possible, and inhuman...
Excerpt from Roger Ebert's review at the Chicago Sun-Times located HERE
Image : NOTE: The below Blu-ray captures were ripped directly from the Blu-ray disc.
Surprisingly
impressive 1080P image on this 10-year old film. I'm beginning to think that Paramount are producing the best
Blu-rays
in terms of image quality - certainly lately I've noted their dominance. Although I've seen over 250 high-definition discs I'm still feeling inadequate to critique. This image here seems basically flawless to me. Detail on The Truman Show is outstanding, colors are vibrant and true while noise/artefacts are seemingly non-existent through the majority of the film. I can't see that there is anything that Paramount, or anyone else, could have done to dramatically improve the visual quality of this
Blu-ray
transfer. I think simply viewing the captures below should support my feelings. It is presented in 1.78: 1 aspect ratio - the disc takes up just shy of 40 Gig with a towering bitrate of 45.90 Mbps! (Wow). It's expectantly damage-free and exhibits some depth at times. The dual-layered disc is consistent after the first few minutes that seem slightly below par. The MPEG4 encode comes through again with a fabulous image which, even considering the film's age, approaches awesome.
CLICK EACH BLU-RAY CAPTURE TO SEE ALL IMAGES IN FULL 1920X1080 RESOLUTION
Audio & Music:
Standard recently for Paramount, a TrueHD is the only English language option and it sounds pretty crisp. There isn't a lot going on with excessive effects or aggression in the track but the dialogue is crystal clear and there is some minor separations noted. There is an interesting original score from Burkhard Dallwitz - a sporadic composer for film - that while doesn't shine through as memorable - is quite competent and suitable to the narrative of the film. There are French and Spanish 5.1 DUBs and optional subtitles offered in
English (SDH), French, Portuguese or Spanish
.
Extras:
All ported over the the last SE DVD - another typical production standard for Paramount Blu-ray discs. There is a 40 minute 'Making...' featurette that tends to meander from discussing the filming location, Andrew Nicol's writing and soundbites from the cast who generally support the unique nature of the film. I enjoyed Ed Harris and the discussion of how prophetic the film has become with reality-based TV dominating much further than even the film project had imagined. There are some deleted scenes and a wasted photo gallery. Nothing really exciting and the film probably warrants a commentary.
Bottom line:
Easy-sneezy - great film - great transfer
. What more can you want? It had probably been almost 10 years since I had seen
The Truman Show
and it still holds up very well in my opinion. I admit to focusing my attention more on the impressive image than the content - but this tends to happen a lot with films I have already seen before. This is easily one the better crop of worthy
Blu-rays
in the year 2008. Absolutely Recommended!
Gary Tooze
December 13th, 2008