Review by Gary Tooze
Studio: Dreamworks Video
Discs:
Region: FREE
Feature Runtime: 1:55:33.176
Chapters: 16
Feature film disc size: 39,777,447,936 bytes
Disc Size: 42,900,518,448 bytes
Average bitrate 45.90 Mbps
One dual-layered Blu-ray
Case: Standard Blu-ray case
Release date: December 16th, 2008
Video:
Aspect ratio: 2.35:1
Resolution: 1080p
Video codec: MPEG-4 AVC Video
Audio:
Dolby TrueHD Audio English 2885 kbps 5.1 / 48 kHz / 2885 kbps / 24-bit (AC3 Core: 5.1 / 48 kHz / 640 kbps)
Dolby Digital Audio French 640 kbps 5.1 / 48 kHz / 640 kbps
Dolby Digital Audio Spanish 640 kbps 5.1 / 48 kHz / 640 kbps
Dolby Digital Audio English 224 kbps 2.0 / 48 kHz / 224 kbps / Dolby Surround

Subtitles:
Feature: English (SDH), French, Portuguese, Spanish, and none

Supplements:
• Audio commentary by Peter and Bobby Farrelly
• "The Farrelly Brothers in the French Tradition" (16:35)
• "Ben & Jerry" (5:00)
• "The Egg Toss" (8:04)
• Gag reel (4:01)
• Six deleted or extended scenes (7:27)
Bitrate Graph: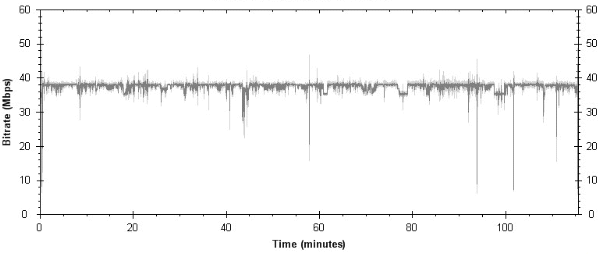 Product Description: Ben Stiller stars as Eddie, the 40-year-old confirmed bachelor who finally says "I do" to the beautiful and sexy Lila (Malin Akerman). But during their honeymoon in Mexico, the woman of his dreams turns out to be a total nightmare, and the guy who could never pull the trigger realizes he's jumped the gun. Take home the Farrelly Brothers' hysterical twist on boy-meets-girl, The Heartbreak Kid, and prepare to have a blast!...
The Film:
But the original was made in 1972 and was a darker affair altogether. Charles Grodin's 'hero' trades his homely brunette wife for Cybill Shepherd's WASP sex goddess in a pretty caddish manner and his family turn against him. The reversal of the two female types in the remake does say something about Hollywood's change in attitudes over the years - Lila's an environmental volunteer with a penchant for ethnic earrings, so she must be a flake, right? But the Farrellys steer clear of making her a totally caricatured harpy. In fact, once again their sympathy for all the protagonists is something that marks them out from most of their peers.

And there is a genuine grown-up point to be made in all this - that sometimes initial attraction is just that, and that if you can't forgive someone's faults you probably shouldn't be with them. None of this is too laboured (and there's a joyously mischievous twist at the end) but it's undoubtedly the Farellys' most mature and well-rounded piece so far. One could argue that Stiller's done this hapless Everynerd act once too often, and no Mexican stereotype is left unturned. But if it's PC social realism you're after a Farelly Brothers film has never been the best place to look. If, on the other hand, you want a masterclass in simultaneously turning the stomach and warming the heart, there's still something about them.
Excerpt from Jeff Robson's review at Eye for Film located HERE
Image : NOTE: The below Blu-ray captures were ripped directly from the Blu-ray disc.
This came out in, the now defunct, HD format back in December of 2007 but this is not the same 'transfer' as this feature alone on this Blu-ray exceeds more than the capacity of an HD disc. The Blu-ray itself is over 40 Gig and the feature just shy of that. It looks fairly competent with vibrant colors of which I suspect some boosting (grass, as one example, is always so vibrantly green.) Detail is quite strong , contrast fair (blacks occasionally crushed) and there is still some background noise but overall this image gets a passing grade. I thought I could notice some edge-enhancement but even after extensive zooming in it was not identifiable. The image is, expectantly. clean on this dual-layered disc and the Blu-ray image transfer exports a very pleasing crisp quality that gives us no reasons for complaints.
CLICK EACH BLU-RAY CAPTURE TO SEE ALL IMAGES IN FULL 1920X1080 RESOLUTION
Audio & Music:
The True HD track seems pretty capable of handling what The Heartbreak Kid brings to your sound system. There aren't many moments of demonstrative separation but there are plenty of cool songs in the soundtrack - including Bowie and Springsteen - that sound darn good. Your rear speakers won't get a strong workout but dialogue is crystal clear. There are 2 foreign language 5.1 DUBs and optional subtitles offered in English (SDH), French, Portuguese or Spanish.
Extras:
Nothing new beyond the previous SD-DVD and HD-DVD releases. The commentary is kinda fun and the Farrellys can be somewhat charming in their own way. The featurettes are more-or-less filler with things like an Egg Toss contest for the crew. I did get a chuckle out of a couple of the deleted scenes/Gag reels outtakes and with the commentary there is some value to the supplements. If you enjoyed the film - you may wish to indulge.
Bottom line:

The general consensus is rather indifferent towards this
Heartbreak Kid
're-make' and compared to some other Stiller comedies (
Meet the Parents
,
Zoolander
) this is not at the same caliber. There is some unnecessary gross humor that doesn't gel as well with Stiller as the lead but there were at least three totally hilarious scenes in the film - that made me laugh more than I have in a long while. I actually watched this entire film twice - so I'm not
as
critical as some. I think it could have been better but this
Blu-ray
gives you the definitive transfer for your home theater. There are far worse ways to spend an evening than watching this Ben Stiller/Farrelly brothers comedy - so that's a sort-of recommendation.
Gary Tooze
December 8th, 2008