Review by Gary Tooze
Studio: Paramount
Discs:
Region: 'A' (quite probably region FREE!)
Feature Runtime: 1:50:01.636
Chapters: 16
Disc Size: 45,857,686,775 bytes
Feature Size: 36,992,367,168 bytes
Average Bitrate: 44.83 Mbps
One dual-layered Blu-ray
Case: Standard Blu-ray case
Release date: December 27th, 2008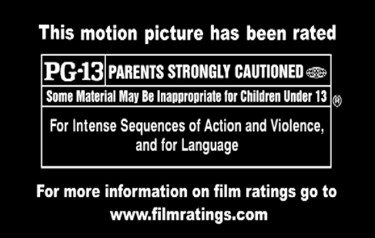 Video:
Aspect ratio: 2.35
Resolution: 1080p
Video codec: MPEG-4 AVC
Audio:
Dolby TrueHD Audio English 2837 kbps 5.1 / 48 kHz / 2837 kbps / 24-bit (AC3 Core: 5.1 / 48
kHz / 640 kbps)
Dolby Digital Audio French 640 kbps 5.1 / 48 kHz / 640 kbps
Dolby Digital Audio Spanish 640 kbps 5.1 / 48 kHz / 640 kbps

Subtitles:
Feature: English (SDH), French, Portuguese, Spanish and none

Supplements:
• How Far She Went: Making the Duchess documentary featurette (6 chapters 22:49 - in HD!)
• Georgiana In Her Own Words featurette (7:11 in HD!)
• Costume Diary feature with costume designer Michael O´Connor (5:37 in HD!)
• Theatrical trailers (1:51 and 2:36 both in HD!)

Bitrate Graph: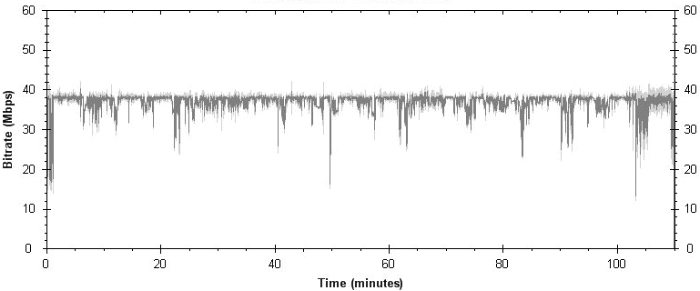 Product Description: One of history's most beguiling leading ladies, Georgiana Spencer (Keira Knightley) was married at 17 to the wealthy and influential William Cavendish (Ralph Fiennes), the fifth Duke of Devonshire -- and into a lavish world filled with shocking deceptions, decadent scandals and stifling demands of duty. As Duchess of Devonshire, she first indulged her considerable energy in high society -- outshining most of the aristocratic men around her with her incredible wit -- only to become one of the most impassioned political voices in all of 18th century Britain. Beloved by a nation but betrayed by her husband, Georgiana's charisma, political savvy and distinct flair for fashion would make her the "It Girl" of her era… but a chance for personal happiness would remain elusive until she dares to discover love on her own terms...
The Film:
Much is made in Britain of the fact that Georgiana, the Duchess of Devonshire (1757-1806) was the great-great-great-great-aunt of Diana, Princess of Wales. I wouldn't know where to start in counting my own great-great-great-great-aunts, but the Brits have an obsession with genealogy, and then too both women married men who were fabulously wealthy, had several enormous houses and kept mistresses, and both women had lovers. The difference is, Georgiana was more interesting.

She was married off by her mother at 16 to William Cavendish, the fifth Duke of Devonshire, a man who loved his dogs more than her. She was treated like chattel, valued only for her breeding ability, raped by the duke at least once, and became the most famous woman in England, save for Queen Charlotte, whose husband was merely mad. Georgiana was an outspoken liberal, a supporter of the American and French revolutions, a campaigner for one Whig prime minister (Charles Fox) and the lover of another (Charles Grey, whose daughter she bore). She was a feminist who dared to speak publicly on politics, although she accepted that women did not have the vote...
Excerpt from Roger Ebert at the Chicago Sun Times located HERE
Image : NOTE: The below Blu-ray captures were ripped directly from the Blu-ray disc.
Another exceedingly competent Paramount Blu-ray in terms of image quality. The Duchess is fairly bright and the 1080P MPEG-4 transfer seems up to support the film's classic characteristics very well. While I didn't find detail overwhelmingly sharp - it is certainly adequate and far superior to the corresponding DVD (simultaneously released). My one complaint would be that it tends to look quite glossy - of which I have no explanation. This is presented in the original 2.35 aspect ratio - the disc takes up 45 Gig (the film itself almost 37 Gig) with another gimungous bitrate of 44.83 Mbps! The image is expectantly very clean - it doesn't exhibit extensive depth but the dual-layered disc seem presents a pleasing image and the film's visuals of architecture, palatial estates and grounds can be very impressive in high-definition.
CLICK EACH BLU-RAY CAPTURE TO SEE ALL IMAGES IN FULL 1920X1080 RESOLUTION
Audio & Music:
Another TrueHD sole offering from Paramount. The film's track is passive and generally dialogue-based but there are a few subtleties that will sneak up to your rear speakers. I'd say the audio quality is fairly akin to the image strength in that it seems competent in representing The Duchess with accuracy. I don't know that I've ever noted a score by Rachel Portman - but it appears she has done many film (and TV) audio compositions. I'd say her work here is mildly engaging capturing the period with a calm, classic feel. There are French and Spanish 5.1 DUBs and optional subtitles offered in
English (SDH), French, Portuguese or Spanish
.
Extras:
This is quite a good film and a commentary might have been warranted. Instead we get the usual bland featurettes - a more extensive 'Making of...', one on costumes and another, far too short, on Georgina's letters. All are in HD as are the two included trailers.
Bottom line:

The Duchess
is very much worth seeing - especially if you are into period pieces. Basically, it's a great story - well acted and I can think of far worse ways to spend my time than watching the regal-looking Keira Knightley strut in front of the camera. As far as the
Blu-ray
goes - it has represented the film very adeptly with strong video and audio quality. Supplements are weak and would have elevated this to a stronger recommendation. Overall, this is a fine film and an equally respectable
Blu-ray
. Keira and Fiennes fans should indulge although Rampling is, unfortunately, underused.
Gary Tooze
December 20th, 2008