Review by Gary Tooze
Studio: Millennium Films (Sony)
Video: First Look Pictures
Discs:
Region: 'A'
Feature Runtime: 1:36:2
Chapters: 34
Feature film disc size: 20,967,770,112 bytes
Disc Size: 22,679,396,168 bytes
Average bitrate 29.01 Mbps
One single-layered Blu-ray
Case: Standard Blu-ray case
Release date: December 2nd, 2008
Video:
Aspect ratio: 2.35:1
Resolution: 1080p
Video codec: VC-1
Audio:
Dolby TrueHD Audio English 3971 kbps 5.1 / 48 kHz / 3971 kbps / 24-bit (AC3 Core: 5.1 / 48 kHz / 640 kbps)
Dolby Digital Audio English 256 kbps 2.0 / 48 kHz / 256 kbps / Dolby Surround

Subtitles:
Feature: English (SDH), Spanish, and none

Supplements:
• Inside The Contract (21:28)
Bitrate Graph: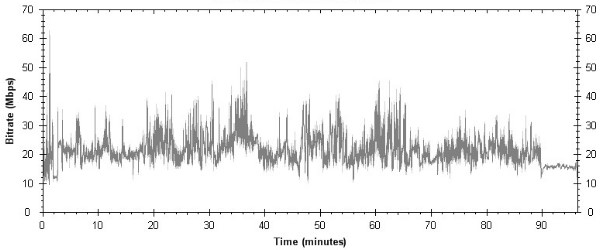 Product Description: The only thing standing between an assassin and his target is a father who must protect his son. While on a hiking trip to reconnect with his son after the death of his wife, Ray Keene (John Cusack) stumbles into a nightmare scenario of paid assassins and ex-military guns-for-hire. Frank Cardin (Morgan Freeman) is attempting to fulfill a contract to assassinate a high profile businessman when things go awry and he ends up in the custody of the U.S. Marshalls. After an ill-fated attempt by his compatriots to free him Frank finds himself in the custody of ex-lawman Ray and his son (Jamie Anderson). As the trio tries to make their way back to civilization they are relentlessly pursued by Frank's friends who are intent on freeing their leader in order to collect on the contract. But one pursuer may be more foe than friend....
The Film:
Just as water always seeks its own level, some pics originally intended as multiplex fare wind up going directly to DVD. "The Contract," a formulaic thriller that never taxes the talents of toplined Morgan Freeman and John Cusack, actually managed a smattering of playdates in offshore theaters. But this underwhelming opus appears to be in its natural habitat on a TV screen, fully justifying the decision to fast-forward to vidstore shelves in the U.S. The allure of recognizable stars toiling in a popular genre may be enough to wrest modest coin from buyers and renters. After that, latenight cable beckons.

Freeman picks up an easy paycheck as Frank Carden, a government-trained assassin-turned-freelance "exterminator" who's arrested by small-town Washington state cops after an inconvenient auto mishap. Federal agents arrive to transport the trigger man to a nearby metropolis....
Excerpt from Variety located HERE
Image : NOTE: The below Blu-ray captures were ripped directly from the Blu-ray disc.
This came out in, the now defunct, HD format back in 2007 without much fanfare for the transfer. I suspect this is the same VC-1 encode and it still looks competent but remains unremarkable. A darn sight better than SD but this doesn't rival most other highly-lauded Blu-ray discs. The image is clean without manipulations that I could determine. Black levels aand contrast is decent with the majority of the film being shot outdoors. The single-layered disc (feature taking up 20.9 Gig) probably replicates the theatrical reasonably well. It can look fairly crisp at times. The Blu-ray image transfer shouldn't deter anyone from indulging if they are interested in the film.
CLICK EACH BLU-RAY CAPTURE TO SEE ALL IMAGES IN FULL 1920X1080 RESOLUTION
Audio & Music:
The True HD track is pretty good. There are some thrilling moments and some gunfire/helicopter noises that permeate to the rear speakers. Normand Corbeil original score is befitting the film intent and has some good rifts although it doesn't appear to be a big part of the film narrative. A 2.0 channel is also available. There are optional subtitles offered in English (SDH), or Spanish.
Extras:
Inside The Contract documentary runs 20 minutes and is pretty standard fare with the expected input from many of the principles. There also claims to be a 'First Look Inside Look PiP' feature that I couldn't test.
Bottom line:
I watched this film about a year ago and I actually liked it better this second time.
It may have a run-in-the-mill feel for the thriller aspects but this still can be entertaining with the appeal of Freeman and Cusack. I expect with some more adept direction it may have evolved a bit more distinctly. Still - no high accolades nor any qualms with the video/audio on this
Blu-ray
. There are certainly worse ways to spend and evening - although I certainly realize that this is not much of an endorsement.
Gary Tooze
November 29th, 2008