Review by Gary Tooze
Studio: Paramount
Discs:
Region: FREE
Feature Runtime: 2:48:20.256
Chapters: 34
Disc Size: 35,017,186,453 bytes
Feature Size: 33,811,101,696 bytes
Average Bitrate: 26.78 Mbps
One dual-layered Blu-ray / One single-layered Blu-ray / One DVD5
Case: Standard Blu-ray case
Release date: November 26th, 2008
Video:
Aspect ratio: 2.35:1
Resolution: 1080p
Video codec: MPEG-4 AVC
Audio:
DTS-HD Master Audio French 3582 kbps 5.1 / 48 kHz / 3582 kbps / 24-bit (DTS Core: 5.1 / 48 kHz / 1536 kbps / 24-bit)

Subtitles:
Feature: English, French, and none

Supplements:
•
Atlantis - second Blu-ray (single-layered)
• DVD with 'Making of' and Cannes Press Conference
Bitrate Graph: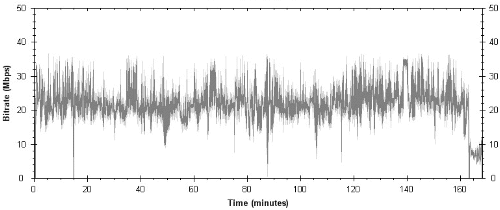 Product Description: Experience the peril and intensity of free-diving the world s most dangerous sport in The Big Blue. Jacques (Jean-Marc Barr Breaking The Waves) and his friendly rival Enzo (Jean Reno The Professional) are considered masters of free-diving and have made a career out of this one-of-a-kind competition. Jacques life-long obsession with diving comes from his unusual bond with the sea while Enzo thrives on the challenges of its inherent danger. In his travels Jacques meets Johanna (Rosanna Arquette Pulp Fiction) who is attracted to his innocent qualities and follows him across Europe to share his adventures triumphs and ultimately tragic bond with Enzo. With breathtaking underwater photography and matching musical support from Eric Serra (The Fifth Element) The Big Blue immerses you in a life and death adventure you'll never forget. Starring: Rosanna Arquette Jean-Marc Barr and Jean Reno...
The Film:
Anyone who saw the magnificent Leon would agree that director Luc Besson is a truly gifted man. He has for years been making slick, stylish, visually arresting movies that combine serious themes with flashes of comic brilliance. He made his name in France in the `80s with three amazing films: Subway and La Femme Nikita, both fast-moving action-type movies, and this one.

Besson here gives us a very different experience than we are used to from him; a languid, meditative exploration not of the sea itself, but of its effect on two men whose draw to it comes dangerously close to obsession. The aquiline Jean-Marc Barr gives a performance that has stayed with him his whole life as free-diver Jaques Mayol and Besson's favourite actor, Jean Reno (Leon himself) is a superb foil as Enzo - Mayol's friend and rival...
Excerpt from Ben Stephens from EUFS Programme 1996-97 located HERE
Image : NOTE: The below Blu-ray captures were ripped directly from the Blu-ray disc.
Firstly - this definitely is region free and does play on Blu-ray machines worldwide. This is such a beautiful film that it's hard to know where the magnificent cinematography ends and the 1080P definition takes over in presenting us with such a stellar image. I actually owned this on LaserDisc (anyone remember that?) but this is the 'extended version' mostly in French with optional English subtitles. Some of Rosanne Arquette is DUBb'ed but some is in her wonderfully expressive English voice. This 1080P image from Paramount (Gaumont logo starts) looks quite exceptional on Blu-ray. Colors are vibrant and detail very strong for a 20-year old film. The image isn't flawless with background noise in many of the widescreen ocean-scapes or sky vistas. Black levels are acceptable but not pristine. It's damage-free and exhibits some healthy depth at times. The dual-layered disc (feature taking up a whopping 33 Gig!) is at the high end of Blu-ray transfer status in my opinion. It's an MPEG4 encode and easily the best I've seen this film look. I am highly impressed and love to watch this film - even in segments simply for its beautiful visuals.
CLICK EACH BLU-RAY CAPTURE TO SEE ALL IMAGES IN FULL 1920X1080 RESOLUTION
Audio & Music:
A DTS-HD Master track in French is the only option. The DUBb'ed dialogue is weak at times but Eric Serra's score (it was a Bill Conti original track on the US, shorter, version) is gentle and moving - sounding just right to match the narrative. This is not an aggressive soundtrack with a minimum of effect noises and the mix will probably under-whelm those seeking a strong workout from the rear speakers. There are a few subtle separations - nice ocean sounds - which I tend to appreciate more, and overall it sounds pretty crisp without strong dynamic range. There are French and English subtitle options.
Extras:
Nothing of a supplementary nature of the first Blu-ray disc - just the feature film. But this is pretty cool - we get another Blu-ray disc transfer - on a second region-free disc (single layered) - with Besson's 'Atlantis' from 1999. It's akin to a documentary but with no dialogue at all. There is some minor French at the beginning but then its 1 hour 20 minutes of beautiful underwater images (2.35 1080P) and wonderful music accompaniment (also an Eric Serra's score in DTS-HD!). I'd never seen this film before - it extremely enjoyable and the soundtrack is exquisite.
Lastly we get a third disc - a PAL DVD - with a 1 1/2 hour "Making of..." (French only - no subs) and a 41 minute 'Festival de Cannes' press conference (also only in French).
Bottom line:
I would have bought this on Blu-ray even without the English subtitles - so you know where I am coming from. The high-definition image quality exceeded my expectations and the inclusion of 'Atlantis' in hi-def makes for an even easier sell. Those expandable screen grabs should give you a good idea of the image transfer is for Le Grande Bleu. I feel like I've made a great find here
. STRONGLY recommended!
Gary Tooze
December 4th, 2008