Review by Gary Tooze
Studio: Warner Brothers
Video: ITV DVD (UK) vs. Castle Rock Entertainment (US)
Discs:
Region: FREE
Feature Runtime: 2:22:32
Chapters: UK - 12, US - 40
Feature film disc size: 29.7 Gig (UK) vs. 23.5 Gig (US)
both dual-layered Blu-rays - US Disc Size: 31,874,132,776 bytes
Case: Standard Blu-ray case (UK) vs. Bookstyle (includes 32-page book) - US
Release date: September 29th, 2008 (UK) vs. December 2nd, 2008 (US)
Bitrates are almost duplicate: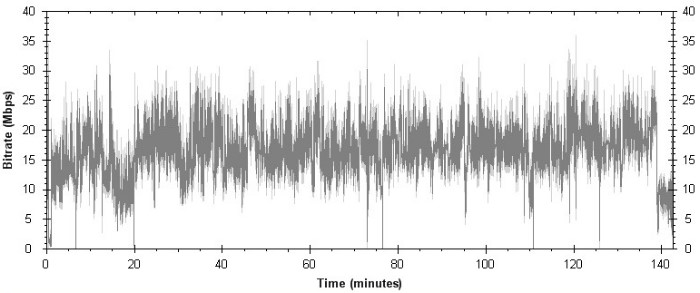 Video:
Aspect ratio: 1.78:1
Resolution: 1080p
Video codec: VC-1
Audio:
UK: English (Dolby Digital 5.1), English (Dolby Digital 2.0)
US: Dolby TrueHD Audio English 1423 kbps 5.1 / 48 kHz / 1423 kbps / 16-bit (AC3 Core: 5.1 / 48 kHz / 640 kbps), Dolby Digital Audio English 640 kbps 5.1 / 48 kHz / 640 kbps, Dolby Digital Audio English 192 kbps 2.0 / 48 kHz / 192 kbps / DUBs: Dolby Surround, Dolby Digital Audio French 192 kbps 2.0 / 48 kHz / 192 kbps / Dolby Surround, Dolby Digital Audio Japanese 192 kbps 2.0 / 48 kHz / 192 kbps / Dolby Surround, Dolby Digital Audio Spanish 192 kbps 2.0 / 48 kHz / 192 kbps / Dolby Surround
Subtitles:
UK - Feature: English, none
US - English (SDH), English, Chinese, French, Japanese, Korean, Portuguese, Spanish, none

Supplements for both:
• Commentary by Frank Darabont
• New Theatrical Trailer
• Hope Springs Eternal: A look back at the Shawshank Redemption (31:00)
• Shawshank: The Redeeming Feature (48:00)
• The Charlie Rose Show with Frank Darabont (42:19)
• Shawshank Stills and Storyboards (15:57)
• Original on Location Footage
• Original Theatrical Trailer
Exclusive to the UK edition:
• Cast Interviews - Tim Robbins (27:21), Morgan Freeman (20:54), Bob Gunton (37:45), William Saddler (32:24), Clancy Brown(15:41)
Exclusive to the US edition:
The Sharktank Redemption (24:45)
Shawshank Collectibles: the Art of Shawshank Redemption slideshow (1:22)
Product Description: City Banker Andy Dufresne (Tim Robbins) is in Shawshank State Prison after receiving a double life sentence for murder. There he meets Red (Morgan Freeman) and also forms friendships with the warden and prison guards. Andy soon finds that you either get on with living or you get on with dying.

Adapted from a novella taken from Stephen King's 'Different Seasons' (a collection of stories that would also spawn STAND BY ME and APT PUPIL), THE SHAWSHANK REDEMPTION marked the first foray into the realms of the writer for director Frank Darabont. In the years since the release of THE SHAWSHANK REDEMPTION, Darabont has directed two other King Adaptations, THE GREEN MILE and THE MIST. Considered to be a financial failure upon its release, and overshadowed by PULP FICTION and FORREST GUMP at the Oscars, THE SHAWSHANK REDEMPTION has since been re-evaluated as something of a modern classic...
The Film:
The story of Andy Dufresne, Inmate 37927 and his struggle to maintain hope.
In 1946 a young New England banker, Andy Dufresne (Robbins), is convicted of murdering his wife and her lover and sentenced to life at the Shawshank State Prison - twice over. Quiet and introspective, he gradually strikes up a friendship with the prison 'fixer', Red (Freeman), and over the next two decades wins the trust of the governor and guards, but in his heart, he still yearns for freedom. Darabont's adaptation of a Stephen King novella is a throwback to the kind of serious, literate drama Hollywood used to make (Birdman of Alcatraz, say) though the big spiritual resolution takes some swallowing - ditto the colour-blind relationships within the prison and the violent disavowal of any homosexual implications. Against this weighs the pleasure of discovering a first-time director with evident respect for the intelligence of his audience, brave enough to let character details accumulate without recourse to the fast-forward button. Darabont plays the long game and wins: this is an engrossing, superbly acted yarn, while the Shawshank itself is a truly formidable mausoleum.
Excerpt from TimeOut Film Guide located HERE
Image : NOTE: The below Blu-ray captures were ripped directly from the Blu-ray disc.
ON THE US: There do appear to be some differences. Although the US feature size is about 6 Gig smaller I honestly couldn't discern too much difference between the image quality. If I am forced to make an assumption it would be that the US may have slightly superior black levels and seems brighter in spots while the UK edition may be marginally flatter with slightly less digital noise. This may represent some minor boosting on the US edition - I can't be positive. You can see for yourself with the last three images below that are comparatively matched and I don't think they exhibit enough of a difference to be sure about my statements. NOTE: I tried to be exact but it can be very hard with Blu-ray - the 'freedom' capture is exact though - I am sure.
Both look very good - if I was forced to choose I'd take the US - but it's a personal guess. Most likely these are exact - same encode - only my eyes are playing tricks on me.
OUR COMMENTS ON THE UK EDITION: Firstly, this feature on the disc, from ITV DVD in the UK, is REGION FREE and will play on Blu-ray players world-wide. Extras are, however, in PAL and will not play on anything but PAL-SD supporting Blu-ray players.
This Blu-ray film starts with the Warner logo. It is coming to North America on December 2nd of this year - HERE. I'll assume the transfer will be the same although subtitle and audio options will be different. It looks about what one might expect from a 15-year old film. It appears quite solid but doesn't exhibit a lot of the depth people have come to expect from more modern 1080P transfers. Still, it is best I have seen to date (see our comparison of 5 different SD-DVDs HERE). It may be a shade darker than the latest SE-SD and it is fairly flat not dignifying the film with grain but on the positive we don't see an excess of noise or any digital manipulation (DNR, or EE). Technically it is dual-layered with the feature taking up 29.7 Gig of space. There are no flaws I noted with this transfer and, like the film itself, it is hard to look away from the newfound clarity and improved resolution. If the upcoming North American Warner issue is equal to this visually - I won't be, at all, disappointed. It may even be exceeded.
CLICK EACH BLU-RAY CAPTURE TO SEE ALL IMAGES IN FULL 1920X1080 RESOLUTION
UK captures
Audio & Music:

ON THE US: This is one area where the US edition definitely improves. The TrueHD mix has some special moments and has greater range and depth than the standard 5.1 offered by the UK (and is an option on the US). Some may not find it dramatically different but it's the fine subtleties that made me appreciate the TrueHD more. Both also offer 2.0 but the US has some DUB options as well as many more subtitle choices making it more the 'international edition'. The Blu-ray files are held in a folder called SHAWSHANK_NA_JP - presumably meaning North America and Japan. We don't have conclusive proof but assume this is region FREE like all Warner Blu-ray releases to date.
ON THE UK:
This
Blu-ray
offers only the same past, competent,
Dolby Digital 5.1 track (and a 2.0 channel option) that we have heard on the
Warner SE-SD
.
where one may have hoped for a TrueHD mix or the like - which we have been informed that the
North American release will have
. There is some separation depth but I expected a bit more involvement from the rear speakers. The stirring original score by Thomas Newman - Finding Nemo (2003) and WALL·E (2008) to his recent credits - is clean and crisp - sounding as good as I have ever heard it. There are optional subtitles offered only in
English - no other language choices
.
Extras:
ON THE US: Biggest difference for some is that these extras are all in NTSC and playable on region 'A' Blu-ray players. It duplicates the commentary and most featurettes - loses the Cast Interviews (kind of a shame - but not a deal breaker) but adds the spoof - The Sharktank Redemption (24:45) and also a brief bit on Shawshank Collectibles: the Art of Shawshank Redemption in a slideshow format. We should note that the US edition comes in a book-style case which includes a wonderful 32-pages worth of notes and beautiful color photos.
ON THE UK:
Seen before on previous releases - the same Darabont commentary is accessible but all other supplements are in PAL and will only play on
Blu-ray players supporting that SD standard. If you
can
access them - they are all duplicated (and only in 480 res) from previous editions with the Charlie Rose Show, interviews and two good featurettes. Nice to see Freeman, Robbins and Darabont together though. There are also some storyboard and galleries. I don't see anything new or anything that is unique to the powers of a Blu-ray format.
Bottom line:
The TrueHD is enough of a reason in my opinion to opt for the reasonably priced US CastleRock edition (presently cheaper than the ITV). For many the differences probably aren't significant but being able to access the extras (be ye PAL or NTSC-locked via Blu)
should be the final decision. An essential film to own with one of the highest-ever value for repeat viewings.
Gary Tooze
October 27th, 2008
UPDATED: November 25th, 2008