Review by Gary Tooze
Studio: Anchor Bay
Discs:
Region: FREE!
Feature Runtime: 1:40:48.042
Chapters: 16
Disc Size: 32,695,163,768 bytess
Feature Size: 25,955,284,992 bytes
Average Bitrate: 34.33 Mbps
One dual-layered Blu-ray
Case: Standard Blu-ray case
Release date: January 6th, 2009
Video:
Aspect ratio: 2.35:1
Resolution: 1080p
Video codec: MPEG-4 AVC
Audio:
Dolby TrueHD Audio English 3260 kbps 5.1 / 48 kHz / 3260 kbps / 24-bit (AC3 Core: 5.1 / 48
kHz / 640 kbps)
Commentary: Dolby Digital Audio English 192 kbps 2.0 / 48 kHz / 192 kbps

Subtitles:
Feature: English (SDH), Spanish and none

Supplements:
• Commentary by director Jon Avnet
• The Investigation - An In-Depth Look at Righteous Kill (14:23) HD
• The Thin Blue Line - The Darker Side of the Police Force (19:05) HD
• Trailer in HD (2:23)
• BD-LIVE
Disc 2 - Digital Copy
Bitrate Graph: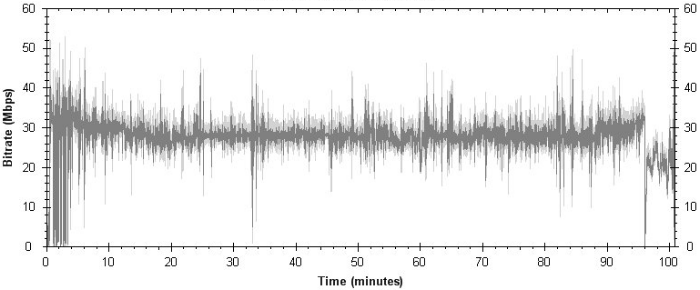 Product Description: Righteous Kill pairs two cinematic icons whose previous screen collaboration, Michael Mann's 1995 Heat, was absolutely electrifying despite minimal time together in a long movie. Now in their mid-60s, De Niro and Pacino are playing veteran cops who, despite being grizzled, should look much younger than these actors. The incongruent casting makes the dark story improbable from the get-go, and things get worse as dialogue by screenwriter Russell Gurwitz quickly sounds like a parody of vintage cop movie cliches. It's a strain to find anything that works. The two leads play longtime detectives and partners whose weariness with rapists, murderers, pedophiles and other villains appears linked to the acts of a serial killer taking out bad guys who got away with heinouscrimes. A videotape confession by De Niro's tightly-coiled Turk--who has been seeking the killer with Pacino's Rooster--would seem to establish his ties to the events. But the movie isn't over until it's over, assuming one is still with the movie after plodding along with its facsimile of noir conviction. Director Jon Avnet never gets a handle on Righteous Kill's gritty heart, superficially pushing suspense along with heavy-handed editing, and adding unpersuasive sauce in the form of Turk's somewhat S&M sexual relationship with a female cop (Carla Gugino).
The Film:
The fact that more police do not lose their moral footing is an amazing thing. Having to put their own lives in harm's way in order to protect us, police officers have to immerse themselves in the underside of humanity with all the stench that such a place emits. When their personal danger and sacrifice is added to the often frustrating reality that dangerously destructive people are able to avoid prosecution because of legal technicalities, then a sense of righteous indignation can overwhelm the soul. Though this film chronicles an extreme reaction, a psychological and moral study of these pressures is presented in Jon Avnet's film "Righteous Kill."

Written by Russell Gewirtz (Inside Man), the story is complex and engaging though its subject is dark and unpleasant. The central characters are two veteran detectives, each with over thirty years of service in the New York City Police Department. Turk (Robert De Niro) is the passionate and compassionate member of the partnership who angrily reacts to both the horror of the crimes he investigates as well as the injustices he sees in the courtroom. Rooster (Al Pacino) is the intelligent and contemplative partner who plays chess in the park as well as evaluates the next moves of the killers and rapists they are trying to capture...
Excerpt from Cinema in Focus (Denny Wayman and Hal Conklin) located HERE
Image : NOTE: The below Blu-ray captures were ripped directly from the Blu-ray disc.
A reasonably competent Blu-ray in terms of image quality. Righteous Kill doesn't have any glaring flaws and similarly doesn't show any demonstrative attributes in terms of high-definition. Anchor Bay's release uses a solid 1080P MPEG-4 transfer to support the film's rather even qualities. Director Avnet hasn't chosen any obvious signature strokes on the Righteous Kill canvas. There is a bit of shadow play but essentially we are presented with the story in generic cinematic terms. The 2.35 frame isolates a few characters well - and while I didn't find detail overwhelmingly sharp - it is certainly adequate and far superior to the corresponding DVD (simultaneously released). My one complaint would be that brighter scenes tends to look a shade green - of which I have no explanation. This is presented in the original 2.35 aspect ratio - the disc takes up 32.6 Gig (the film itself almost 26 Gig) with a solid bitrate of 34.3 Mbps. The image is expectantly very clean - exhibits a shade of depth and the dual-layered disc seem presents a pleasing image and the film's visuals of infrequent facial close-ups, dimly lit locales of apartments, bars and police stations which produce a settled and realistic presentation. While I wouldn't consider this a terribly dynamic image it is without impeding flaws and does a comfortable job in representing the film.
CLICK EACH BLU-RAY CAPTURE TO SEE ALL IMAGES IN FULL 1920X1080 RESOLUTION
Audio & Music:
A TrueHD sole offering from Anchor Bay. The film's track is not nearly as aggressive as one might expect from a vigilante cop drama. There is some gunplay and I'd say the audio quality is fairly akin to the image strength in that it seems competent. The desired effects reach the Surround system speakers but they are few and far between in Righteous Kill.
Ed Shearmur
has been composing scores for TV and film for about 15 years although nothing I could say was particularly noteworthy. However, I did like this soundtrack and was amused with the inclusion of Nat 'King' Cole's "Straighten Up and Fly Right". There are English and Spanish optional subtitles.
Extras:
There is commentary by director Jon Avnet (unmentioned in the Special Features menu) and I am enjoying his gentle rhetoric more each time I hear him. It's all fairly PC but he sounds quite genuine and is full of positive-ness about his cast and crew. You won't find any gossip or slander here - it's some production details and quite a bit on De Niro and Pacino, plus some past projects. Frankly, I'd have to agree with all his compliments as the cast in this were very strong in Righteous Kill - right down the line. We get two standard featurettes - a shade more than 1/2 an hours worth - both in HD. There is a short one on the film and a more entertaining one on the police force. Like the film though, both are entertaining, and short, enough to watch completely through. There is an HD trailer, a Blu-ray format advert (preaching to the converted) and a BD-LIVE option (not functioning at the time of this review.)
Bottom line:

Righteous Kill
is worth seeing - if only for the interplay of the two main actors. The
Blu-ray
is passable but like the film is not going to make any 'best of the year' lists.
Still, I was anxious to see De Niro and Pacino actually talk onscreen together after the diner scene in Heat
. It has, in my opinion, a weak twist that was telegraphed by trying so hard to utilize "Occam's Razor". So although the film is not particularly intelligent - it's a good enough for one to enjoy for an entertaining night in the home theater. It's probably best to temper your expectations and simply enjoy the cop-drama as it unfolds - this is no classic but still worth seeing.
Gary Tooze
December 26th, 2008