Review by Gary Tooze
Studio: Universal
Discs:
Region: FREE
Feature Runtime: 1:51:47.742
Chapters: 34
Disc Size: 45,570,216,303 bytes
Feature Size: 29,724,383,232 bytes
Average Bitrate: 35.45 Mbps
One dual-layered Blu-ray
Case: Standard Blu-ray case
Release date: December 16th, 2008
Video:
Aspect ratio: 2.4:1
Resolution: 1080p
Video codec: MPEG-4 AVC
Audio:
DTS-HD Master Audio English 4387 kbps 5.1 / 48 kHz / 4387 kbps / 24-bit (DTS Core: 5.1 / 48 kHz / 1536 kbps / 24-bit)
DTS Audio French 768 kbps 5.1 / 48 kHz / 768 kbps / 24-bit
DTS Audio Spanish 768 kbps 5.1 / 48 kHz / 768 kbps / 24-bit
Dolby Digital Audio English 192 kbps 2.0 / 48 kHz / 192 kbps / Dolby Surround
DTS Express English 192 kbps 2.0 / 48 kHz / 192 kbps / 24-bit
DTS Express English 192 kbps 2.0 / 48 kHz / 192 kbps / 24-bit

Subtitles:
Feature: English (SDH), French, Spanish and none

Supplements:
• Audio Commentary with director Rob Cohen
• Deleted and Extended Scenes
3 FEATURETTES:
• The Making of The Mummy: Tomb of the Dragon Emperor
• From City to Desert
• Legacy of the Terra Cotta
U-control in-movie experience and picture-in-picture behind-the-scenes look into the making of THE MUMMY: Tomb of the Dragon Emperor
• U-Control: Scene Explorer
• U-Control: Know Your Mummy
• U-Control: The Dragon Emperor's Challenge
• U-Control: Picture in Picture
• U-Control: Visual Commentary with Director Rob Cohen
(BD-Live Enabled)
• BD Live: My Scenes Sharing
• BD Live: Exclusive Content
-DISC 2 Features:
4 FEATURETTES:
• A Call to Action: The Casting Process
• Preparing for Battle with Brendan Fraser and Jet Li
• Jet Li: Crafting the Emperor Mummy
• Creating New and Supernatural Worlds
DIGITAL COPY of The Mummy: Tomb of the Dragon Emperor
Bitrate Graph: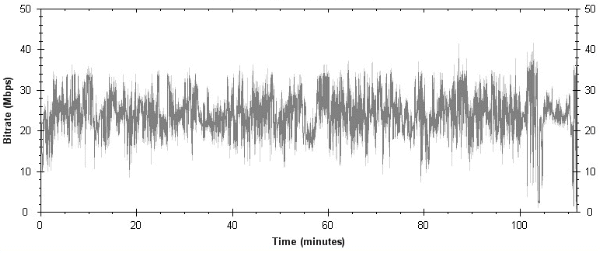 Product Description: A despotic Emperor (Jet Li) in 50 B.C. is punished for his evil when a witch lays a curse on him, turning him and his army into terra cotta for all time. Forward to 1946, where Rick (Brendan Fraser) and Evelyn (Maria Bello) have retired to Oxfordshipre, England, having worked as British spies during WWII. They're offered one last mission from the Foreign Office. Their assignment: courier a precious artifact back to the museum in Shanghai, China. Back in Asia: China is in turmoil but Jonathan (John Hannah) owns an Egyptian-themed bar in Shanghai. Unbeknownst to his parents, now grown-up Alex O'Connell (Luke Ford) is following in the family business as a young archaeologist on a dig in north-central China. He makes the discovery of a lifetime: the tomb of the Dragon Emperor, which has been buried for millennia. The Emperor's monument is transported back to Shanghai where another plot is in motion: a military zealot intends to awaken the Emperor and aid him in the re- conquest of China and the raising of his terra cotta army of ten thousand clay warriors...
The Film:
Moviegoers who knowingly buy a ticket for "The Mummy: Tomb of the Dragon Emperor" are going to get exactly what they expect: There is a mummy, a tomb, a dragon and an emperor. And the movie about them is all that it could be. If you think "The Mummy: Tomb of the Dragon Emperor" sounds like a waste of time, don't waste yours.

I, as it happens, have time to waste and cannot do better than to quote from my review of "The Mummy" (1999): "There is hardly a thing I can say in its favor, except that I was cheered by nearly every minute of it. I cannot argue for the script, the direction, the acting or even the mummy, but I can say that I was not bored and sometimes I was unreasonably pleased. There is a little immaturity stuck away in the crannies of even the most judicious of us, and we should treasure it...
Excerpt from Roger Ebert's review at the Chicago Sun-Times located HERE
Image : NOTE: The below Blu-ray captures were ripped directly from the Blu-ray disc.
Expectantly impressive 1080P image from Universal - as good - maybe a notch superior to the rest of the series on Blu-ray. I thought detail, colors and contrast were as strong as most other highly-lauded Blu-ray discs I've seen. The image isn't flawless with smatterings of background noise but generally the visuals present a smooth, tight, slightly dark, appearance. Black levels are extremely strong. It's damage-free and exhibits some depth at times. The dual-layered disc (feature taking almost 30 Gig) is at the high end of Blu-ray transfer status. It's consistent quality from the MPEG4 encode is some of the best I've ever seen of late. The effects still can be blurry - a consequence of the CGI used - but Blu-ray adopters won't have much to complain about here. This image approaches the desirous 'jaw-dropping' status that is frequently sought.
CLICK EACH BLU-RAY CAPTURE TO SEE ALL IMAGES IN FULL 1920X1080 RESOLUTION
Audio & Music:
The DTS-HD Master track is as good as the image. This has an aggressive soundtrack filled with effects noises that will spread liberally throughout your Surround system. There are some more subtle head-turning instances as well. I don't know how it's 'supposed' to sound, but regardless this track mix is top notch in my opinion. Randy Edelman has composed a ton of scores and this one in The Mummy: Tomb of the Dragon Emperor is as effective as any. Lots of range with music filtering around the room. There are French and Spanish DTS DUBs and optional subtitles offered in English (SDH), French or Spanish.
Extras:
Overly stacked and this reviewer doesn't have the time nor inclination to indulge. I listed to some of the commentary and it seemed informative but I doubt many are really keen on the production details of this one (are you?). There are 7 featurettes and deleted scenes spread across the two Blu-ray discs and plenty of U-Control and BD-LIVE bells for those who enjoy those new-ish features. It also offers the digital copy to watch on your portable device. If exhaustive minutia on production and the like are your bag - this package has it overflowing.
Bottom line:
If you are into this - it has 'whatever' in spades. I was reminded of Ray Harryhausen (sword-fighting skeletons, hydras etc.) only with more modern effects but the same simple good/evil characters. Ebert's right - there is no reason to crap all over this - just don't bother watching it if you aren't willing to suspend your belief for this style of extravagant adventure yarn. Those screen grabs tell a lot of what you will be in for. Personally, I liked the Yetis. The
Blu-ray
transfer, audio and video, are very strong (exceptional at times) and I can't see anyone complaining on that front. For those initiated into the series (meaning you've stayed to see the first entries) we certainly recommend this as another prime example - and on this new format - the
Blu-ray
exports the best possible image and sound - we are venturing into demo quality folks.
Gary Tooze
December 4th, 2008