NOTE: Aside from the packaging the US edition is exactly the same as the Japanese release (as we suspected) - the exact same region free 1080P, VC-1 encoded Blu-ray disc. Our comments below still hold true. The good thing about the US edition is the price - a significant savings!
Review by Gary Tooze
Studio: Warner Brothers
Video: Warner Home Video
Disc:
Region FREE
Feature Runtime: 1:55:28.880
Chapters: 33
Disc Size: 39,712,766,576 bytes
Feature film size: 29,244,801,024 bytes
Average Bitrate: 33.77 Mbps
One dual-layered Blu-ray
Case: Standard Blu-ray case
Release date: October 8th, 2008
Bitrate: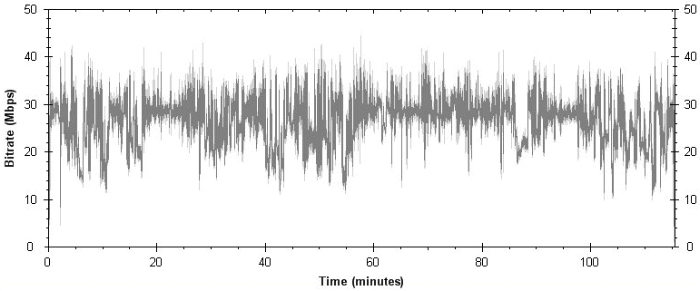 Video:
Aspect ratio: 2.35:1
Resolution: 1080p
Video codec: VC-1
Audio:
Dolby TrueHD Audio English 1311 kbps 5.1 / 48 kHz / 1311 kbps / 16-bit (AC3 Core: 5.1 / 48
kHz / 640 kbps)
Dolby Digital Audio English 640 kbps 5.1 / 48 kHz / 640 kbps
Commentary:
Dolby Digital Audio English 192 kbps 2.0 / 48 kHz / 192 kbps / Dolby Surround
DUBs:
Dolby Digital Audio French 192 kbps 1.0 / 48 kHz / 192 kbps
Dolby Digital Audio German 192 kbps 1.0 / 48 kHz / 192 kbps
Dolby Digital Audio Italian 192 kbps 1.0 / 48 kHz / 192 kbps
Dolby Digital Audio Spanish 640 kbps 1.0 / 48 kHz / 640 kbps
Dolby Digital Audio Spanish 192 kbps 1.0 / 48 kHz / 192 kbps

Subtitles:
Feature: English, French, German, Italian, Spanish, Dutch, Portuguese, Danish, Finnish, Norwegian, Swedish and none

Supplements:
•
Audio Commentary by Jeanine Basinger and Leslie Caron
•
Million Dollar Nickle
•
The Vanishing Duck
, a 1958 Color MGM Hanna-Barbera Tom and Jerry cartoon (7:08)
•
Theatrical Trailer (3:30)
•
1949 French version of "
Gigi
" (1:22:37) English subtitles burned-in, optional English (SDH) and Japanese
•
Thank Heaven! The Making of "Gigi"
(35 :49) - optional Japanese subtitles in HD!
Product Description: Alan Jay Lerner and Frederick Loewe's 1958 direct-to-screen follow-up to their My Fair Lady was--miraculously--every bit as memorable as that stage smash. Set in fin-de-siècle Paris and based on a Colette story, Gigi also is about a girl (Leslie Caron) on a lower rung of society who blossoms into Cinderellahood before our eyes and ears. Thank heaven for Hermione Gingold and Maurice Chevalier as her mentors, and Louis Jourdan as her prince. The screenplay writer and lyricist Lerner always said that Gigi's title song was his favorite of all he'd written, and it's easy to see why--"Gigi" is a transcendent anthem to being transformed by love from an unexpected source. The entire score, including "Say a Prayer" (which had been cut from My Fair Lady), "I Remember It Well," "The Night They Invented Champagne," and "Thank Heaven for Little Girls," comprise a sparkling, rare soundtrack recording that stands alone and can be enjoyed and understood by those who have not yet seen the movie, deprived souls that they are. The winner of nine Academy Awards (plus a special Oscar for Chevalier), including Best Picture, Gigi was the last great MGM movie musical and one of the best...
The Film:
Gigi was unfortunately the last of the great MGM musicals, but what a way to end a genre already filled with classics! Based on the novel by Colette, Gigi tells the story of a young girl (Leslie Caron) who is reared by her grandmother and great aunt to follow family tradition by becoming a courtesan. The family is scandalised, however, when the handsome and eligible Gaston Lachaille (Louis Jordan) proposes marriage to her.

Despite the delightful performances of Caron and Jordan, the film is almost stolen by Hermione Gingold and Maurice Chevalier, who perform the classic and touching "I remember it well" - just one musical highlight in a film containing many.

Gigi is a stylish triumph from start to finish, magnificently photographed in Metrocolor and CinemaScope by Joseph Ruttenberg to highlight the sumptuous costumes and sets. But the real praise deserves to go to the team of director Vincente Minelli and producer Arthur Freed. Sustaining the brilliance of their earlier musicals, like Meet Me in St Louis and An American in Paris, Gigi once again displays brilliant use of colour and rare ability to portray a romance simply and delightfully without becoming bogged down in schmaltz. The film deservedly won eight Oscars, including Best Picture, Direction, Screenplay~ and Score.
Review by Kathryn Parkerson taken from EUFS Programme 1992-93 and online HERE
Image : NOTE: The below Blu-ray captures were taken directly from the Blu-ray disc.
This
Blu-ray
image is compared to the 2008 2-disc SE below. The superiority, in all areas, is not as dramatic as we have seen in other standard-def vs. hi-def comparisons. The most visible improvements I saw were in color and how the
Blu-ray
maintains a viable, consistent, grain structure (more noticeable later in the film). I'd put any limitations in the appearance more down to 'MetroColor' - seemingly weaker than other cinematic options of the day - or perhaps, it was simply not as resilient. The DVD approaches colors 'bleeding' where the
Blu-ray
is much tighter on that front. Key markers such as reds, skin tones and even darker colors, as well as contrast, are represented to a higher ideal on this Japanese HD import. On my system the
Blu-ray
of Gigi looked great - but not as breathtaking as one may have hoped. Technically it is dual-layered with the disc size being almost 40 Gig and the film almost 30. I don't see evidence of any digital manipulations like DNR or edge enhancements. The VC1 encode has done as good as job as it could of recreating the theatrical feel of Gigi through this 1080P transfer. Hopefully, the expandable screen captures below will give you an idea of what it will look like on your system.
In the end, it looks far better than I have ever seen before.
Spine packaging difference between Japanese and US Blu-rays
CLICK EACH BLU-RAY CAPTURE TO SEE ALL IMAGES IN FULL 1920X1080 RESOLUTION
September 2008 2-disc Special Edition SD-DVD NTSC TOP vs. Warner Region FREE Blu-ray BOTTOM
Audio & Music:
Warner have abandoned adhering to their 'original' audio presentation, which was a Westrex 4-track stereo, and replaced it with a restored, and very healthy, lossless TrueHD 5.1 track as well as a standard 5.1 English option. It offers most of the music through the front speakers with some neat echo'ing to the rears. Dialogue is expectantly centered. It sounds quite good - especially considering the age of the film. A few of the Frederick Loewe songs are somewhat iconic and sound pretty crisp and clear. I don't expect this will ever sound much better. There are a number of mono foreign language DUB and subtitle options signifying this Blu-ray's region FREE status
.
Extras:
All supplements are duplicated from the 2-disc SE including the excellent 'commentary' by two lovely ladies - Jeanine Basinger, who takes the lead with most of the discussion, and Leslie Caron who provides great 'color' anecdotal support. Included is the 1949, black and white, French version of "Gigi" (running 1:22:37) with English subtitles burned-in, and optional available in English (SDH) and Japanese. It looks pretty rough but a welcome addition to those keen enough to indulge in seeing another rendition of teh story. Included are Million Dollar Nickle - a weird 1952 propaganda documentary piece fighting communism while extolling capitalism, The Vanishing Duck is a 1958 Color MGM Hanna-Barbera Tom and Jerry cartoon. There is a theatrical trailer and a 35 minute documentary featurette entitled Thank Heaven! The Making of "Gigi" in HD! This is well worth viewing but doesn't replace the valuable commentary - that I suspect I will be revisiting.
Certainly a complete package of bonus features.
| | |
| --- | --- |
| | |
| | |
| | |
Bottom line:
I'm quite thrilled to see classics come to Blu-ray and although this particular film may not offer one of the standouts that this this format can approach - it still produces a magnificent film in its absolute best digital rendering. Just as with the Blu-rays of An American in Paris and Quo Vadis, I strongly suspect that this transfer (audio/video) and complete disc contents (extras) will be the exact same as the eventual North American release. DVDBeaver loves to see older films moved to 1080P resolution for home theatre presentations. It was a true pleasure watching Gigi looking and sounding so improved at this high level. It produced a very pleasurable night in front of my system and is certainly recommended even if you are only remotely keen on Minnelli's last great musical.
Gary Tooze
December 23rd, 2008