Review by Gary Tooze
Studio: Dreamworks Video
Discs:
Region: FREE
Feature Runtime: 1:42:17.131
Chapters: 34
Disc Size: 38,358,649,484 bytes
Feature Size: 30,793,617,408 bytes
Average Bitrate: 40.14 Mbps
One dual-layered Blu-ray
Case: Standard Blu-ray case
Release date: December 27th, 2008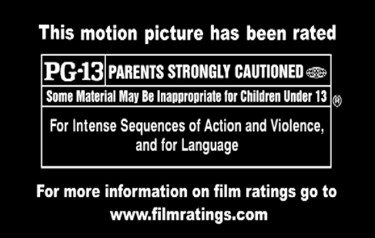 Video:
Aspect ratio: 1.78:1
Resolution: 1080p
Video codec: MPEG-4 AVC
Audio:
Dolby TrueHD Audio English 3248 kbps 5.1 / 48 kHz / 3248 kbps / 24-bit (AC3 Core: 5.1 / 48 kHz / 640 kbps)
DUBs: Dolby Digital Audio French 640 kbps 5.1 / 48 kHz / 640 kbps
Dolby Digital Audio Spanish 640 kbps 5.1 / 48 kHz / 640 kbps
Commentary: Dolby Digital Audio English 224 kbps 2.0 / 48 kHz / 224 kbps

Subtitles:
Feature: English (SDH), French, Portuguese, Spanish and none

Supplements:
•
Commentary by David Koepp and Ricky Gervais
• Making of (in HD 22:40)
• Some People Can Do It
• Ghostly Effects
Bitrate Graph: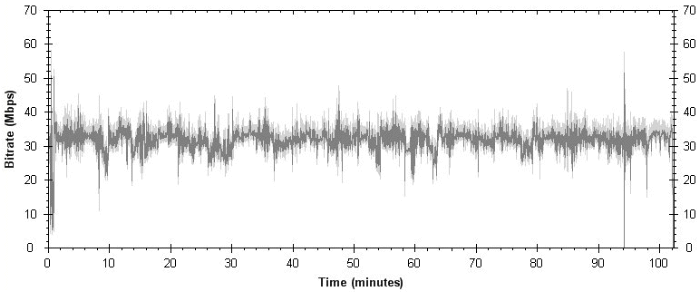 Product Description: Bertram Pincus is a man whose people skills leave much to be desired. When Pincus dies unexpectedly, but is miraculously revived after seven minutes, he wakes up to discover that he now has the annoying ability to see ghosts. Even worse, they all want something from him, particularly Frank Herlihy, who pesters him into breaking up the impending marriage of his widow Gwen. That puts Pincus squarely in the middle of a triangle, with spirited results
The Film:
"Ghost Town" is a lightweight rom-com elevated by its performances. It is a reminder that the funniest people are often not comedians, but actors playing straight in funny roles. Consider Cary Grant in "Topper" (1937), the obvious inspiration for David Koepp, who directed and co-wrote "Ghost Town" with John Kamps. Because both Gervais and Kinnear seem so urgent in their desires, and because Tea Leoni has a seemingly effortless humor and grace, this material becomes for a while sort of enchanting.

Yes, it is required that the plot has some of its characters living happily ever after, and that requires some dialogue that is, excuse me, corny. I suppose it comes with the territory. There is poignancy in a subplot involving Dana Ivey as a woman who wants to communicate with her daughters, and indeed a whole crowd of ghosts hoping to send messages to the other side. We have this comforting notion of our deceased loved ones smiling down benevolently from heaven. Now that they're getting a good look at us, they're probably tearing out their hair...
Excerpt from Roger Ebert's review at the Chicgao Sun-Times located HERE
Image : NOTE: The below Blu-ray captures were ripped directly from the Blu-ray disc.
I have a - very personal - theory that specific films, and even certain genres, are less important to see in high-definition. In comedies, the jokes are usually just as funny as in SD. In the image analysis of Ghost Town we created comparison captures and it appears as though the DVD has had some definite boosting and, expectantly, the Blu-ray looks far more 'film-like'. Ghost Town's visuals are not overly impressive in 1080P but this is no fault of the DreamWorks transfer. I thought detail, colors and contrast were as competent as most other modern film Blu-ray discs I've seen - possibly a notch lower. The image has minor flaws with smatterings of background noise but far less than its DVD counterpart. Generally the visuals present a smooth, tight, slightly darker, appearance. Black levels are pretty strong. As a 2008 film it's damage-free but doesn't exhibit demonstrative depth. The dual-layered disc (feature taking over 30.5 Gig) is at the modest end of Blu-ray transfer status. It's consistent quality from the MPEG4 encode looks to have replicated theatrical reasonably well. It has a tendency to look quite crisp and the image is well in advance of the simultaneously released DVD. Other than that the film itself doesn't export much in the way of visual brilliancy.
CLICK EACH BLU-RAY CAPTURE TO SEE ALL IMAGES IN FULL 1920X1080 RESOLUTION
(SD-DVD TOP vs. Blu-ray BOTTOM)
(SD-DVD TOP vs. Blu-ray BOTTOM)
(SD-DVD TOP vs. Blu-ray BOTTOM)
(SD-DVD TOP vs. Blu-ray BOTTOM)
(SD-DVD TOP vs. Blu-ray BOTTOM)
(SD-DVD TOP vs. Blu-ray BOTTOM)
(SD-DVD TOP vs. Blu-ray BOTTOM)
(SD-DVD TOP vs. Blu-ray BOTTOM)
Audio & Music:
The TrueHD track is solid although the surround aspects are under-utilized due to the film content and established track. It would be considered at the extreme passive-end with few effects noises that, when prevalent, are quite discretionary when venturing to the Surround speakers. Geoff Zanelli has composed mostly unremarkable scores for films in the 90's - this is simply another - although highly suitable for the film narrative. This is basically a front channel film - with dialogue being clear and consistent. There are French and Spanish 5.1 DUBs and the commentary is in 2.0 . Optional subtitles are offered in
English (SDH), French, Portuguese or Spanish
.
Extras:
Duplicating the DVD we have an amusing, laid-back, commentary and pretty standard production stuff - with the 20 minute making of in HD. If you are keen there is enough to indulge it may interest you and I think the commentary is worth a spin. Gervais can be quite funny.
Bottom line:
Yea - this is better than you may expect. There is some definite 'goodness' about this film and I enjoyed my viewing suspecting I will watch it again sometime. It wasn't so much the humor (Ghost Town is fairly amusing at times though) that I found entertaining but how the more sentimental areas were dealt with and presented. Adept performances (I like Greg Kinnear, my first exposure to Gervais is a thumbs-up, and Leoni is always sweet) and this
Blu-ray
transfer offers the best way to see the film in your home theater but, depending on how picky you may be, the SD,
HERE
, should suffice in my opinion - it's about $8 cheaper. If you are on-the-fence, rent it - I do think
Ghost Town
has some true value as a film.
Gary Tooze
December 29th, 2008