Review by Gary Tooze
Studio: Universal
Video: Alliance
Discs:
Region: FREE
Feature Runtime: 1:47:50
Chapters: 34
Feature film disc size: 21.2 Gig
One single-layered Blu-ray
Case: Standard Blu-ray case
Release date: October 21st, 2008
Video:
Aspect ratio: 1.85:1
Resolution: 1080p
Video codec: MPEG-4 AVC
Audio:
English: DTS 5.1, DUBs: French: DTS 5.1

Subtitles:
Feature: English (SDH), French (SDH), and none

Supplements:
• none
Bitrate Graph: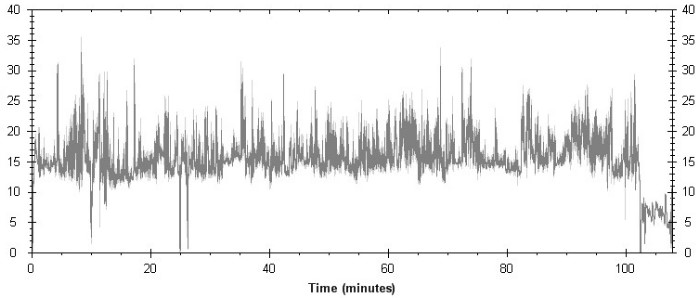 Product Description: Fugitive bank robbers and escaped prisoners, brothers Seth - (George Clooney) and Richie Gecko - (Quentin Tarantino) are fleeing the F.B.I. and Texas police. Seth Gecko is a cold, tough professional thief and anti-hero, while his younger brother Richie is a delusional, homicidal serial rapist and psychopath. During the first few minutes of the film, they first hold up and then destroy a liquor store and kill the clerk, a cop and a woman witness.
The Fuller family — Jacob (Harvey Keitel), the father and a former pastor who has experienced a crisis of faith; his son Scott (Ernest Liu); and daughter Kate (Juliette Lewis) — are on a vacation in their RV. The Fullers arrive at the motel and are promptly kidnapped by the Geckos, who force the Fullers to smuggle them past the Mexican Border. Seth and Jacob make an uneasy truce: if the Geckos can make it past the border, Jacob and his family will come out of the ordeal unharmed. They succeed and arrive at the "Titty Twister", a strip club in the middle of a desolate wasteland, where the Geckos have agreed to be picked up by Carlos (Cheech Marin), their contact, at dawn...
Excerpt from WikiPedia located HERE
The Film:
It's great fun, but certainly not great art. From Dusk Till Dawn, a special effects blood-and-gore extravaganza from director Robert Rodriguez, follows in the footsteps of such cult classics as Sam Raimi's Evil Dead series, thumbing its nose at conventional film expectations and gleefully embracing the campiness of the B-movie genre. With its palette of hideous monstrosities, decapitations, dismemberments, eviscerations, topless dancers, profane dialogue, and bare foot licking, this motion picture pushes the R-rating to the edge.

Yet the reason From Dusk Till Dawn entertains is because it never takes itself seriously. The film is steeped in wit, parody, and offbeat humor. There aren't any characters here -- only caricatures. The movie has been designed as a burst of high energy, and that's exactly what it turns out to be. From Dusk Till Dawn will appeal to only a small portion of the cinema-visiting population, but for those who enjoy this kind of tongue-and-cheek horror story, the film has a lot to offer...
Excerpt from James Berardinelli from Reelreviews located HERE
Image : NOTE: The below Blu-ray captures were obtained directly from the Blu-ray disc.
This is a surprisingly impressive 1080P image from Alliance in Canada. I thought detail, colors and contrast could rival many other highly-lauded Blu-ray discs. The image isn't flawless with healthy segments of background noise but generally the visuals present a smooth, tight appearance. Black levels are extremely strong. It's damage-free but sometimes a shade flat - still I'll wager the single-layered disc (feature taking up 21.2 Gig) replicates the theatrical better than anything else currently available on digital. It has a consistent quality and the 1080P brings up a crispness that many have come to expect from this new format - but I just wasn't anticipating it to look as good as it does. The Blu-ray image transfer shouldn't deter anyone from indulging and the plunging Canadian dollar gives this enticing value.
CLICK EACH BLU-RAY CAPTURE TO SEE ALL IMAGES IN FULL 1920X1080 RESOLUTION
Audio & Music:
It is a competent DTS track with some life - perhaps not the range of HD-audio but its as good as I have ever heard for this particular film. There are plenty of moments of aggression for the surround system with guns, ghouls and rock music blasting out of every corner. Like the image it was better than I expected. There is a French DTS DUB and optional subtitles offered in English (SDH), or French (SDH).
Extras:
Nutt'in... but the price reflects that. Still an HD trailer shouldn't have been too difficult to tack on. Ohh well...
Bottom line:
Rodriguez film's are a genuine hoot. Mixtures of macho-isms, violence, horror, sex, kitsch and a hint of subtle human observation. The
Blu-ray
transfer, audio and video, are probably as strong as we will get for this brand of the director's unique and memorable blendings in
From Dusk Till Dawn
. For the initiated we certainly recommend this film and for lovers of the new format this
Blu-ray
will bring you some presentation pleasure.
Gary Tooze
November 21st, 2008