Review by Gary Tooze
Studio: Dreamworks Video
Discs:
Region: FREE
Feature Runtime: 1:57:35.089
Chapters: 34
Disc Size: 43,802,287,385 bytes
Feature Size: 33,729,798,144 bytes
Average Bitrate: 38.25 Mbps
One dual-layered Blu-ray
Case: Standard Blu-ray case
Release date: December 27th, 2008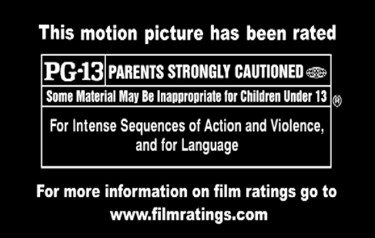 Video:
Aspect ratio: 2.4:1
Resolution: 1080p
Video codec: MPEG-4 AVC
Audio:
Dolby TrueHD Audio English 3578 kbps 5.1 / 48 kHz / 3578 kbps / 24-bit (AC3 Core: 5.1 / 48
kHz / 640 kbps)
Dolby Digital Audio French 640 kbps 5.1 / 48 kHz / 640 kbps
Dolby Digital Audio Spanish 640 kbps 5.1 / 48 kHz / 640 kbps

Subtitles:
Feature: English (SDH), French, Portuguese, Spanish and none

Supplements:
•
Alternate Ending
•
Road Trip: On Location (3:05 in HD!)
•
Asymmetrical Warfare: Making of Eagle Eye (25:32 in HD!)
•
Eagle Eye on Location (5:58 in HD!)
•
Is My Cell Phone Spying on Me? (9:14 HD!)
•
Shall We Play a Game (9:22 - HD!)
•
Gag Reel (7:00 - in HD!)
Bitrate Graph: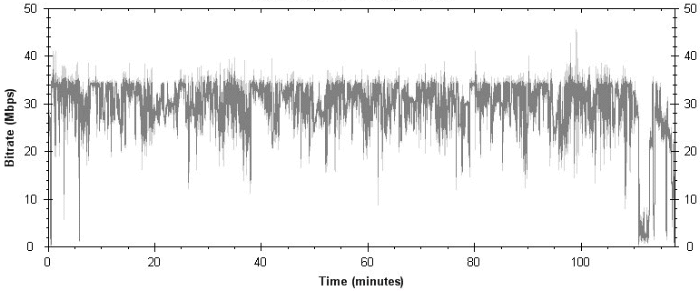 Product Description: Executive Producer Steven Spielberg delivers the ultimate race-against-time thriller that will keep you on the edge of your seat! Shia LaBeouf (Transformers) and Michelle Monaghan (Mission: Impossible III) star as strangers ripped from their ordinary lives when they are "activated" as part or a high-tech assassination plot. Through blistering chases and shocking twists they try to escape – but where do you go when the enemy is everywhere?
The Film:
Round two, then, of D.J. Caruso's updating of Hitchcock classics using modern gadgetry, contemporary paranoia and Shia LaBeouf in for James Stewart/Cary Grant. After 2007's entertaining Rear Window reboot Disturbia, Eagle Eye is North By Northwest 2.0., with an EveryShia accused of a crime he didn't commit, forced to go on the lam with a beautiful gal (M:I-III's Michelle Monaghan), building to a big climax at an American landmark. The result is a hugely enjoyable slice of nifty nonsense that revels in the pleasures of its plotting, and cleverly plays on everyday fears we all share: the fear of invasive technology, of terrorist cells, and of having William Sadler as your dad.

As with 99.9 per cent of all thrillers, the set-up is more satisfying than its resolution. Trading on LaBeouf's eminently likable mix of the charming and the resentful, his Jerry Shaw is a photocopy slave, good with the laydeez but estranged from his pop (Sadler). He is pulled into a malevolent version of Steve Martin's L. A. Story, as out-of-control electronic signs, traffic lights changing at will and TV screens in McDonald's mysteriously coerce and direct both him and Monaghan's single mother on a wild goose chase with Billy Bob Thornton's FBI blowhard in hot pursuit. This is where the movie is most fun, with the anonymous woman on the end of the line turning the couple into unlikely hold-up artists, Japanese tourists and airport security crashers. And when the story delivers the pair into an open plain, it seems ripe for a Hitchcockian cropduster to hove into view. But Caruso has a different shock in store. He's saving his 'cropduster' moment for later...
Excerpt from Ian Freer's review at Empire located HERE
Image : NOTE: The below Blu-ray captures were ripped directly from the Blu-ray disc.
Expectantly impressive 1080P image from DreamWorks - I wouldn't say it reaches demo status but it far ahead of its DVD counterpart (skin tones again the telltale). I thought detail, colors and contrast were as strong as most other modern film Blu-ray discs I've seen. The image isn't flawless with smatterings of background noise but generally the visuals present a smooth, tight, slightly darker, appearance. Black levels are pretty strong. It's damage-free and exhibits occasional depth. The dual-layered disc (feature taking over 43 Gig!) is at the high end of Blu-ray transfer status. It's consistent quality from the MPEG4 encode looks to have replicated theatrical extremely well. The film has a lot of jerky-hand-held action that tends to scatter detail - but Blu-ray adopters won't have much to complain about here. This image maintains a crispness that most will appreciate.
CLICK EACH BLU-RAY CAPTURE TO SEE ALL IMAGES IN FULL 1920X1080 RESOLUTION
(2-disc Special Edition DVD TOP vs. Blu-ray BOTTOM)
(2-disc Special Edition DVD TOP vs. Blu-ray BOTTOM)
(2-disc Special Edition DVD TOP vs. Blu-ray BOTTOM)
Audio & Music:
The TrueHD track is as good as the image. This has an aggressive soundtrack filled with effects noises that will spread liberally throughout your Surround system. Brian Tyler has composed a lot of scores of similar genre films lately and this seems as effective as any. Lots of range with music filtering around the room. There are French and Spanish 5.1 DUBs and optional subtitles offered in
English (SDH), French, Portuguese or Spanish
.
Extras:
No commentary and pretty standard production stuff - but it is all in HD. If you are keen there is enough to indulge it may interest you but there was nothing special that I saw.
Bottom line:
What a great concept for a film - but Hollywood, as typical, goes way overboard so that it borders on the supercilious. There are so many unbelievable moments it hurts the presentation even those willing to suspend most of their belief and give over to all the fantastical. I'm glad I gave it a spin and the effects and image on this
Blu-ray
transfer are superb - great audio too. Just be prepared that the film underachieves its vast potential despite being relatively entertaining. I like LaBeouf and Michelle Monaghan but wish this could have been pulled-off with some larger sense of logic at times.
Gary Tooze
December 19th, 2008