Review by Gary Tooze
Studio: Paramount
Discs:
Region: FREE
Feature Runtime: 1:47:17.806
Chapters: 23
Feature film disc size: 32,036,462,592 bytes
Disc Size: 33,832,385,763 bytes
Average bitrate 39.81 Mbps
One dual-layered Blu-ray
Case: Standard Blu-ray case
Release date: December 30th, 2008
Video:
Aspect ratio: 2.35:1
Resolution: 1080p
Video codec: MPEG-4 AVC Video
Audio:
Dolby TrueHD Audio English 3374 kbps 5.1 / 48 kHz / 3374 kbps / 24-bit (AC3 Core: 5.1 / 48 kHz / 640 kbps)
Dolby Digital Audio French 640 kbps 5.1 / 48 kHz / 640 kbps
Dolby Digital Audio Spanish 640 kbps 5.1 / 48 kHz / 640 kbps

Subtitles:
Feature: English (SDH), English, French, Portuguese, Spanish, and none

Supplements:
• Trailer (HD) - 2:25
Bitrate Graph: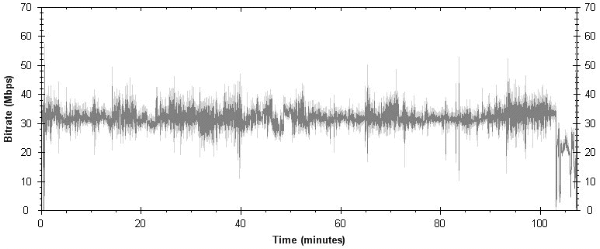 Product Description: "...comes on like thunder! It's a winner!" - Joel Siegel, WABC-TV/New York "****Best movie of the summer!" - Steve Kmetko, KCBS-TV/Los Angeles From the engine roar and fever pitch of professional stock car racing, Days of Thunder explodes with the most spectacular racing action ever captured on film. Tom Cruise plays race driver Cole Trickle, whose talent and ambition are surpassed only by his burning need to win. Discovered by businessman Tim Daland (Randy Quaid), Cole is teamed with legendary crew chief and car-builder Harry Hogge (Academy Award. winner Robert Duvall) to race for the Winston Cup at the Daytona 500. A fiery crash nearly ends Cole's career and he must turn to a beautiful doctor (Nicole Kidman) to regain his nerve and the true courage needed to race, to win and to live...
The Film:
"Days of Thunder" is an entertaining example of what we might as well call the Tom Cruise Picture, since it assembles most of the same elements that worked in "Top Gun," "The Color of Money" and "Cocktail" and runs them through the formula once again. Parts of the plot are beginning to wear out their welcome, but the key ingredients are still effective. They include: 1. The Cruise character, invariably a young and naive but naturally talented kid who could be the best, if ever he could tame his rambunctious spirit.
[...]

As "Days of Thunder" sees it, the principal strategy in stock-car racing consists of trying to sideswipe your opponent and push him into the wall, and Cruise's cars scrape the wall for easily half of the time they are on the track. Most of this racing footage is loud and fast enough to be exciting, however, and the off-track sequences are served by Duvall's usual laconic, sensitive performance; Randy Quaid as a used-car dealer who has faith in the kid, and Rooker as the perfect Proto-Enemy (he can look hateful and then turn it around with a smile).
Excerpt from Roger Ebert's review at the Chicago Sun-Times located HERE
Image : NOTE: The below Blu-ray captures were ripped directly from the Blu-ray disc.
The folder the Blu-ray files are housed in is entitled "TOP_GUN" - also directed by Tony Scott and also a Paramount vehicle for Cruise's inevitable rise to super stardom. Aside from some unusual speckles in the opening of the film - the image is strong - decent to above-average detail (for the film's age - 19 years) and colors are vibrant. The transfer can really show off some of the excellent cinematography of Days of Thunder, which incorporates excellent photographic scenery in conjunction with the film's obvious storyline. The Blu-ray itself is over 30 Gig and the feature just shy of that with no extras save an HD trailer. It looks expectantly competent with good contrast and there is still some background noise but overall this image gets a passing grade. Viewer's may temper their anticipation with the film's age - this is not quite up to modern standard - but is not excessively far behind either. The transfer respectfully exports the Panavision widescreen image leaving little reason for complaints. I was pretty impressed at times.
CLICK EACH BLU-RAY CAPTURE TO SEE ALL IMAGES IN FULL 1920X1080 RESOLUTION
Audio & Music:
The True HD has it's hands (or should I say 'tracks') full with a loud and noisy effects that fill the room with roaring car engines that spread themselves across your surround system with, almost dangerous, zeal. There are plenty of moments of demonstrative separation but there are also a sampling of gentler songs including Chicago, Spencer Davis Group, Elton John and even Joan Jett & The Blackhearts. Your rear speakers will get some bountiful action but the music and dialogue sound flawless as well. This track is equal to the strong image - possibly exceeding it in the 'quality' field. There are 2 foreign language 5.1 DUBs and optional subtitles offered in English (SDH), French, Portuguese or Spanish.
Extras:
Nothing except an HD trailer. I'll assume the DVD had something - but 'whatever' wasn't ported over. Surely Paramount could have slipped in something viable. Ahhh well...
Bottom line:

Tom Cruise... and cars - instead of planes, a cocktail mixer or any number of incarnations that spread his fame to new heights. For a surface film - this stands up okay - not enough Nicole for my tastes - but what are you going to do? The
Blu-ray
is shy of 'demo' but it would be worthwhile to show your buddies who are into cars - especially when the audio track gets very aggressive. I suppose those interested may know exactly what to expect from the film and the 1080 transfer shouldn't let you down at all - certainly satisfying more for the high-definition fan in me than the film buff.
Gary Tooze
December 11th, 2008