Review by Gary Tooze
Studio: Paramount
Discs:
Region: FREE
Feature Runtime: 2:16:20.172
Chapters: 26
Disc Size: 47,038,544,576 bytes
Feature Size: 40,980,461,568 bytes
Average Bitrate: 40.08 Mbps
One dual-layered Blu-ray
Case: Standard Blu-ray case
Release date: December 16th, 2008
Video:
Aspect ratio: 2.35:1
Resolution: 1080p
Video codec: MPEG-4 AVC Video
Audio:
Dolby TrueHD Audio English 3244 kbps 5.1 / 48 kHz / 3244 kbps / 24-bit (AC3 Core:
5.1 / 48 kHz / 640 kbps)
Dolby Digital Audio French 640 kbps 5.1 / 48 kHz / 640 kbps
Dolby Digital Audio Spanish 640 kbps 5.1 / 48 kHz / 640 kbps

Subtitles:
Feature: English (SDH), English, French, Portuguese, Spanish and none

Supplements:
• Coach Carter: The Man Behind the Movie (19:41)
• Fast Break at Richmond High (11:40)
• Six deleted scenes
• Music video by Twista & Faith Evans
• Writing Coach Carter: The Two-Man Game (8:25)
• Coach Carter: Making the Cut (18:22)
• Trailers (2:32 in HD!)

Bitrate Graph: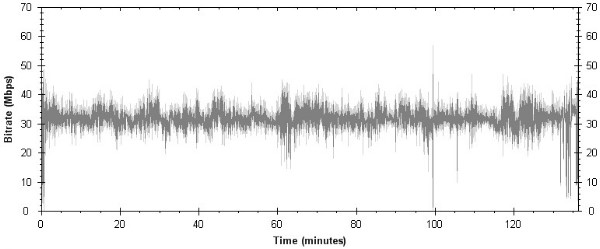 Product Description: Inspired by the true story of controversial Richmond, California basketball coach Ken Carter, who received both high praise and staunch criticism when he made national news for benching his entire team undefeated team for poor academic performance. Tension mounted as the Richmond High Oilers faced the upcoming basketball championship. The town was wild with excitement over their undefeated team and the bleachers were filled with cheering fans for every game. No one could imagine that on January 4, 1999 the community would erupt in dissention and so many lives would change forever when coach Carter padlocked the gym, refusing the players access for failing to keep up their grades...
The Film:
"Coach Carter" tells the true story of one man's commitment to bring a group of Richmond, California, high school basketball players into adulthood with a sense of achievement. In 1999, Ken Carter (Samuel L. Jackson) reluctantly takes on a job as the high school basketball coach of his hometown school and finds himself face-to-face with boys who only dream of celebrity sports. For these young men, there is only a fantasy of the life of a sports star, not the reality of personal achievement.

So ingrained in this low-income urban culture is the belief that basketball is the only time in these student's lives that they'll have a sense of glory that their parents are willing to forgo their academic achievement in order to give them this momentary happiness. Age 17 is seen as the age of fond memory. After that, the cycle of inadequate education, teenage pregnancy, and meaningless jobs will be all to which each one has to look forward...
Excerpt from Cinema in Focus located HERE
Image : NOTE: The below Blu-ray captures were taken directly from the Blu-ray disc.
This Paramount MPEG-4 transfer is seems above-average and looks quite good in the Blu-ray format.
The feature alone is almost 41 Gig in size and it shows some consistent grain and healthy detail. What I did note were quite a few scenes showing strong depth. Contrast and black levels are excellent as well. Surprisingly there were a few very minor speckles.
Minor background noise exists but it never hindered my viewing. The dual-layered disc (of a whopping 47 Gig) portrays this film on
Blu-ray
quite impressively at times. It's not the transfer of the year but is strong enough that fans should have no reason to complain. I found no untoward manipulations (EE or DNR) and this image quality far exceeded my expectations.
CLICK EACH BLU-RAY CAPTURE TO SEE ALL IMAGES IN FULL 1920X1080 RESOLUTION
Audio & Music:
The TrueHD track seems perfectly adequate to support the many 'live' games with crowd noises and effects spread fairly liberally through the Surround system. Dialogue is clear and consistent. The separation exists both subtly at demonstratively at times. I didn't find the mix overly dynamic but this is more akin to the film but sometimes I still could appreciate its range. I found Trevor Rabin's original score a bit generic - lots of hip-hoppy - but it seemed to fulfill its duty in supporting the film's content. There are 2 optional 5.1 foreign language DUBs and English
(SDH), French, Portuguese or Spanish subtitles available
.
Extras:
No commentary but an hour's worth of SD, 1.33:1 featurettes on production, the real Coach Carter, the evolution of the film, writing etc.. Plus there are six deleted scenes, a music video and a trailer in HD. So fairly good on the extras front but I'll guess nothing new beyond previously released DVDs.
Bottom line:
The film, like the transfer, is above-average - for its 'genre'. Jackson is super and I can't imagine another actor in his place. It may seem on the surface like a generic high-school sports tale but it probes deeper and ends up being a great, almost profound, story. The
Blu-ray
won't have any detractors on the transfer front and for under $20 - it makes for a decent night, popcorn optional, in the home theater. The film is definitely worth seeing - longish but one you wish, at times, would never end
. It's about being inspired, learning and maturity for grown adults as well as aspiring ones. Don't fear - this is a good
Blu-ray
.
Gary Tooze
December 6th, 2008