Review by Leonard Norwitz
Studio:
Theatrical: Picturehouse, New Line & HBO Films
Blu-ray: New Line (Warner Home Video)
Disc:
Region: A
Runtime: 100 min
Chapters: 24
Size: 25 GB
Case: Standard Amaray Blu-ray case
Release date: October 28, 2008
Video:
Aspect ratio: 1.85:1
Resolution: 1080p
Video codec: VC-1
Audio:
English 5.1 Dolby Digital
Subtitles:
English
Extras:
• Disc 2: Digital Copy
• American Girl Movie Trailer Gallery
The Film:
Oh, the life of a movie reviewer! One week, it's The Godfather, the next it's The Incredible Hulk and Rob Zombie's Halloween. Then a half dozen James Bond films, followed by Hell Ride. The variety and contrast is enough to make one marvel at the capabilities and taste of our species. And this week I get to cover: Kit Kittredge: An American Girl! – a movie – make that an entire genre – I had never heard of before, let alone encountered. Oh my God, it's about a ten-year old girl! Is there anywhere to hide? Well, the surprise is, that Kit Kittredge is one helluva good movie with engaging characters and a minimum of in-your-face moralizing.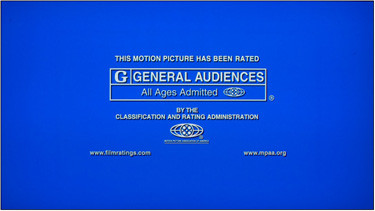 The Movie : 8
They say that they don't make movies like they used to – and for the most part that's true, for better and worse. But Kit Kittredge is one such movie. A throwback to movies from the 1930s and 40s like the Nancy Drew series with Bonita Granville, Kit Kittredge is set in the American Depression where foreclosures, soup kitchens and hobos are commonplace. The Kittredge family is barely scraping by. They live in a nice home, but how close they are to the grim specter of resorting to selling eggs is not something that young Kit is hardly aware of as she merrily skates through her daily routine of school and secret ceremonies in her tree house with her closest friends. She does have one trait that sets her apart: her desire to become a reporter for the Cincinnati Register.

One day, mom invites two such hobos to her home – teenage Will and younger Countee - wanting to do some handywork for food. Kids being what they are and the fearful rich being who they are, the newcomers are accepted and eyed with suspicion respectively. Then, one day, their neighbor's home is foreclosed, and dad confesses he's lost his job and has to leave Cincinnati for Chicago to find work. Mom has to take in boarders (a la recherché du Neil Simon's Brighton Beach Memoirs). One day, the family's savings – what little there is of it – along with a few of the boarders' bobbles, are stolen and all the evidence points to
young Will. In true Nancy Drew tradition, Kit and her friends set about to prove Will's innocence. And let me assure you that it does not look good for Will and Countee, who have disappeared with the sheriff's men hot on their trail.

The cast is headed by Abigail Breslin, who was 10 when she captured our hearts in Little Miss Sunshine. She's now 11 or so (when filmed), playing a somewhat younger girl – and while her acting skills are much in evidence, I never could quite accept her as the same age as the children who surrounded her, who evidently were or looked their age. (Maybe it's only the makeup and careful coiffing –I'm not sure.) Julia Ormond, who never made a Sabrina, makes a very convincing and compelling mother: She is accepting, yet responsible. She knows that Kit and her friends are still children, but that they need to find out, in their way, what life is about in these difficult times. Chris O'Donnell is an endearing dad, and we feel, as Kit does, betrayed when his letters from Chicago begin to dwindle. Max Thierot (who, coincidentally, played Ned in last year's Nancy Drew) is a masterstroke of casting.
His Will is engaging and smart, but not at all cynical, despite his story. When all the evidence points to him, we know he is innocent, as does Kit, not only because that's what the script expects from us. The rest of the cast is filled out to perfection: the adult boarders: Stanley Tucci: the magician boarder, Jefferson Jasper Berk; Joan Cusack: the Mobile librarian, Miss Bond; Jane Krakowski (30 Rock) as the dance instructor, Miss Dooley. Then there's the editor of the Register, played by Wallace Shawn, who sneers at Kit's relentless pursuit of becoming a reporter; and Zach Mills as Stirling Howard IV, the boy with big ears who faints at the sight of trouble.

With a savvy, rather than smart script by Ann Peacock based on Valerie Tripp's Kit Kittredge stories, deftly directed by Patricia Rozema (remember the 1996 Mansfield Park), we experience this adventure as more real than fanciful, despite that it's seen through the eyes of children. Their visit to the soup kitchen is not only educational, as intended, but damn-near heart-breaking, and the residents of hobo city are not made any too clean and trusting just to satisfy someone's PC ideal. The black & white photos taken by Kit at the camp are among the many fine points of this curious and unexpected little gem.

Image: 4/7
The first number indicates a relative level of excellence compared to other Blu-ray video discs on a ten-point scale. The second number places this image along the full range of DVD and Blu-ray discs.

And now for the less good news: This Blu-ray is no high-definition showpiece. I've see DVDs that look as good, better, though I can't vouch for the DVD version of this movie. The image is thin and soft, not just in apparent resolution, but contrast as well. The latter is no doubt intended in keeping with its nostalgic mood, but I don't see any good reason to purchase this just because it's high definition. Bit rates tend to gather in the low 20s.

Audio & Music: 6/7
Much the same could be said of the audio, which is given a standard 5.1 Dolby Digital mix, same as for the DVD. As expected for a dialog-driven movie, the audio is mostly front-loaded. I like the use of Depression-era music: The soup kitchen scene put me in mind of Pennies From Heaven. It's all very low-key.
Operations: 6
There's not much to the menu, which we get to promptly. It's all very easy to use, if uneventful.
Extras: 2
Besides the Digital Copy Bonus Disc, the single extra feature consist of very brief and exactly similar ads (something like 15 seconds each) for the other "American Girl" movies already published on DVD: Samantha (2004), Felicity (2005) and Molly (2006). Given
the origins of this movie as part of the American Girl series I'm surprised that there is no material about the other stories in the series – or the dolls for that matter. I don't know to give it points for courage or subtract them for lack of invention.
| | |
| --- | --- |
| | |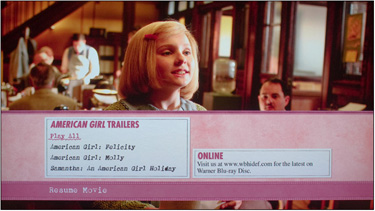 Bottom line: 6
(ref: WikiPedia HERE) American Girl is a line of dolls and accessories based on pre-teen girls from various periods of American History. The movie series was developed with the marketing of same in mind, but that's no reason to dismiss them out of hand: In the present case, at least, the contrary pertains. The feature film gets high marks, though I can't say the same for its being on Blu-ray. Of course, if that's your mode of travel (and the retail is only $7.00 more), you shouldn't hesitate if you want the movie, which is very much worth investigating
Leonard Norwitz
October 25, 2008