Review by Leonard Norwitz
Studio:
Theatrical: New Line Cinema & Walden Media
Blu-ray: New Line (Warner Home Video)
Disc:
Region: A
Runtime: 92 minu
Chapters: 21
Size: 50 GB
Case: Standard Amaray Blu-ray case
Release date: October 28, 2008
Video:
Aspect ratio: 1.85:1
Resolution: 1080p
Video codec: VC-1
Audio:
English DD 5.1. Dub: Spanish DD 5.1
Subtitles:
English & Spanish
Extras:
• Bonus disc: Digital Copy
• 2D and 3D versions of the feature film
• 4 pairs of 3D glasses
• Commentary with Actor/Producer Brendan Fraser and Director Eric Brevig
• Featurette: A World Within a World (10:09)
• Featurette: Being Josh (06:00)
• Featurette: How to Make a Dinosaur Drool (2:47)
The Film: 5
You know you're in trouble when you long for Pat Boone and a goose instead of Brendan Fraser. Fraser's about an amiable an actor as you'll find these days, but very little about this very latency age-targeted movie got my attention. Correct that: I certainly sat up when a T-Rex came out of nowhere to try his little hands and drooling jaws on our hapless heroes. I wondered: where, in all this desert, he (or she) had been feeding for lo these millennia?

Comparisons to Fox's effects showpiece from 50 years ago are inevitable. The earlier picture was clearly targeted for family entertainment, but the new one is aiming for a still younger audience: Of the three principals, one is a 12-year old boy (there are no children on the 1959 expedition), and the suspense has such a light touch as to work against itself.

Sorry, I keep forgetting to summarize the plot, so here goes. Like the 1959 movie, much is owed to the Jules Verne novel, and there are a number of bits of plot and hommages to the first movie, most obviously the seismic picture that drives both expeditions to Iceland. Here, Brendan Fraser plays Trevor Anderson, a science professor at a small university in Montreal. He still has nightmares about his older brother, Max, who was lost nine years earlier while exploring volcanoes in Iceland. Trevor's nephew, Sean (Josh Hutcherson), is dropped off by his mother for an overdue visit. They haven't seen each other in years, but bond quickly once they start exploring a suitcase full of Max's stuff that Sean's mom brought with her to leave with Trevor.

One thing leads to another and the next thing we know Trevor and Sean are on their way to Iceland to follow up on propitious seismic clues. It's not that either of them believe that the earth is hollow, as, apparently, Max did, but once they and their lovely guide, Hannah Ásgeirsson (Anita Briem) are dropped, like Alice, down a hole that goes on forever, it's hard for them not to wrap their minds around the implications. The challenge, as it was in 1959, is getting back to touch the sky.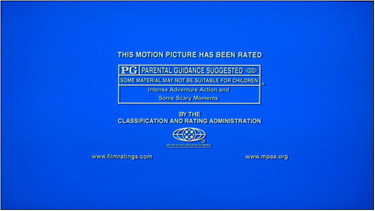 Journey to the Center of the Earth was shown in theatres in a 3D version, about which nothing is said in the special features. What little discussion there is about is left for the commentary. The hope of the producers is that the movie is more than its special effects, that we will engage with the characters and their drama and have some fun along the way.
Image: 7/8
The first number indicates a relative level of excellence compared to other Blu-ray video discs on a ten-point scale. The second number places this image along the full range of DVD and Blu-ray discs.

I don't know the extent of how the shooting of this movie was dictated by the requirements of a 3D presentation – none of the extra features, including the commentary, address this most important of technical aspects, but assuming the movie was shot only once and formatted in post-production, it has a very peculiar look in 2D: Most scenes, above and below the surface, are overlit, creating a flat, non-dimensional effect. Some backgrounds never come together, and focus is occasionally problematic. In 3D, the perspective of objects in the foreground, especially if they're moving toward the camera, becomes unnaturally distorted and distended. Objects within a layered perspective appear detached from their context (as in the roller coaster ride), though the dimensionality is often astonishing. Color is desaturated and shifts to yellow - but not a major problem underground since color is "unnatural" anyhow.

Glasses are not the same as for the Disney 3D blu-rays and may not be the same as for the theatrical presentation.

One final note about the 3D image: I read in Wikipedia: RealD uses a single projector that alternately projects the right-eye frame and left-eye frame, and circularly polarizes these frames, clockwise for the right-eye and counterclockwise for the left-eye, using a liquid-crystal screen placed in front of the projector lens. Circularly polarized glasses make sure each eye sees only "its own" picture, even if the head is tilted. The very high frame rate, which is 72 frames per second per eye, makes sure the image looks continuous. In RealD Cinema, each frame is projected three times to reduce flicker, as the source video is usually 24 frames per second. The result is a seamless 3-D picture that seems to extend behind and in front of the screen itself. http://en.wikipedia.org/wiki/Real_D_Cinema It was the 72 fps that caught my attention. My display isn't capable of taking advantage of Blu-ray's multiple 24 fps possibilities, but I wondered for those of you that have such capability if the 3D image looks markedly better because of it? In any case, I felt it was the preferred viewing experience with large screen front projection.
Audio & Music: 6/5
Without a doubt, the greatest loss in comparison to the 1959 movie is Bernard Hermann's score, which, inexplicably, was not nominated for an Academy Award (not that anything could have had a chance against Ben-Hur). The movie was nominated for Best Sound, however, which is yet another instance of how far we have fallen in 50 years. I popped in Fox's 2006 DVD just for the hell of it: Even in basic surround, the DVD sounds vivid, despite the distortion under the credits. But from there on, the sound is remarkable. Hermann's music enhances the movie's drama and effects at every turn, captivating our imagination. Under Hermann's guidance, we are anxious that our explorers may not actually return to the surface; whereas Andrew Lockington's score feels routine. The center of the Earth is where no man has gone before – well, almost no man, but you'd never know it from this new music.

Apparently New Line, or Warner, or whomever is responsible for this Blu-ray didn't think enough of the music either, for the audio mix is a mere Dolby Digital 5.1. I doubt an uncompressed audio would have made it any more magical, but it might have given the dialog a sporting chance. I thought it flat and muffled compared to your average movie these days.
Operations: 5
I found it particularly difficult to navigate between the 2D and 3D versions. To look at the menu, you'd think it would be easy, but my experience was not so. When I clicked on the alternate "D" sometimes the menu would vanish, but the format would remain the same.
Extras: 3
The highlight here is the 10-minute featurette: A World Within a World that explores various rational hollow-earth theories of the last few centuries. I found it fascinating and a better ride than the movie. "Being Josh" is a brief video diary of 12-year old Josh Hutcherson as he prepares for a scene, gets home schooling with his tutor, and acts on the set. Strictly kid stuff and, as such, grounds some of the movie in a kind of reality.

Branden and Eric's commentary covers how many of the shots were set up and how the cast and crew got along, but for the most part, it reads like two guys watching their home movies: "Now here we are at the lab, or here we're comparing notes, or in a 3D moment" – about which, from a technical point of view, they have absolutely nothing to say, except that it was accomplished with a "digital body camera with twin lenses" and that such and such a 3D moment is really cool. What I wanted to know is how 3D shot is the first place, what allowances in set design and lighting must be made for it, and whether there is a difference between the master for the theater audience and what is transferred to Blu-ray? It would have been nice to learn about these things without having to resort to Google. What a letdown.


| | |
| --- | --- |
| | |
| | |
| --- | --- |
| | |
| | |
| --- | --- |
| | |
| | |
| --- | --- |
| | |
Bottom line: 5
A fun, harmless movie that never approaches the emotional drive of the 1959 movie with James Mason, Pat Boone, Arlene Dahl and a goose. But for its target audience, there is sufficient story, funny bits and excitement to keep the attention and have a good time. The 2D image doesn't do the format justice, nor does the audio, but the 3D image is worth a look.
Leonard Norwitz
October 22nd, 2008