Review by Gary Tooze
Studio:
Twentieth Century Fox

Discs:
Region: Free
Feature Runtime: 1:54:21
Chapters: 20
Feature film disc size: 34.4 Gig (dual-layered)
Case: Standard Blu-ray case
Release date: September 9th, 2008
Video:
Aspect ratio: 1.85:1
Resolution: 1080p
Video codec: MPEG4-AVC
Audio: Russian: Dolby TrueHD 5.1
English: Dolby TrueHD 5.1
English: Dolby Digital 5.1
French: Dolby Digital 5.1

Subtitles:
Feature: English SDH, English, Spanish, French, Chinese (simplified and traditional), Korean, none

Supplements:
• Commentary with Director Timur Bekmambetov
• Subtitles 'text' Commentary (in English, French or Spanish subtitles) by novelist Sergei Lukyanenko
• Extended Endings and Deleted Scenes with optional commentary by Timur Bekmambetov
• Featurette: "The Making of Night Watch" (39:03) - all featurettes in SD
• Featurette: "Characters, Story and Subtitles"
• Featurette: "Night Watch Trilogy"
• Stills Gallery
• Theatrical Trailer (2:26) - in HD!
BD-Live Features:
• Enhanced for D-Box Motion Control Systems
Product Description: The forces of Light and Darkness have co-existed in a delicate balance for hundreds of years...until now. Now one of the gifted ones will come to switch sides, shattering the balance and unleashing an apocalyptic war unlike any the world has ever known...
The Film:
There are very few elements to the fantasy epic "Nightwatch" that a sane, sound and rational film critic couldn't mount a strong and vigorous objection to without batting an eye. It tells an elaborate tale of ultimate good battling ultimate evil for the fate of all humanity and it is still difficult to tell from scene to scene who is doing what to whom and why (despite containing not one, but two detailed explanatory prologues). It contains more characters, backstories and subplots than an Russian novel (perhaps not surprising since it is actually based on one) but instead of utilizing them, it prefers to jam the characters into an endless string of scenes in which they stand around reciting chunks of barely coherent exposition while things explode around them. Finally, just when you think you finally have a vague grasp on who is doing what to whom and why, it turns out that the film is actually just the first third of a trilogy and none of it is actually going to be resolved for another two installments.
And yet, despite the fact that the entire thing plays like "Highlander" without the lucid plot, I strangely found myself responding to every bit of insanity that "Nightwatch" has to offer. In a time when even the most elaborate fantasy epics are cursed with a certain timidity–they tend to devote their time and energy to slavishly imitating either the books they are based on or the other movies they are ripping off–here is a film that contains both a heedless imagination and a cheerful willingness to hurtle itself over the cliffs of common sense in order to surprise and entertain.
Excerpt from Peter Sobczynski's review at eCritic.com located HERE
Image : NOTE: The below Blu-ray captures were ripped directly from the Blu-ray disc.
Night Watch is filled with some striking visuals - some more impressive than others. I found the less effects-driven sequences to be quite strong. Detail exhibited by the 34.4 Gig of space on the dual-layered Blu-ray produces an exceptional image. This is a very demonstrative improvement over the SD edition from 2006. Although this new Blu-ray supports the very dark scenes of the film with healthy shadow detail - there are still some monochromatic scenes with heavy noise - but thankfully they are few and far between. The detail is so strong at times that in close-ups the frequent blood-spattered faces reveal a less realistic visage (blood looks fake). Colors look excellent (not overly bright) without an 'enhanced' digital look. Night Watch is quite a visual feast with extensive fast edit cuts that almost infer a kind of montage cinema. Bottom like is that this transfer quality is very strong, with some minor niggles (sporadic noise) but no DNR or edge enhancement that I could detect. The majority of the time it is very crisp, clean and film-like. Top marks!
CLICK EACH BLU-RAY CAPTURE TO SEE ALL IMAGES IN FULL 1920X1080 RESOLUTION
Audio & Music:

This can be somewhat confusing. We are offered the film in original Russian: Dolby TrueHD 5.1 although it has English narration. There is also a TrueHD DUB (for dialogue) in English (also a standard 5.1 DUB in English or French).
Dialogue is translated into
English SDH, English, Spanish, French, Chinese (Traditional and Simplified) or Korean optional subtitles. What I don't see are the stylistic 'in the print' English subtitles I heard were available on the 2nd disc of the UK SD package
HERE
(and discussed in the featurette). Ex.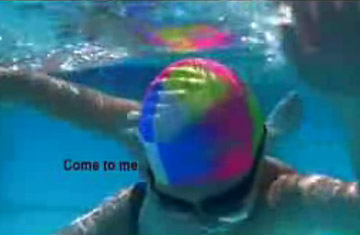 If they have not been added - this is quite a slight (being offered as only the 'International version' of Night Watch). I understand they are pretty cool with blood-dripping and melting subtitle effects of varying fonts sizes, colors and positioning. I suppose it's possible that I just can't access them although I felt I tried every option available. If someone could email me with more information I'd appreciate it. So far it appears as though these subtitles are NOT available on this Blu-ray as they were theatrically.
There are a ton of musical soundtrack listings from loud hard rock (Russian) to more docile stuff. There is also original music by Yuri Poteyenko. It sounded pretty strong but I didn't note the level of dynamic separation that I was anticipating and feel it would have benefitted the film experience even further. It seems fairly solid and consistent though.
Extras:
Overflowing with details, there are two commentaries. the first with director Timur Bekmambetov (English - Russian accent) and a 2nd 'in text' (in English, French or Spanish subtitle form) by the novelist, Sergei Lukyanenko. I think I preferred the 2nd although it was a fair amount of reading but both have concrete information for appreciating the creation of Night Watch. Bekmambetov gives himself quite a few laughs and can sound a bit goofy, but sincere, at times and his command of the English language can be a bit trying. We are also given, duplicated from the SD - like the commentaries, quite a few extended endings and deleted scenes with optional commentary by the director. Three featurettes are included (all in SD): "The Making of Night Watch" (running almost 40 minutes) and two shorter ones - "Characters, Story and Subtitles" and "Night Watch Trilogy". There is also a 2 1/2 minute theatrical trailer in HD.
| | |
| --- | --- |
| | |
| | |
| --- | --- |
| | |
| | |
| --- | --- |
| | |
| | |
| --- | --- |
| | |
Bottom line:
Although in one sense this film gets full marks for uniqueness - in another sense it intentionally 'borrows' a lot from many other work of the past. This is certainly not a complaint or jab - Quentin Tarantino utilizes that same 'imitation technique' in creation of many of his films. Bekmambetov, has more distant cultural references and I was reminded frequently of the vision of Andrei Tarkovsky and some other cinema of the 70's and 80's. It may come across as trying a bit too hard to achieve a 'disparate' quality and those not paying attention may find it a bit of a mish-mash hodge-podge of eccentric imagery. This style kinda grew on me though and I admit to liking Night Watch to some degree although am disappointed that I could not access the stylistic subtitles that appeared theatrically and on the SD-DVD editions.
As a horror film, Night Watch, has some wildly surreal moments. As for the Blu-ray - this is an impressive transfer from Fox. The image is one of the better I've seen in the new format. Extras give a full accounting for appreciation of the film's production and those who feel they may enjoy this unusual work - the Blu-ray transfer image will certainly not disappoint.
Gary Tooze
September 6th, 2008