ADDITION: Warner - US - Region 1,2,3,4 - NTSC: May 09': On the visual front this is great news - taken from the recent restoration - this is dual-layered, progressive and, finally, ANAMORPHIC! It looks significantly better - even beyond the 16X9 enhancement. Colors - flesh tones lose the orange-ness of the PAL editions and everything else seems more true although perhaps a little green. Generally it has a tighter feel and stronger detail. The French transfer looks boosted beside the US edition.
I've never seen this theatrically - but it again has no 'acid rock' closing - it's Roy Orbison to the sunset (sunrise?) and no end credits. Just this: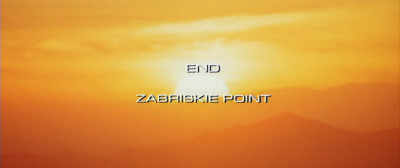 The audio is consistent English mono with an optional French DUB and there are subtitles available in English, French or Japanese.
No extras but a 2 minute trailer - 4:3 letterboxed.
I think after all we have gone through this has to be considered a victory with the film in NTSC running time, anamorphic and looking very true. Some extras would have been nice and I'll let the experts debate the ending. I'm certainly more, digitally, content than I have ever been for this title.
NOTE: Amazon has this as a June 30th release date, but Amazon Canada has it as May 26th (which I suspect is more accurate - I expect the former will alter soon).
Gary Tooze
****
ADDITION: Warner - France - Region 2 - PAL: (written December 08'):
Well, what is this? A course on how to tease Antonioni fans? Yes, This new French release is finally in the proper 2.35:1 aspect ratio - but it's non-anamorphic!?!!? The dual-layered bare bones DVD actually looks pretty good with a healthy bitrate - the colors are overly vibrant for SD (boosted?) - but why it is not 16X9 enhanced is anyone's guess. This appears to be the best version right now - but we will continue to wait for a decent DVD transfer (or Blu-ray) with some viable extras (any?) Where are you Criterion?
NOTE: This doesn't have the complete acid-rock finale - there are no ending credits (just 'the End').
NOTE two: My computer and both my region-free DVD players did not force the French subtitles when the English audio was selected.
Gary Tooze
ON THE GERMAN EDITION (written April 2008): Being one of many passionate Antonioni fans around the world, I was anticipating this German DVD release of "Zabriskie Point" very enthusiastically. Amazon.de informs us that the image is 16:9, but that's flat out misinformation. The image is actually cropped to fit an older 4:3 TV screen. What disastrous consequences this has on Antonioni's cinemascope compositions are rather obvious. The frame is cropped to such a drastic degree that we lose very important information on the left and right, which is clearly not the right way to watch this masterpiece.
The transfer itself is not ideal either. The colors are much stronger and more vivid than those of our already reviewed bootleg, but there's still a fair amount of grain inherent in the image. There's also a notable lack in sharpness and detail. So this is certainly not on par with Sony's very fine work on "The Passenger".

We have obviously been fooled by both amazon.de and Complete Media Services and the purpose of this review is to warn you. Stay away from this release, because what CMS has done here is the violation and destruction of a great and timeless work of art. Let's all continue to wait for a proper version.