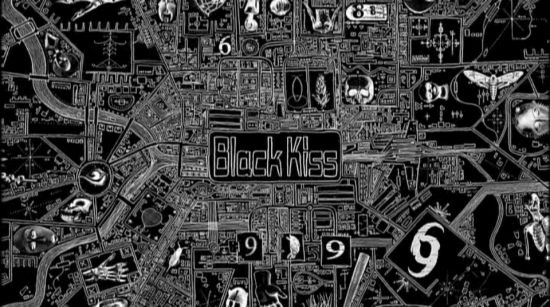 (aka "Shinkuronishiti" or "Synchronicity" or "Burakku kisu")
directed by Macoto Tezuka
Japan 2004
BLACK KISS opens with the murder of a womanizing modeling agent and the disappearance of the model he has shacked up with in a sleazy red light district hotel (only a severed finger is left behind). Then we go back a few days and meet naive new model Asuka (Reika Hashimoto) looking for a place to stay. A fellow model introduces her to cynical ex-model Kasumi (Kaori Kawamura) whose previous two boyfriends committed suicide and whose eccentric artist friend/roommate Mari has recently disappeared. Receiving a less than warm welcome, Asuka moves into Kasumi's red light district apartment. One stormy night, she hears a man's screams and witnesses a woman in black mutilating a man through the window of the hotel across the street (the opening murder). The dead man, whose body has been dissected and arranged like a bizarre sculpture, turns out to have been a former employer of Kasumi who had been harassing her. As more rivals and friends of Kasumi meet grisly deaths, she and Asuka become closer. Asuka recognizes a photograph of Mari as the murderer but Mari is discovered to have been a victim of the killer prior to the killing she witnessed yet Mari turns up in the background of a photograph taken on the night of the murder. The police start to wonder if the killer of Kasumi's sister who hung himself in prison and her two boyfriends who committed suicide could have been previous victims of the killer and whether someone is trying to frame Kasumi or possess her.

A cross between a Dario Argento thriller, an eighties giallo (like NOTHING UNDERNEATH) and SE7EN, the film is stunning to look at and the film is suspenseful and compelling up until the less-than-satisfying ending (motivated by the director wanting to defy serial killer film conventions). Though it compares poorly to the somewhat similarly-themed Korean thriller TELL ME SOMETHING, the film reflexively pokes at itself and other similar thrillers with remarks about how contrived and deliberately planned the seemingly random killings and series of red herrings really are. Unlike the serial killer films - but like Giallo films focused on the prurient aspects of the fashion world - the police procedural scenes provide mainly expository plot info that the suspects and victims are not going to fess up and are rife with more red herrings than the scenes involving the suspects - including a tangent involving a criminologist with an interest in voodoo who only provides a previously available profile on the killer that no one else bothered to look for only after he has himself become a suspect (having also been present in the crime scene photograph along with Mari). The cinematography is excellent although it seems more like a color-gelled version of SE7EN's aesthetics than that of a Dario Argento film. The killings are grisly but the onscreen carnage is thankfully restrained.
Poster
Theatrical Release: 28 January 2006 (Japan)
Reviews More Reviews DVD Reviews
DVD Review: Tokyo Shock/Media Blasters - Region 1 - NTSC
Big thanks to Eric Cotenas for the Review!
DVD Box Cover

CLICK to order from:

Distribution

Tokyo Shock/Media Blasters

Region 1 - NTSC

Runtime
2:12:15
Video

1.78:1 Original Aspect Ratio

16X9 enhanced
Average Bitrate: 5.14 mb/s
NTSC 720x480 29.97 f/s

NOTE: The Vertical axis represents the bits transferred per second. The Horizontal is the time in minutes.

Bitrate

Audio
Japanese (Dolby Digital 2.0 stereo)
Subtitles
English, none
Features
Release Information:
Studio: Tokyo Shock/Media Blasters

Aspect Ratio:
Widescreen anamorphic - 1.78:1

Edition Details:
• Still Gallery (4:15)
• Trailers:
• Scorpion Collection (1:21)
• Ultimate Versus (1:28)
• Zoo (1:44)
• Ichi the Killer (1:08)
• Deleted Scenes:
• Kimura's Secret (3:34)
• Kasumi and Asuka (2:28)
• Mysterious Box (1:33)
• Joker's DJ Performance (0:47)
• Featurettes:
• Mystery of Black Kiss (14:01)
• Truth of Black Kiss (9:29)
• Theatrical Trailer (1:29)

DVD Release Date: May 15th, 2007
Amaray

Chapters 14
Comments:

Tokyo Shock/Media Blasters's Region 1 NTSC DVD of this Japanese film is a mixed bag. As usual with their product, they've translated several extras from the Japanese 2-disc edition (also released in an edition with a figurine) including two featurettes, deleted scenes, and a still gallery but the image itself - while pleasing on an interlaced television - is sometimes painful on the eyes when viewed on a progressive monitor. There is no PAL-NTSC ghosting and Japan is an NTSC country so it is likely the result of excessive edge enhancement (noticeable in brightly lit scenes but it also makes some blue screen and wire work more apparent) and compression issues from cramming the extras from the Japanese 2-disc set onto one dual-layer disc (although the total disc size is only 6.60 GB - note the low bitrate for the feature - including the extras and the 2+ hour film!).

The audio mix is a pleasingly enveloping 2-channel Dolby Digital mix but the end credits sport a DTS-Stereo logo (which is DTS's 2-channel stereo cinema format so the disc's audio is not mixed down from a six channel mix) and is more than adequate even for a film that would seem designed for 5.1.
---

DVD Menus

---
Screen Captures
Subtitle sample