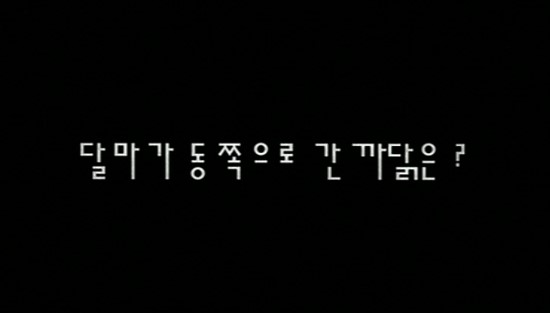 (aka 'Dharmaga tongjoguro kan kkadalgun' or 'Why Did Bodhi-Dharma Leave for the East?' or 'Why Has Bodhi-Dharma Left for the East?' or 'Why Has Bodhi-Dharma Left for the East?: A Zen Fable')
Directed by Yong-Kyun Bae
South Korea 1989
In the seclusion of their mountain monastery a Zen master and his pupils seek enlightenment by losing themselves in the quiet contemplation of death - perhaps the closest the cinema has come to conveying the serenity and sense of detachment achievable in meditation. The anonymous characters are presented as mere vessels of a universal spirit, while narrative structure is considered to be irrelevant. Spiritual seekers should find fulfilment in its serene images and preoccupation with the 'beauty of the moment', but the casual viewer may find its riddles perplexing and lose patience with its lack of pace.
Excerpt from Channel 4 located HERE
***
A much more serious treatment of Buddhism than Bernardo Bertolucci's Little Buddha, this 1989 Korean feature by Bae Yong-kyun (who produced, directed, shot, and edited) has become something of a cult film, and it's easy to understand why. The title is an unanswerable Zen koan, at one point echoing the narrator's queries: "Who is Buddha? Who isn't he?" The skeletal plot concerns an old master, a young disciple, and an orphaned boy in a remote Korean monastery in the mountains, but the film's main offering is its contemplation of and inexhaustible fascination with the natural world; indeed, we periodically have the sensation that the narrative has been suspended almost entirely for the sake of this meditation. Full of ravishingly beautiful images rather than ravishingly beautiful shots, the film conveys not so much a filmic intelligence as a Buddhist intelligence that's being translated, step-by-step, into movie terms; the film seems to reach us from a certain remove, with positive as well as negative consequences. Count on something slow, arresting, and lovely, and if you're looking for drama, expect to find it internally.
Excerpt from Jonathan Rosenbaum's review at the Chicago Reader located HERE.
Poster
Theatrical Release: September 12th, 1989 - Toronto Film Festival
Reviews More Reviews DVD Reviews
DVD Review: New Yorker/ Milestone - Region 0 - NTSC
DVD Box Cover

CLICK to order from:

Distribution
New Yorker/ Milestone - Region 0 - NTSC
Runtime
2:24:30
Video
1.78:1 Aspect Ratio
Average Bitrate: 7.18 mb/s
NTSC 720x480 29.97 f/s

NOTE: The Vertical axis represents the bits transferred per second. The Horizontal is the time in minutes.

Bitrate:

Audio
Korean (Dolby Digital 5.1), Korean (Dolby Digital 2.0)
Subtitles
English, Korean, None
Features

Release Information:
Studio: New Yorker/ Milestone

Aspect Ratio:
Original Aspect Ratio 1.78:1

Edition Details:

• none

DVD Release Date: October 16th, 2007
Keep Case
Chapters: 18
Comments:

This film was released on DVD in 2002 by Image Entertainment but it was letterboxed (non-anamorphic) and the ratio was 1.66:1. This new DVD from Milestone and New Yorker is anamorphic in the 1.78 ratio. I have no evidence to suggest that one aspect ratio is more correct than the other but this new DVD looks quite strong - being progressive on a dual-layered disc. It exhibits digital noise - a shade more than I would like but overall the 'director approved image' is acceptable. Detail is quite good and it shows a healthy level of contrast without signs of digital manipulation. It is also advertised as containing 10 additional minutes of previously unseen footage.

Audio (previously monaural on the old edition) has flavors of a 5.1 bump and a 2.0 stereo track. Dialogue is all in Korean and supported by optional English or Korean subtitles (advertised as 'improved').

There are no extra features.

This is a contemplative film work that will not appeal to all, but few could critique its imagery and visuals. It is the story of three people - a child, an apprentice monk and an elderly monk in a remote mountain monastery. The city below them is bustling with activity. It is, in one regard, about death... and life. If you are in the mood to relax with no pressing engagements this might be a perfect film to help you reflect on life. Best viewed alone. Recommended although the price is not cheap but this is certainly superior to some usual NY'er fare we have seen recently. For any cineophile I'm sure it's considered a must-own DVD.
---

DVD Menus

---
Subtitle Sample
Screen Captures