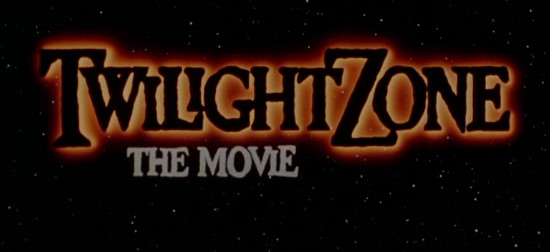 (aka 'Twilight Zone: The Movie')
Directed by John Landis (prologue & segment 1), Steven Spielberg (segment 2), Joe Dante (segment 3), George Miller (segment 4)
USA 1983
Four big-name directors were each to helm a segment, but only Dante's cheerfully manic It's a Good Life and Miller's claustrophobic Nightmare at 20,000 Feet really pass muster. Spielberg's Kick the Can is a glutinous slice of OAP whimsy, while Landis's segment (the only one not adapted from an episode of the TV series) was all but abandoned after the deaths of Morrow and child actors Chen and Myca Kinh Lee in a disastrous helicopter stunt accident, with the existing footage hastily edited together without a proper ending.
Excerpt from Channel 4 located HERE
***
These revamped episodes from the old supernatural TV series begin splendidly with Aykroyd and Brooks driving down a dark road at night, singing along to Creedence Clearwater and trying to guess TV theme songs. Four episodes follow, and it's ironic that producer Spielberg's geriatric remake of Peter Pan set in an Old People's home is easily the weakest of the lot, exhibiting all the churning sentimentality of a great film-maker going OTT. The others have a comic strip zeal which makes them intensely watchable, but ultimately it's left to Mad Max wizard Miller to steal the show with an extraordinary remake of Richard Matheson's story about an airline passenger who spies a demon noshing the starboard engine.
Excerpt from TimeOut Film Guide located HERE
Posters
Theatrical Release: June 24th, 1983
Reviews More Reviews DVD Reviews
DVD Review: Warner - Region 1, 2, ,3, 4 - NTSC
DVD Box Cover

CLICK to order from:

Distribution
Warner Home Video - Region 1, 2, 3, 4 - NTSC

Being released in both HD and Blu-ray:

(click covers)

Twilight Zone - The Movie [HD DVD] Warner Home Video

Twilight Zone - The Movie [Blu-ray] Warner Home Video

Runtime
1:41:06
Video
1.78:1 Aspect Ratio
Average Bitrate: 6.35 mb/s
NTSC 720x480 29.97 f/s

NOTE: The Vertical axis represents the bits transferred per second. The Horizontal is the time in minutes.

Bitrate:

Audio
English (Dolby Digital 5.1), English (Dolby Digital 2.0), DUBs: French (Dolby Digital 2.0), Spanish (Dolby Digital 2.0)
Subtitles
English, Portuguese, Traditional Chinese, None
Features

Release Information:
Studio: Warner Home Video

Aspect Ratio:
Original Aspect Ratio 1.78:1

Edition Details:

• trailer

DVD Release Date: October 9th, 2007
Keep Case
Chapters: 27
Comments:

Unfortunately bare-bones from Warner on a film that has attained a cult-like following. It looks quite acceptable - progressive, anamorphic and just barely dual-layered. Colors could be more vibrant (and less red) and I'll wager on the hi-def versions they are brighter and more intense. Detail is strong. I believe this is the first time this movie has reached DVD and it is coded for regions 1 thru 4 in the NTSC standard with a 5.1 track (and 2.0 stereo option) and subtitles in English, Portuguese and traditional Chinese (strange options?!?). As anticipated from Warner - it looks quite competent - but certainly not stellar (unremarkable).

The only extra feature is a worn 1.33 trailer running about 1:18. I guess Warner decided not to invest in any viable supplements which will disappoint fans.

I have fond memories of seeing this and it still held a bit of nostalgic charm (this is almost 25 years old!) but overall the reviews above are correct. Lithgow as the Shatner character (from the original) is the high point and Scatman Crothers - ohh and the 7 minute opening. Other than that this is only suggested for SD purchasing. It's not a film I would bother with on hi-def albeit a decent way to spend 1.5 hours every ten years or so.
---

DVD Menus
---
Subtitle Sample
Screen Captures
---
---
DVD Box Cover

CLICK to order from:

Distribution
Warner Home Video - Region 1, 2, 3, 4 - NTSC

Being released in both HD and Blu-ray:

(click covers)

Twilight Zone - The Movie [HD DVD] Warner Home Video

Twilight Zone - The Movie [Blu-ray] Warner Home Video