| | |
| --- | --- |
| | S E A R C H D V D B e a v e r |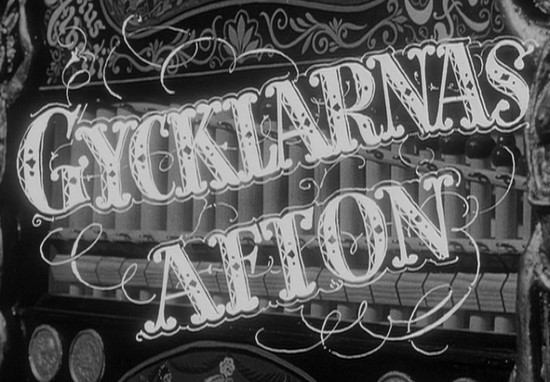 (aka 'Sawdust and Tinsel')
1953
Acknowledging the influence of Dupont's Variety - one of the keystones of German expressionism, in which marriage was seen as a perilous high-wire act - Bergman here employs the circus as a metaphor for the humiliating hoops through which men and women are put by their sexual dreams and desires. Heavily masochistic in its anguished account of the futile attempts of an ageing circus owner (Grönberg) and his steely young mistress (Andersson) to escape the dreary limitations of their mutually destructive involvement, it isn't exactly prepossessing in theme. But visually it is a treat, with Bergman's richly baroque compositions and persistent use of deep focus brilliantly exploiting the circus and theatre settings. And the performances are first-rate.
Excerpt from TimeOut Film Guide located HERE
***
Ingmar Bergman presents the battle of the sexes as a ramshackle, grotesque carnival in Sawdust and Tinsel, one of the late master's most vivid early works. The story of the charged relationship between a turn-of-the-century traveling circus owner (Ake Grönberg) and his performer girlfriend (Harriet Andersson), the film features dreamlike detours and twisted psychosexual power plays that presage the director's Smiles of a Summer Night and The Seventh Seal, works that would soon change the landscape of art cinema forever.
***
A major early feature by Ingmar Bergman, also known as The Naked Night (though the Swedish title apparently means "The Clown's Night"). This 1953 film is perhaps the most German expressionist of Bergman's 50s works, as redolent of sexual cruelty and angst as Variety and The Blue Angel, but no less impressive for all that. The aging owner of a small traveling circus who left his wife for a young performer in his troupe tries to regain his lost family. Visually splendid, but you may find the masochistic plot pretty unpleasant.
Excerpt from Jonathan Rosenbaum's review at the Chciago Reader located HERE.
Posters
Theatrical Release: September 14th, 1953
Reviews More Reviews DVD Reviews
DVD Comparison:
Criterion - Region 1 - NTSC vs. Sandrew Metronome - Region 2 - PAL
Big thanks to Gregory Meshman for Sandrew caps!
Criterion - Region 1 - NTSC LEFT vs. Sandrew Metronome - Region 2 - PAL RIGHT
DVD Box Cover

Distribution
Criterion Collection - Spine # 412 - Region 1 - NTSC

Sandrew Metronome

Region 2 - PAL

Runtime
1:32:24
1:32:12 (4% PAL speedup)
Video
1.33:1 Aspect Ratio
Average Bitrate: 8.15 mb/s
NTSC 720x480 29.97 f/s
1.33:1 Original Aspect Ratio
Average Bitrate: 5.80 mb/s
PAL 720x576 25.00 f/s

NOTE: The Vertical axis represents the bits transferred per second. The Horizontal is the time in minutes.

Bitrate: Criterion

Bitrate: Sandrew

Audio
Swedish (Dolby Digital Mono)
Swedish (Dolby Digital
Subtitles
English, None
English, Finnish, Danish, Swedish, None
Features

Release Information:
Studio: Criterion Collection

Aspect Ratio:
Original Aspect Ratio 1.33:1

Edition Details:

• Audio commentary by Bergman scholar Peter Cowie
• Video introduction by Bergman from 2003
• Liner Notes booklet with a new essay by critic John Simon and an appreciation by filmmaker Catherine Breillat

DVD Release Date: November 20th, 2007
Transparent Keep Case
Chapters: 22

Release Information:
Studio: Sandrew Metronome

Aspect Ratio:
Fullscreen - 1.33:1

Edition Details:
• None

DVD Release Date: June 4th, 2008
Keepcase

Chapters 19
Comments:

ADDITION: Sandrew Metronome - February 2010: The Scandinavian release is contrast boosted and appears to be slightly horizontally stretched. It, surprisingly, offers optional English subtitles - albeit a different translation (see sample below). There are no supplements and it obviously suffers from PAL speedup - so, for all factors considered, we still recommend the Criterion edition.

****

ON THE CRITERION: The Criterion transfer is pictureboxed (see our full description of 'pictureboxing' in our Kind Hearts and Coronets review). NOTE The Criterion captures below have been put in their own table to indicate the amount of the pictureboxing (note the black border circumventing the edge). Where this may benefit systems that produce overscan (ex. production made cathode ray tubes) - it detracts from systems that do not requite it (ex. HTPC).

NOTE: This is reported as featuring five minutes of material not included in previous U.S. editions.

The dual-layered, progressive transfer offers Criterion's high standard of image, sound, subtitle and supplement quality. The screen captures below give a good representation of the excellent contrast. Some will note the intense 'bleached' look of the flashback sequence early in the film. It can actually remove detail from the background but we assume it was an intentional technique and is discussed in the commentary. Overall it looks very good - improving as the film progresses. Fine digital noise appears as good grain. Audio is clean, clear an consistent. Optional English subtitles support the dialogue.

Supplements include another brilliant commentary from Peter Cowie. It is as informative and professional as we have come to expect. Many details are covered and some of the essence of the narrative is explored. In a short introduction by Bergman (from 2003) he discusses a negative review of the film that he recalls by heart - 'I refuse to make an ocular inspection of Mr. Bergman's latest vomit'. Bergman thought he had made his best film to that point but admits being very sensitive to the chilly reception that Sawdust and Tinsel received. There are also some liner notes with a new essay by critic John Simon and an appreciation by filmmaker Catherine Breillat.

This is a great film although it contains uncomfortable moments. Bergman fans will rejoice and although there is a Tartan edition in the UK that is presently significantly more expensive (and a French as well I believe - only French subs) - this surely improves upon it in every facet. Recommended!
---

DVD Menus
Criterion - Region 1 - NTSC
Sandrew Metronome - Region 2 - PAL
---
Subtitle Sample
Criterion - Region 1 - NTSC TOP vs. Sandrew Metronome - Region 2 - PAL BOTTOM
Screen Captures
Flashback sequence ('bleached look')
Criterion - Region 1 - NTSC TOP vs. Sandrew Metronome - Region 2 - PAL BOTTOM
---
Criterion - Region 1 - NTSC TOP vs. Sandrew Metronome - Region 2 - PAL BOTTOM
---
Criterion - Region 1 - NTSC TOP vs. Sandrew Metronome - Region 2 - PAL BOTTOM
---
Criterion - Region 1 - NTSC TOP vs. Sandrew Metronome - Region 2 - PAL BOTTOM
---
Criterion - Region 1 - NTSC TOP vs. Sandrew Metronome - Region 2 - PAL BOTTOM
---
Criterion - Region 1 - NTSC TOP vs. Sandrew Metronome - Region 2 - PAL BOTTOM
---
DVD Box Cover

Distribution
Criterion Collection - Spine # 412 - Region 1 - NTSC

Sandrew Metronome

Region 2 - PAL