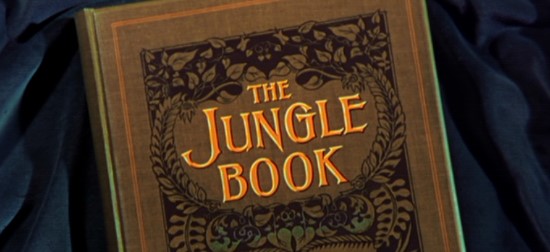 Directed by Wolfgang Reitherman
USA 1967
One of the most popular Disney films ever, THE JUNGLE BOOK is a song-filled celebration of friendship, fun, and adventure set in a lush and colorful world. Inspired by Rudyard Kipling's "Mowgli" stories, Disney's 19th animated masterpiece was the last animated feature that had Walt Disney's personal touch. The jubilant adventure begins when Mowgli, a little boy raised by wolves, is urged by his friend Bagheera, a wise old panther, to seek safety in the man village. Feeling very much at home in the jungle, Mowgli resists and runs off. Much to Bagheera's dismay, Mowgli meets a new friend with a happy-go-lucky philosophy of life -- Baloo the Bear, a lovable "jungle bum." Together, the three buddies find the journey back to civilization anything but civilized! They encounter a crazy orangutan, the hypnotic and sly snake Kaa, and the menacing Shere Khan! Fully restored for this 30th anniversary edition, this enduring classic swings with jazzy toe-tapping music, including the Academy Award(R)-nominated "The Bare Necessities," and the freewheeling "I Wan'na Be Like You"!
***
'I thought you were entertaining someone up there in your coils,' Shere Khan the Tiger purrs malevolently (with the unmistakable voice of George Sanders) as Kaa the Snake endeavours to squeeze Mowgli the Man Cub in his horrible clutches. This animated Disney feature based on Kipling, the last to be supervised by Big D himself, is chock-a-block with such shapely lines (with Baloo the dim-witted bear, voiced by Phil Harris, getting the best). It's also got great knockabout visual gags, mercifully little cutey-poo sentiment, and reasonable songs, including 'The Bare Necessities'. The animation has only the bare necessities, too, and the storyline is weak, but it doesn't seem to matter much.
Excerpt from TimeOut Film Guide located HERE
Posters
Theatrical Release: October 18th, 1967
Reviews More Reviews DVD Reviews
DVD Review: Walt Disney Video (2-disc Platinum - 40th Anniversary) - Region 1 - NTSC
DVD Box Cover

CLICK to order from:

Distribution
Walt Disney Video - Region 1 - NTSC
Runtime
1:18:24
Video
1.75:1 Aspect Ratio
Average Bitrate: 7.38 mb/s
NTSC 720x480 29.97 f/s

NOTE: The Vertical axis represents the bits transferred per second. The Horizontal is the time in minutes.

Bitrate:

Audio
English (restored original), English (Dolby Digital 5.1), DUBs: French (Dolby Digital 5.1), Spanish (Dolby Digital 5.1)
Subtitles
English, None
Features

Release Information:
Studio: Walt Disney Video

Aspect Ratio:
Original Aspect Ratio 1.75:1

Edition Details:

Disc one
• Commentary with composer Richard Sherman, artist Andreas Deja, and star Bruce Reitherman (Mowgli!)
• Featurette: "The Lost Character: Rocky the Rhino"(6:30)
• Disney Wildlife advert
• Music video of the song "I Wanna Be Like You" (2:22)
• Disney Sing-Along Selection offers (4 songs from the film with none-removable song lyrics subtitled)
• Seven deleted songs

• Sneak Peeks: Disney trailers

Disc Two
• Featurette: "The Bare Necessities: The Making of The Jungle Book" (45:00).
• Featurette: "Disney's Kipling: Walt's Magical Touch on a Literary Classic" (16:00)
• Featurette: "The Lure of The Jungle Book" (10:00)
• Featurette: "Mowgli's Return to the Wild" (5:00)
• Featurette: "Frank & Ollie"
• Art galleries section
• Games: "Baloo's Virtual Swingin' Jungle Cruise" - "The Jungle Book Fun with Language Games"

DVD Release Date: October 2nd, 2007
Double Lock Keep Case
Chapters: 24
Comments:

The image looks very adept - slightly understated colors and no blemishes whatsoever - the screen caps below give an accurate representation. There was a 'limited issue' released in 1999 and it was out-of-print for a while and although I never owned it (or have seen it) I understand this Platinum Edition is remarkably superior - as one might expect. Don't rate this as a negative but I can't help but wonder how much 'improved' this would look on hi-def disc. This progressive and anamorphic SD looks very good though on a dual-layered disc. I can't see any huge complaints other than it looking occasionally dark and somewhat faded (two areas hi-def can improve).

Big plus for Disney working through the original mono audio - giving it a decent restoration. It's nice to sample but the enhanced 5.1 sounded quite buoyant with music penetrating to the rears. There are optional 5.1 DUBs in French or Spanish and English (only) subtitle support the audio. No complaints - audio is wonderful all around.

Supplements never seem to end - Disc one offers a solid commentary whihc includes some archived interview voices along with the live principles - composer Richard Sherman, artist Andreas Deja, and actor Bruce Reitherman (yes Mowgli'). Along with the Song Book feature (my kids love that) we have a short featurette on a character thaat didn't make the cut; Rocky the Rhino as well as some audio only deleted songs (by composer Terry Gilkyson) that sound a bit rough. There are some Disney sneak peeks too - Enchanted, Meet the Robinsons, Santa Clause 3, Return to Never Land, The Aristocats, High School Musical 2, and Ratatouille.

On top of 5 fairly interesting featurettes on dual-layered Disc 2 (over 1 hours worth) Disney includes the expected interactive games. The 45 minute 'Making off...' is quite good with a lot on Walt - his ways and vision. I doubt anyone would complain that there is not enough supplements and those who love the film should get great value out of the Platinum package.

Kind of a must-buy for those with kids or have fond memories of this classic. Disney's done another fabulous job. Very reasonable price too...
---

DVD Menus
Disc 2
---
Subtitle Sample
Screen Captures