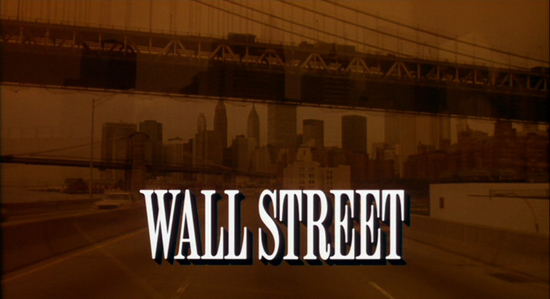 (aka "Greed" )
directed by Oliver Stone
USA 1987
Remove the restless camera pyrotechnics and incomprehensible jargon, and you have a corny old melo: broker Charlie Sheen (green) perpetrates illegal practices to please surrogate poppa/company-trader Douglas (tough), a mega-villain mastermind who spits out absurdities like 'Lunch is for wimps' and longs to destroy his rival Stamp (lost). Soon Charlie's climbing the ladder in search of a fast buck and a flash fuck: Hannah (vacuous). Inevitably, he descends into a mire of insider-dealing, Faustian intrigue, and personal betrayal, culminating in his responsibility for Douglas' near-liquidation of the company where Sheen Sr (natch) is an Incorruptible Working Class Hero union rep. Charlie's cured, of course, by the most clichéd comeuppance of 'em all - family illness - which he should have foreseen, given the homespun homilies about abysses and doom repeatedly offered by full-time office soothsayer Holbrook (solemn). Dramatically inept, the film also muddles its naïve moralizing: though condemnatory of avarice and dishonesty, Stone seems seduced by the financiers' luxurious lives and frantic energy, and even expects us to sympathize with the ghastly Charlie's final regret and redemption.
Excerpt from TimeOut Film Guide located HERE
Posters
Theatrical Release: December 11th, 1987
Reviews More Reviews DVD Reviews
DVD Comparison:
20th Century Fox (2-disc 20th Anniversary Edition) - Region 1 - NTSC vs. 20th Century Fox - Region 1 - NTSC
Big thanks to Kurtis Beard for the Anniversary caps!
(20th Century Fox (20th Anniversary Edition) - Region 1 - NTSC LEFT vs. 20th Century Fox - Region 1 - NTSC RIGHT)
DVD Box Cover

Distribution

20th Century Fox (Anniversary)

Region 1 - NTSC

20th Century Fox

Region 1 - NTSC

Runtime
2:05:32
2:05:32
Video

1.84:1 Original Aspect Ratio

16X9 enhanced
Average Bitrate: 8.20 mb/s
NTSC 720x480 29.97 f/s

1.85:1 Original Aspect Ratio

16X9 enhanced
Average Bitrate: 5.42 mb/s
NTSC 720x480 29.97 f/s

NOTE: The Vertical axis represents the bits transferred per second. The Horizontal is the time in minutes.

Bitrate :

Anniversary

Bitrate :

Original

Audio
English (Dolby Digital English 5.1, 4.0), French (Dolby Digital English 1.0), Spanish (Dolby Digital English 1.0)
English (Dolby Digital English 5.1, 2.0), DUB: French (Dolby Digital English 1.0)
Subtitles
English, Spanish, None
English, Spanish, None
Features
Release Information:
Studio: 20th Century Fox

Aspect Ratio:
Widescreen anamorphic - 1.84:1

Edition Details:
• Disc 1:
• Audio Commentary w/ Oliver Stone
• Disc 2:
• Introduction by Director Oliver Stone (1:02)
• Greed is Good (56:24)
• Money Never Sleeps (47:36)
• Deleted Scenes with Optional Commentary

DVD Release Date: Sept. 18th, 2007
Keep Case

Chapters 28

Release Information:
Studio: 20th Century Fox

Aspect Ratio:
Widescreen anamorphic - 1.85:1

Edition Details:
• Disc 1:
• Audio Commentary w/ Oliver Stone
• Making of (Money Never Sleeps)... (47:34)
• Trailers

DVD Release Date:

November 7th, 2000
Keep Case

Chapters 20
Comments:

Well the original release (from 2000) looks to have some red/black boosting and skin tones are too 'tanned' or every character has high blood pressure. Detail is about the same - maybe a notch in favor of the new Anniversary release. You actually get a shade more in the frame (on sides) in the original - but nothing devastating for this film. In short the Anniversary is the one I lean to for the colors. Both have subtitle translations in English and Spanish but again the Anniversary may nudge ahead with more formal fuller text (less précised intent of the dialogue). Audio goes the way of the new releases as well with a new 4.0 (original?) option - as well as 5.1 and two DUBs.

Extras also lean in favor of the new release with the same commentary and featurette but also a Stone intro, a new featurette - Greed is Good and some deleted scenes - also with optional commentary.

A film that has certainly imbedded into modern culture making the name Gekko as synonymous as 'Boesky' to encapsulate the 'money money' 80's and its turbulent financial depths. Entertainment value is still fairly strong and the new Anniversary DVD is the one to own until it reaches Hi-def.

-Gary W. Tooze
---

DVD Menus

(20th Century Fox (20th Anniversary Edition) - Region 1 - NTSC LEFT vs. 20th Century Fox - Region 1 - NTSC RIGHT)

| | |
| --- | --- |
| | |
| | |
| | |
| | |
| | |
| | |
---
Screen Captures
Subtitle Sample
- not exact frame
---
(20th Century Fox (20th Anniversary Edition) - Region 1 - NTSC TOP vs. 20th Century Fox - Region 1 - NTSC BOTTOM)
---
(20th Century Fox (20th Anniversary Edition) - Region 1 - NTSC TOP vs. 20th Century Fox - Region 1 - NTSC BOTTOM)
---
(20th Century Fox (20th Anniversary Edition) - Region 1 - NTSC TOP vs. 20th Century Fox - Region 1 - NTSC BOTTOM)
---
(20th Century Fox (20th Anniversary Edition) - Region 1 - NTSC TOP vs. 20th Century Fox - Region 1 - NTSC BOTTOM)
---
(20th Century Fox (20th Anniversary Edition) - Region 1 - NTSC TOP vs. 20th Century Fox - Region 1 - NTSC BOTTOM)
---
(20th Century Fox (20th Anniversary Edition) - Region 1 - NTSC TOP vs. 20th Century Fox - Region 1 - NTSC BOTTOM)