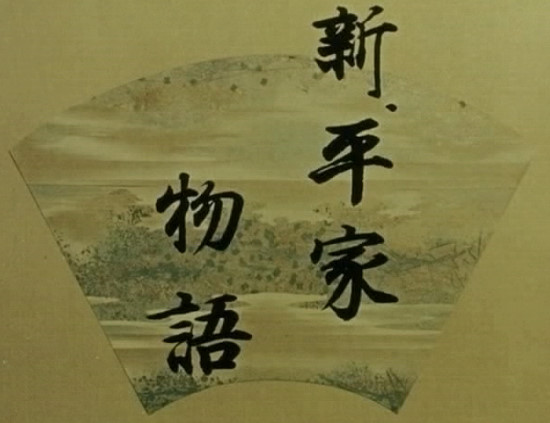 (aka 'Shin heike monogatari' or 'Legend of the Taira Clan' or 'New Tales of the Taira Clan' or 'Taira Clan Saga' or 'Tales of the Taira Clan' or 'The Sacrilegious Hero' or 'The Taira Clan')
Directed by Kenji Mizoguchi
Japan 1955
Mizoguchi's penultimate film and one of only two he shot in colour, did something to redress the balance, and for good reason. Firstly, it's got samurais in it, which always helps to make 1950s Japanese fare more palatable to the Western tastes. Secondly, the story's not bad either, being that of a returning warrior, Taira Kiyomori (Ichikawa) who upsets the courtiers and priests of 12th century Japan with his seditious samurai ways. Thirdly, and more importantly, it showcases the unique talents of Mizoguchi in its visual attention to detail. It is an immensely stylish film.
Excerpt from Channel 4 located HERE
One of Mizoguchi's two late films in colour, this describes a conflict between three power groups in feudal Japan: the priests, the court, and a clan of samurai. The samurai embody ideals of individual integrity, just service, and male prowess; the court, ideals of rightful authority, but equally, the faults of ministerial corruption; the clerics, the degeneration of institutionalised religion into factional Fascism (gang-like violence in support of political ends). Characteristically, the tale of the conflict is hinged round a courtesan figure's relations with the three groups ('mother' for the samurai, 'mistress' for the court, 'whore' for the priests). Needless to say, the 'personal' virtues of the samurai win out, the hero becomes superman. Shot with all the sensitivity and stylish trappings to be expected from Mizoguchi; also, some sharp observation of social relations, and some acute insights into the vagaries of the power boys' shit-games.
Excerpt from TimeOut Film Guide located HERE
Poster
Theatrical Release: September 21st, 1955
Reviews More Reviews DVD Reviews
DVD Review: NYFA film Archives - Region 0 - NTSC
DVD Box Cover

CLICK to order from:

Distribution
NYFA film Archives - Region 0 - NTSC
Runtime
1:42:56
Video
1.33:1 Aspect Ratio
Average Bitrate: 5.71 mb/s
NTSC 720x480 29.97 f/s

NOTE: The Vertical axis represents the bits transferred per second. The Horizontal is the time in minutes.

Bitrate:

Audio
Japanese (Dolby Digital 2.0)
Subtitles
English (non-removable)
Features

Release Information:
Studio: NYFA film Archives

Aspect Ratio:
Original Aspect Ratio 1.33:1

Edition Details:

• none

DVD Release Date: May 1st, 2007
Transparent Keep Case
Chapters: 20
Comments:

NOTE: "Taira Clan Saga," repeats every fifth frame: a, b, c, d, e, e, f, g, h, i, j, j, etc. I found this out simply by step framing through portions of the disc.
In "Taira Clan Saga," with its sweeping movement over many visual details, the flutter problem that arises from those repeating frames is pretty irksome. The fluidity of Mizoguchi's/Miyagawa's camera is noticeably disturbed. Since elegance is so essential of a quality to Mizoguchi's camera style, a lot of what must have made this film a breathtaking period piece is lost. (Thanks Peter H. for telling us!)

This review will hopefully impart to you that the image on this New York Film Annex DVD is not deplorable. It actually might be approaching 'not too bad'. It is single-layered and progressive. The subtitles are non-removable in playback but I *think* they aren't burned-in and might be removed in a re-burning process. Regardless - they are clear and seem precisely translated enough. Image detail is as the screen caps below will verify - not overly hazy and in some instances pretty good. Colors too don't seem violently faded but contrast is a little weak. I suspect a selective black level boosting (as Criterion occasionally utilize) would have really benefited this transfer. Audio seems strong and consistent but often lags behind lip synchronization (like a poor DUB) - although this wasn't an issue in enjoying the film experience. Bottom line - I am glad to have had the opportunity to see the film at all. There are no extras.

I was initially incorrect and this is not the only DVD version of this film with English subtitles - there is a Film Sans Frontieres (France) edition available HERE (with optional English subs) and there was also a BFI PAL VHS release (now out-of-print) HERE. We haven't been able to determine if the French DVD is superior - but it is very probable.

New York Film Annex are no powerhouse production company and are better known for some rather weak VHS offerings. I've been given some information from a reliable source that this DVD may actually be offered without legal copyright holding. If true we definitely recommend avoiding - this behavior should not be rewarded.

Mizoguchi's last color film was a rich and spectacular epic which examined the conflict between the decadent ruling courts and the exploited warrior class at the end of the twelfth century.
---

DVD Menus
---
Subtitle Sample
Screen Captures