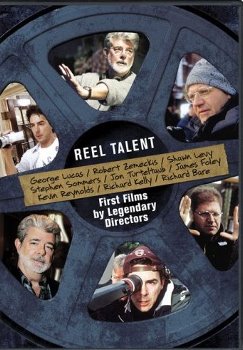 Reel Talent: First Films by Legendary Directors
Directed by George Lucas, Robert Zemeckis, Shawn Levy, Stephen Sommers, Jon Turteltaub, James Foley, Kevin Reynolds, Richard Kelly and Richard Bare
University of South California School of Cinematic Arts
Product Description: If you've ever wondered if your favorite filmmakers were geniuses (or mere hacks) back in their youth, Reel Talent: First Films by Legendary Directors will help clue you in. A compilation of 12 short films by directors who would go on to make Star Wars (George Lucas), Forrest Gump (Robert Zemeckis), and Donnie Darko (Richard Kelly), Reel Talent is an eclectic collection of work that shares one thing in common: all nine of the directors attended film school at the University of Southern California. Though Lucas gets the most play with 3 shorts--including the exhilarating 1:42:08 - A Man and His Car--it's Zemeckis' work that shines. He exhibits subtle nuances and a keen eye for storytelling with The Lift, which hints at both sci-fi and the supernatural with its tale of an old elevator that seems to operate on its own whim. And with Field of Honor--which won the Student Academy Award in 1975--he balances humor with chaos as he tells the bittersweet story of a Vietnam vet who is released from a mental institution. Though parts of the short are played for laughs, the film also invokes a feeling of panic as it makes the viewer realize just how challenging it can be for any former soldier to fit back into civilian life. Another standout production is Richard L. Bare's sparse The Oval Portrait. Shot in black and white, the silent film is based on an Edgar Allen Poe story and tells the sad tale of an artist who is so obsessed with painting a perfect portrait that he allows life to pass him by. It gets off to a slow start, but picks up as the film flashes back to the painter's vibrant younger days. Bare, who would later make his name with The Twilight Zone, shows maturity and patience as he tells his epic story in just under 19 minutes. While legendary is a subjective word that befits a household name such as Lucas, it seems over the top in its use to describe all of the directors included here. Yes, the filmmakers are inarguably talented, if not all legendary. Still, the collection is a must-see for film buffs curious about seeing some of their favorite directors' earliest works.
Review of Jae-Ha Kim on Amazon HERE
Titles
Second Side
DVD Review: 20th Century Fox - Region 1 - NTSC
DVD Box Cover

CLICK to order from:

Distribution
20th Century Fox - Region 1 - NTSC
Runtime
2:10:20 (first side) + 57:50 (second side)
Video
1.33:1 Aspect Ratio
Average Bitrate: 2.77 mb/s
NTSC 720x480 29.97 f/s

NOTE: The Vertical axis represents the bits transferred per second. The Horizontal is the time in minutes.

Bitrate:

Audio
English (Dolby Digital 1.0)
Subtitles
English, Spanish, None
Features

Release Information:
Studio: 20th Century Fox

Aspect Ratio:
Original Aspect Ratio 1.33:1

Edition Details:

• Conversations with Bare (7:58), Lucas (9:43) and Zemeckis (11:09)

DVD Release Date: August 21st, 2007
Keep Case
Chapters: 1 per short
Comments:

Technically this disc is a DVD14 - two sides, one dual layer, one single layer. It, appears to be progressive and although the quality is weak I expect they looked quite similar when originally completed or at least there has been no restoration to improve their appearance. Most of the earlier shorts are fairly hazy, speckles throughout and colors tend to bleed - audio is similarly weak but thankfully Fox has included optional subtitles which I recommend using. As a positive - they are watchable (just view the screen caps below to temper your expectations).

All the films are in the ratio 1.33 but note that the only anamorphic presentation on the DVD is the Lucas interview on the second side.

Supplements include three interviews with with Richard Bare (7:58), George Lucas (9:43) and Robert Zemeckis (11:09). They are interesting but I wished they were much longer and the other directors had an opportunity to voice their opinions as well.

The films had an appeal for me although I wouldn't rate anything I saw as groundbreaking - just kind of amusing or a little introspective - certainly they appeared to be 'student films'. I saw nothing that evoked anything like Tarkovsky's The Steamroller and the Violin diploma film effort (well, maybe The Lift and Field of Honor). And I, personally, wouldn't rate any of these directors as 'legendary' as the DVD title implies. Like the Amazon reviewer I would lean towards Zemeckis' as the more nuanced and polished works. Best thing about this package is the price which reflects a pretty decent deal considering that you get over 3 hours of features and the three moderately revealing 'conversations'. Sure I'll say that many budding filmmakers, students and deep rooted fans will receive the most benefit from viewing. It's kind of neat and interesting if nothing more.
---

DVD Menus

Second Side
---
Subtitle Sample
Screen Captures