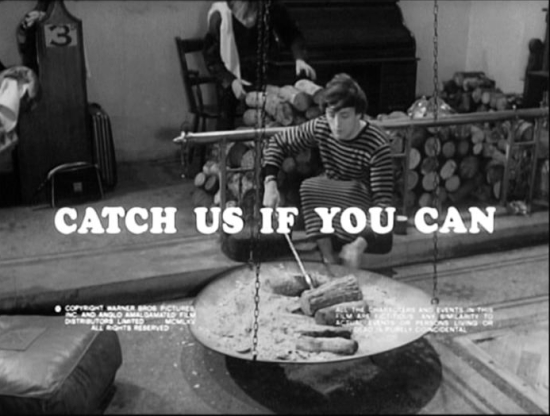 (aka "Having a Wild Weekend" )
directed by John Boorman
UK 1965
Let's start with a relevant Jack Kerouac anecdote: sometime during the 1960s – when Kerouac was staying with his mother in Northport, Long Island – he opened the front-door to a gaggle of young, would-be rebels who, like so many others, had crowned him as some kind of countercultural tsar. In this particular case, the youthful cohort were uniformed in black leather jackets, with up-turned collars testifying to their poseur cool. As one – and all grinning – they swung around to reveal the words "Dharma Bums"(1) made out in studs across the backs of their jackets. Kerouac slammed the door in their faces. We can guess at the source of his frustration and dismay: the underground had become legitimate; non-conformity had become conformism; and all the good work had been misappropriated and twisted beyond recognition.

Despite it being a "pop musical" starring the Dave Clark Five, John Boorman's debut feature, 'Catch Us If You Can' (1965), shares Kerouac's disillusionment and joins him in slamming the door on 60s youth culture. That decade's hipsters are dismissed as the "products of affluence," and their rebellion is as superficial as the studding on those leather jackets. Indeed, an early scene in the film's breezy, Godardian(2) first act shows the coolly-beautiful couple – Steve (Dave Clark) and Dinah (Barbara Ferris) – tearing through the streets of London in an E-Type Jaguar, whilst shouting at pedestrians through a megaphone, "Change your way of life!"

So unthreatening – and so photogenic – is this brand of rebellion that it can be commoditised, packaged and sold, sold, sold by the "square" capitalists. Capitalists such as the advertising executive Lenny (Lenny Davidson), who employs Dinah, Steve and the rest of the Dave Clark Five as the faces of a campaign promoting meat. This appropriation of youth culture – and that culture's complicity – only serves to strengthen the dominant system. Boorman's camera lingers on the monolithic office blocks and the serried ranks of cars, leaving us in no doubt as to which Will has Triumphed here. Even when the youngsters decide to leave all this behind – going AWOL from their advertising work, in search of a rural paradise – they discover that there is no true escape (and the film accordingly shifts into melancholy). Dinah is everywhere recognised as "that Butcher Girl," and the media interest in their desertion is exploited by the suits as yet another way to sell more meat…

This pessimistic message is intelligent, off-beat and – given that 'Catch Us If You Can' was released at the optimistic height of the "Swinging Sixties" – brave. However, it does launch a peculiar irony into the centre of the film: that is, whilst 'Catch Us If You Can' criticises the exploitation of youth culture by the moneymakers of this world, it is guilty of much the same crime by using the Dave Clark Five as a hook for the youth dollar (the band aren't playing themselves, so there is little other reason for their involvement). In the end, this film – despite its youth pretensions – is just another money-spinner for the men-in-suits.

This irony may be either irresistible or totally damaging, depending upon which way one approaches it. Myself, I am inclined to take a charitable view, and believe that this inner tension makes 'Catch Us If You Can' an even more intriguing product of its time. Besides, it is not inconsistent with Boorman's later work: only two years later, audiences would witness a fully-fledged Cinema of Irony in his masterpiece, 'Point Blank' (1967). And so – though it may be mishewn – 'Catch Us If You Can' still stands as an interesting signpost at the start of a remarkable career.

(1) After Kerouac's 1958 novel 'The Dharma Bums' – a poignant work which investigates a psyche torn between the pleasures of nature, hill-walking and Buddhist doctrine, and the more ephemeral pleasures of drugs, drink and sex in jazz-era San Francisco. Kerouac coined the term "Dharma Bum" to refer to those who – like him and the poet Gary Snyder (who also features in the novel, under the name Japhy Ryder) – sought the sublime amongst the profane, and enlightenment amid the confusion.

(2) Syncopated editing patterns recall 'Breathless' (1960).
Theatrical Release: April - 1965 - UK
Reviews More Reviews DVD Reviews
DVD Review: Optimum Releasing - Region 2 - PAL
DVD Box Cover

CLICK to order from:

Distribution

Optimum Releasing

Region 2 - PAL

Runtime
01:27:2 (4% PAL speedup)
Video

1.33:1 Original Aspect Ratio

16X9 enhanced
Average Bitrate: 6.54 mb/s
PAL 720x576 25.00 f/s

NOTE: The Vertical axis represents the bits transferred per second. The Horizontal is the time in minutes.

Bitrate

Audio
English (Dolby Digital 2.0)
Subtitles
None
Features
Release Information:
Studio: Optimum Releasing

Aspect Ratio:
Widescreen anamorphic - 1.33:1

Edition Details:

none

DVD Release Date: June 4th, 2007
Keep Case

Chapters 12
| | |
| --- | --- |
| Comments: | Optimum Releasing's Region 2 release is a satisfactory effort. Whilst the DVD certainly has some negative aspects – no extras and (less excusable) no subtitles – the visual/aural qualities of the transfer are extremely impressive. Of particular note is the clean reproduction of Manny Wynn's black-and-white, location shooting. |
---

DVD Menus

---
Screen Captures