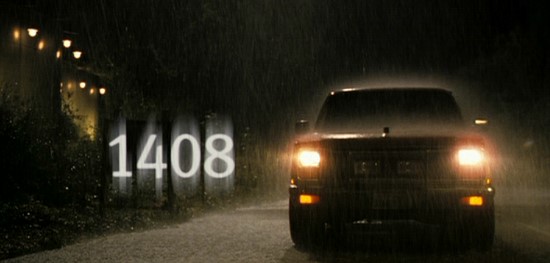 Directed by Mikael Håfström
USA 2007
If elements of 1408 seem a little familiar, it shouldn't be a surprise. Here's John Cusack, once again having lodging problems (see also Identity). Here's a supernatural debunker faced with something that refuses to be debunked (see also The Reaping). And here's a movie about a room-for-rent where people go in but don't come out (see also Vacancy). Yet, despite all of these recycled plot elements bobbing around, there's nothing stale about 1408, which is easily the best horror film of 2007. Too often, we see a movie with a great setup like this ruined by a subpar ending. However, 1408 deftly sidesteps that trap, delivering a conclusion that somehow manages not to disappoint while at the same time leaving things open-ended enough that viewer interpretation comes into play.

To say that movie adaptations of Stephen King stories have a checkered history is to understate the matter. The rule of thumb is that King's non-horror efforts have gotten much better treatment than his bread-and-butter fare. The rule doesn't apply here, though. While 1408 isn't on the same plane as The Shawshank Redemption or Misery, it's easily among the best King-inspired motion pictures to-date. It is by turns bold, scary, and downright creepy. The film doesn't try to do too much and what appears to be a dead give-away of things to come turns out to be nothing more than a delicious piece of misdirection. I love that sort of thing. Instead of the viewer being a step ahead of the filmmakers, it's the other way around.
Excerpt from James Berardinelli's Reel.com review located HERE
Posters
Theatrical Release: June 12th, 2007
Reviews More Reviews DVD Reviews
DVD Review: Weinstein (2-disc Collector's Edition) - Region 1 - NTSC
DVD Box Cover

CLICK to order from:

Distribution
Weinstein - Region 1 - NTSC
Runtime
1:44:04 + 1:52:12
Video
2.35:1 Aspect Ratio
Average Bitrate: 6.72 mb/s + 5.51 mb/s
NTSC 720x480 29.97 f/s

NOTE: The Vertical axis represents the bits transferred per second. The Horizontal is the time in minutes.

Bitrate:

Disc 1

Bitrate:

Disc 2 (Director's Cut)

Audio
English (Dolby Digital 2.0), DUB: French (only on Disc 1)
Subtitles
English, Spanish, None
Features

Release Information:
Studio: Weinstein

Aspect Ratio:
Original Aspect Ratio 2.35:1

Edition Details:

• 2 'webepisodes'
• trailer

On Disc 2
• Audio commentary by director Mikael Håfström and the writers Scott Alexander & Larry Karaszewski
• 5 deleted scenes
• 4 featurettes

DVD Release Date: October 2nd, 2007
Keep Case inside cardboard box
Chapters: 20 + 22
Comments:

This two disc Collector's Edition has both the theatrical version of the film (on the first disc) and an 8 minute longer Extended Director's Cut on disc 2 which has an alternate ending along with some prolonged snippets of violence. Both are anamorphic in the 2.35 ratio, progressive and dual-layered. Image quality appears the same - in fact the only difference I can identify is that disc 2 (Director's Cut) has no French DUB where the shorter theatrical version offers one. The image is not stellar - it looks a lot like a new film on an SD DVD - meaning a bit dull at times with some digital noise peeking through. Not to complain - it is quite watchable and optional Spanish or English subtitles are available on both versions supporting the fairly unremarkable but standard 5.1 audio which is often not pushed to its max.

There are 2 short 'Webisodes' on disc one - "John Cusack on 1408" (2:30) - a sound-bite about his role and "Inside Room 1408" (2:05) provides a miniscule peek behind the scenes. There is also a Theatrical Trailer (2:31) - none are 16X9 but have optional subtitles.

More extensive supplements are on the 2nd disc with an optional audio commentary by director Mikael Håfström and the writers Scott Alexander & Larry Karaszewski. It's okay but I wasn't overwhelmed (kind of my opinion of the film) - it sounds a shade mundane although the speakers had some enthusiasm detailing certain production aspects. I didn't find it very smooth or prepared. Honestly, I don't know that this film warranted a commentary - but anyway.

Then there are 10 minutes worth of deleted scenes (5 of them actually - each 16X9 enhanced). There are also 4 short featurettes - totally about 20 minutes called 'The Secrets of 1408' with self-explanatory titled segments; The Characters, The Director, The Physical Effects and The Production Design. Nothing is covered in much detail but those keen on the film may wish to peruse.

My jury is still out about this film - I liked Cusack a lot but something was rubbing me the wrong way. I'm not really a fan or modern horror or Stephen King so maybe that was enough to push in the opposite direction. Certainly there are some strong points and I personally enjoyed the 'Director's Cut' a bit more than the 'Theatrical' but neither had me on the edge of my seat. My wife liked it more than I - so there.
---

DVD Menus
Disc 2
---
Subtitle Sample
Screen Captures