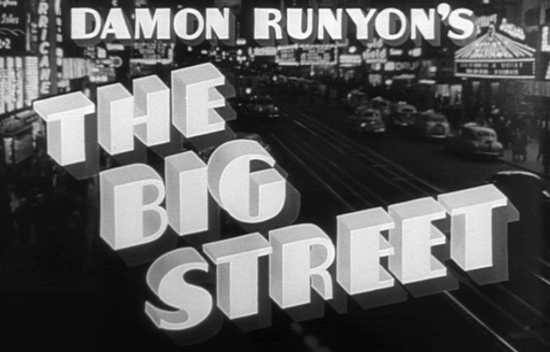 Directed by Irving Reis
USA 1942
Little Pinks is in love with a nightclub singer named Gloria. But it is a unrequited love as she does not know that he exists. Pinks is a shy busboy and Gloria only goes out with men who are loaded. When she tries to dump Case for richer Reed, Case dumps her down the stairs. After months of treatment, she will never walk, but Pinks is the only one who takes care of her. He pays all her bills and sends her flowers with unsigned cards. But to Gloria, he is nothing in her eyes. When she wants to leave New York for Florida, to be with the money set, he takes her.
***
Adapted from a story by Damon Runyon ('Little Pinks'), this captures much of his low-life spirit and colourful vernacular, but occasionally spoils it all by wallowing in unnecessary sentimentality. Busboy Fonda idolises nightclub chanteuse Ball so much that when she's crippled by her gangster friend, he devotes himself to her well-being, even to the extent of pushing her wheelchair to Florida. Most appealing are the performances by the likes of Pallette, Collins and Levene, although Ball, in a rare straight role, is stunning as the hard-as-nails, embittered exploiter of Fonda's affections.
Excerpt from TimeOut Film Guide located HERE
Poster
Theatrical Release: August 13th, 1942
Reviews More Reviews DVD Reviews
DVD Review: Warner - Region 1,3,4 - NTSC
DVD Box Cover

CLICK to order from:

Also available in The Lucille Ball Film Collection which includes Dance Girl Dance / The Big Street / Du Barry Was a Lady / Critic's Choice and Mame. Available HERE:
Distribution
Warner Home Video - Region 1,3,4 - NTSC
Runtime
1:28:27
Video
1.33:1 Aspect Ratio
Average Bitrate: 5.54 mb/s
NTSC 720x480 29.97 f/s

NOTE: The Vertical axis represents the bits transferred per second. The Horizontal is the time in minutes.

Bitrate:

Audio
English (Dolby Digital 2.0)
Subtitles
English, French, None
Features

Release Information:
Studio: Warner Home Video

Aspect Ratio:
Original Aspect Ratio 1.33:1

Edition Details:

• Vintage short: Calling All Girls
• Vintage cartoon: 'The Hep Cat'

DVD Release Date: June 19th, 2007
Keep Case
Chapters: 26
Comments:

Pretty standard transfer from Warner considering the era the film was made. Meaning it looks fairly good. Better than average contrast but the usual digital artifacts are visible. It is both progressive and on a dual-layered disc so it won't look much better in my lifetime - making complaints a bit like looking a gift-horse in the puss - to get into the spirit of the film. Some minor dirt and even more minor wear shows but I still enjoyed the presentation and the film. Ball is really in character as the self-serving showgirl and Fonda the small-timer with enough street sense, beyond his naiveté, to look after himself (to a point). A kind of unique RKO offering in that Damon Runyon's 'heartless' undercurrent shines through enough for Andy Warhol to call it "the sickest film ever made." Totally untrue but there is something more here than you might anticipate - I consider this a good thing.

Audio is only offered in English stereo and it sounds clear - without major flaw (some minor hiss and what could be a dropout or two is acceptable). English or French optional subtitles support the audio.

Supplements include a vintage short (about 20 minutes) entitled Calling All Girls. and a jazzy-rift cartoon 'The Hep Cat'. Neither are highly relevant to the film but there inclusion is nevertheless appreciated. The price is good but it always make the whole boxset enticing for a few more bucks. I've only seen this from the DVD set but recall DuBarry Was A Lady from many years ago and it might be worth a re-watch. Dance, Girl, Dance has some decent reviews as well. Go for it.
---

DVD Menus
---
Subtitle Sample
Screen Captures
---
---
DVD Box Cover

CLICK to order from:

Also available in The Lucille Ball Film Collection which includes Dance Girl Dance / The Big Street / Du Barry Was a Lady / Critic's Choice and Mame. Available HERE:
Distribution
Warner Home Video - Region 1,3,4 - NTSC