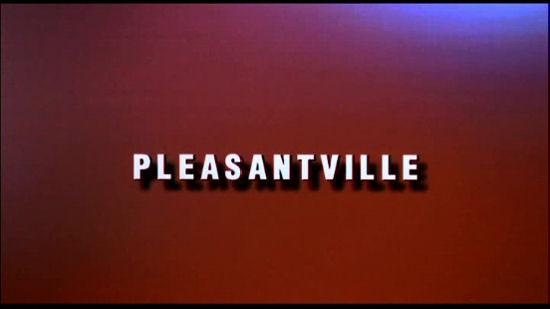 directed by Gary Ross
US 1998
The signs are all around us: modernity brings apathy, dysfunction and nihilism in its wake! And when we add global warming, the AIDs epidemic, or any other recent calamity to this unhappy mix, the picture becomes even bleaker. How tempting, then, a return to apparently simpler times; a return to, say, the halcyon days of the 1950s.

This impulse is exploited by debut director Gary Ross' intelligent comedy 'Pleasantville' (1998), which transplants its 'Generation Y' protagonists – the bickering siblings, David (Tobey Maguire) and Jennifer (Reese Witherspoon) – into the black-and-white world of a 1950s sit-com. However, it soon becomes clear that Pleasantville's rosy veneer is maintained by a repressive value system which stifles any "wayward" emotions – such as the sexual longing of the housewife Betty (Joan Allen), or the artistic inclinations of the soda-jerk Bill (Jeff Bridges) – and which stands as a barrier to true happiness. Far from being corruptive, David and Jennifer's modern ways actually enlighten Pleasantville's residents and catalyze the town's gradual transformation into vivid Technicolor.

Despite 'Pleasantville''s thematic and technical cleverness, there is a worry that its sit-com setting risks undermining the film's central message. Can we really conclude that modern ways are in some way superior to those of the past, when that past is equated with a television show's representation of it? Further, as the true 1950s were significantly less repressive than their 'Pleasantville' incarnation, might we attack Ross for cynically establishing a faux-50s which ensures the superiority of a real 90s? Such an attack may only be made if there is an internal imbalance: that is, if the film's 1990s passages pertain to reality in a manner that the 1950s passages do not. Luckily this is not the case. The 90s sequences – with their familiar jock, slut, geek and dull teacher tropes – are as much a pastiche as the sit-com elements. The overall comparison is not an unfair one between truth and untruth, but is, instead, one between two untruths; a comparison between, say, MTV and 'The Adventures of Ozzie and Harriet'.

However, this analysis risks reducing 'Pleasantville', and its message, to nought – why should we pay attention to a film which supports twin illusions? There are two immediate answers: firstly, the televisual clichés inject a humour that social realism would erode. And, secondly, it should be remembered that falsehoods often bear truths, and that even the illusions of the popular media serve to reveal the Zeitgeist. If MTV is significantly more liberated than 'The Adventures of Ozzie and Harriet', then 'Pleasantville''s central claim – that modern life is more liberated than that of the 50s – is hard to doubt.

To its further credit, 'Pleasantville' unfolds this central claim without smugness. Whilst late 20th Century ways are in many respects portrayed as progressive, the film also makes it abundantly clear that in other areas – such as civic pride, kinship and courtesy – they represent regress. The message is that we have a similar amount to learn from the past as it has to learn from us. Indeed, it is no accident that the person who, initially, most demonstrates the characteristics of Generation Y – that is, the sluttish and egotistical Jennifer – is the character who undergoes the greatest degree of change in the film. At the film's ending, she chooses to prolong her stay in Pleasantville; a tacit acknowledgement, perhaps, that 1950s values are corrective and that she requires a larger dose of them.

If 'Pleasantville' is guilty of anything, then it is an intermittent tendency to overreach. Alongside its straightforward comparison of values, the film also broaches the Civil Rights Movement; an almost Heideggerian celebration of Being; the Third Reich; and historical fatalism. These topics are too much for 'Pleasantville''s central visual metaphor to bear, and their complacent inclusion often does an intellectual disservice to the original movements or ideas.

In the end, though, any of 'Pleasantville''s problems are swamped by the film's immense charm. Indeed, 'Pleasantville' stands alongside the works of Preston Sturges and Frank Capra as an example of truly well-meaning satire: a film which uplifts just as swiftly as it lampoons, and which celebrates as fiercely as it critiques. It is fitting that 'Pleasantville''s very existence supports its optimistic message: when even modern Hollywood can produce so delicate a treasure, times can't be that bad after all…
Posters
Theatrical Release: October - 1998 - Austin Film Festival
Reviews More Reviews DVD Reviews
DVD Review: New Line - Region 1 - NTSC
DVD Box Cover

CLICK to order from:

Distribution

New Line

Region 1 - NTSC

Runtime
2:04:26
Video

1.85:1 Original Aspect Ratio

16X9 enhanced
Average Bitrate: mb/s
NTSC 720x480 29.97 f/s

NOTE: The Vertical axis represents the bits transferred per second. The Horizontal is the time in minutes.

Bitrate

Audio
Dolby Digital 5.1
Subtitles
English
Features
Release Information:
Studio: New Line

Aspect Ratio:
Widescreen anamorphic - 1.85:1

Edition Details:
• Audio commentary by writer/director Gary Ross
• Isolated score with optional commentary by composer Randy Newman
• 'The Art of Pleasantville' featurette
• Fiona Apple's 'All Across the Universe' video, directed by Paul Thomas Anderson
• Story board gallery
• Theatrical trailer

DVD Release Date: March 23rd, 1999
Snapper case

Chapters 38
Comments:

An impressive film receives an impressive DVD treatment from New Line. The anamorphic transfer – with decent contrast and vibrant colours – capably handles Pleasantville's mixed colour-scheme and allows the film's beautiful imagery to dazzle. The Dolby Digital 5.1 sound also excels, particularly in regard to Pleasantville's excellent soundtrack (which includes numbers by the Dave Brubeck quartet, Miles Davis and Etta James, as well as Fiona Apple's superb cover of the Beatles' 'All Across the Universe').

As for the extras, they include two lively commentaries from writer-director Gary Ross and composer Randy Newman; a 30 minute making-of featurette which details the film's special effects; and, perhaps most importantly, the music video for Fiona Apple's rendition of 'All Across the Universe', as directed by the incomparable Paul Thomas Anderson.

It is disappointing, though, that only English subtitles are included on the disc.
---

DVD Menus

---
Screen Captures
Not the worst combing ever - just the scene in which our heroes enter the television!