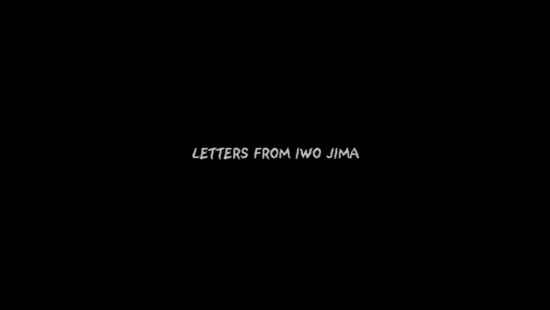 directed by Clint Eastwood
USA 2006
When Clint Eastwood and Steven Spielberg teamed up to make Flags of Our Fathers, they created instant Oscar buzz. For sure a war movie from two of Hollywood's biggest icons would sweep everything, right? The movie was released in October 2006 accompanied by unexpectedly lukewarm reviews and tepid box-office response.

Enter Letters From Iwo Jima, which was drafted on a lark by Eastwood. Why not show the other side, the veteran moviemaker wondered. Produced with a $15 million budget (Flags had $55 million at its disposal), Letters was intended to be an art-house booster to Flags during Oscar season. However, with Flags losing steam, Eastwood and Spielberg pushed for Letters to be released in December 2006. Perhaps the Japanese-language half of the Iwo-Jima saga could carry the day.

Letters From Iwo Jima received four Oscar nominations--Picture, Director, Original Screenplay, and Sound Editing. It lost Picture and Director to The Departed, which is hugely disappointing considering how The Departed trashed excellent source material that was found in Infernal Affairs. The losses are all the more disappointing because I consider Letters From Iwo Jima to be Eastwood's best directorial effort.

I've always been surprised by the positive critical response to Eastwood's movies. They have undoubtedly strong acting (especially Mystic River), but they have sloppy tangents that really take me out of cinema reverie (the English Bob scenes in Unforgiven, Eli Wallach's grotesque cameo in Mystic River, the Danger character in Million Dollar Baby). Eastwood has said that he delivers final cuts in about a week's time. I wish that he had spent a few more days trimming the fat away from his movies. Flags really needed additional editing sessions to bring its stories and themes into focus. De-mystifying war-time propaganda is a legitimate and serious issue, but Flags reduced a social concern into a I-can't-believe-I-left-behind-my-buddies tear fest.

This is why I was so surprised by Letters. It is the kind of no-nonsense moviemaking that a man of Eastwood's reputation should be delivering consistently. As a Chinese American, I walked into the movie thinking that I would hate Eastwood for "sanitizing" or "valorizing" the Japanese during wwii. Happily, my good friend John Puccio is right--Japanese leaders may have been evil and wrong, but most soldiers on both sides of the war were simple folk who were the unfortunate victims of pernicious zealotry. Some of the Japanese officers on Iwo Jima are aware of their leaders' lies, but they resolve to fight to save their country's children, in the hopes that perhaps future generations of Japanese could avoid falling into the hands of fascist nationalists once again.

Ken Watanabe has been the go-to guy for big-budget American movies with Japanese characters (The Last Samurai, Batman Begins, Memoirs of a Geisha). He's not quite "The New Toshiro Mifune", but if he keeps this up, then he'll etch his name in international cinema history, too.

I have two quibbles. First, the movie is a tad long. Since the soldiers scurry from one dark tunnel to another, it is difficult to assess what scenes exactly are "necessary" and what scenes are repetitive. My other complaint is with the music score. The main theme is haunting and beautiful, but it is used so frequently that it feels as if the movie were released with a temp score.
Posters
Theatrical Release: 15 November 2006 (Japan)
Reviews More Reviews DVD Reviews
DVD Review: Warner (2-disc Special Edition) - Region 1 - NTSC
Big thanks to Yunda Eddie Feng for the Review!
DVD Box Cover

CLICK to order from:

Distribution

Warner

Region 1 - NTSC

Runtime
140
Video

2.40:1 Original Aspect Ratio

16X9 enhanced
Average Bitrate: 6.60 mb/s
NTSC 720x480 29.97 f/s

NOTE: The Vertical axis represents the bits transferred per second. The Horizontal is the time in minutes.

Bitrate

Audio
Dolby Digital 5.1 Japanese
Subtitles
Optional English, French, and Spanish
Features
Release Information:
Studio: Warner

Aspect Ratio:
Widescreen anamorphic - 2.40:1

Edition Details:
• Red Sun, Black Sand: The Making of Letters From Iwo Jima
• The Faces of Combat: The Cast of Letters From Iwo Jima
• Images from the Frontlines: The Photography of Letters From Iwo Jima
• November 2006 World Premiere at Budo-kan in Tokyo
• November 2006 Press Conference
• trailers

DVD Release Date: 22 May 2007
slim double keepcase

Chapters 33
Comments:

Video:
Like many movies touched by Steven Spielberg, the movie was given the "bleach bypass" treatment, though I don't know if this was done chemically (to the film) or digitally (in computer post-production). Letters has an intentionally grainy style that simulates the appearance of movies made in the 1940s. On the whole, the picture is rather soft.

Audio:
This release demonstrates the kind of integrity that is rare in Hollywood. The only audio selection is the original Dolby Digital 5.1 Japanese track. There are no dubs to coddle lazy viewers. To be fair, some dubs are nice and even reduce racist accents (for example, Disney's Mulan has a Mandarin Chinese dub that is much less offensive than the the original English track). However, Letters From Iwo Jima is a Japanese experience through and through, and an English, French, or Spanish dub for the R1 market would allow consumers to skip out on the rich texture of the actors' voices.

The movie won an Oscar for Sound Editing, and the DVD's audio is demo quality. It has subtle nuances and appropriately thunderous moments. The actors' voices are always intelligible without sounding artificially sweetened. Even though the high-def optical disc era has arrived, this disc is a fine example of what can be achieved when disc space isn't gobbled up by unnecessary audio choices.

Optional English, French, and Spanish subtitles as well as optional English closed captions support the audio.

Extras:
--Disc 1--
Upon loading, the disc plays trailers for Flags of Our Fathers and other Warner releases. On 22 May 2007, Warner is also releasing a movie called American Pastime, which depicts the story of Japanese Americans who were interred in American concentration camps during World War II.

--Disc 2--
"Red Sun, Black Sand: The Making of Letters From Iwo Jima" details the movie's genesis.

"The Faces of Combat: The Cast of Letters From Iwo Jima" covers how the casting process gathered perhaps the best ensemble group of any 2006 movie.

"Images From the Frontlines: The Photography of Letters From Iwo Jima" is a self-advancing photo gallery set to music.

As with The Last Samurai, Warner hosted a big bash in Japan. Disc 2 includes footage from the movie's world premiere in Tokyo as well as footage from a press conference attended by Eastwood, screenwriter Iris Yamashita, and some members of the cast.

Finally, you get one of the film's theatrical trailers.
---

DVD Menus
---
Screen Captures
subtitle sample