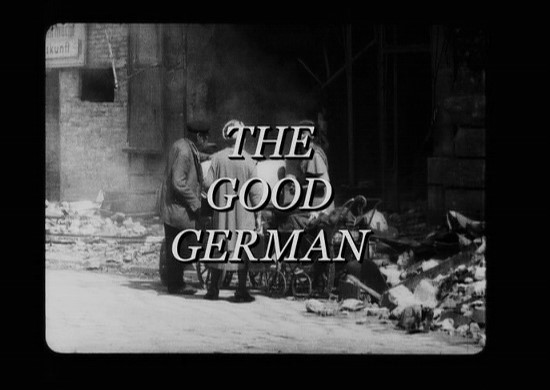 Directed by Steven Soderbergh
USA
2006
In his genre pastiche "The Good German," Steven Soderbergh has tried to resurrect the magic of classical Hollywood, principally by sucking out all the air, energy and pleasure from his own filmmaking. Based on the well-regarded Joseph Kanon novel, this film stars a distracted, emotionally detached George Clooney as Jake Geismer, an American journalist who, following World War II, returns to Germany to check out the doings at Potsdam and find his lost love, Lena, a frau who, as played by a vamping Cate Blanchett, recalls Rainer Werner Fassbinder's postwar heroine Veronika Voss by way of Carol Burnett.

As it turns out, they don't make them like they used to even when they try. Mr. Soderbergh has explained that with "The Good German" he was seeking to make a film that looked and sounded like an old studio picture, but without the old studio prohibitions. In the name of verisimilitude and creative freedom, his actors talk a blue streak in black-and-white images captured with period-era camera lenses. More lewdly, Tobey Maguire, who plays Tully, one of those smiling sadists of the type once played by Dan Duryea, helps the film earn its R rating by doing the kinds of things to Ms. Blanchett that audiences could only dream of doing to Ingrid Bergman. Here's looking at you kid, flung over the bed and on your knees.

[edit]

Rather unfortunately, and perhaps with an eye to the present, they end up suggesting that in wartime everyone's hands can become slicked with blood, even a Jew in Nazi Germany. Somewhere, Jack and Harry Warner, who stopped doing business with Nazi Germany before any other studio in Hollywood, are spinning. They aren't the only ones.
Excerpt from Manohla Dargis' review at the NY Times located HERE
Poster
Theatrical Release: November 12th, 2006
Reviews More Reviews DVD Reviews
DVD Review: Warner - Region 1 - NTSC
DVD Box Cover

CLICK to order from:

Distribution
Warner Home Video - Region 1 - NTSC
Runtime
1:47:28
Video
1.33:1 Aspect Ratio
Average Bitrate: 7.12 mb/s
NTSC 720x480 29.97 f/s

NOTE: The Vertical axis represents the bits transferred per second. The Horizontal is the time in minutes.

Bitrate:

Audio
English (Dolby Digital 5.1), English (Dolby Digital 2.0 Surround), DUBs: Spanish (Dolby Digital 5.1), French (Dolby Digital 5.1)
Subtitles
English, French, Spanish, None
Features

Release Information:
Studio: Warner Home Video

Aspect Ratio:
Original Aspect Ratio 1.33:1

Edition Details:

• none

DVD Release Date: May 22nd, 2007
Keep Case
Chapters: 21
Comments:

Firstly our information tells us this film was shown theatrically at 1.66:1. IMdb supports this information. Amazon lists this DVD as being presented at 1.66 anamorphic. This DVD is actually 1.33 - full frame. Soderbergh supposedly wanted it that way although there is no disclaimer on the DVD package or before the start of the film that supports that. It certainly shouldn't be advertised as 16X9 enhanced when it is not.

The image correspondingly has some of its own difficulties. Perhaps it was intentional but there are definite instances of whites being blown-out. Sharpness and detail are alright but are occasionally infested with a kind of grainy (again - intentional I understand) appearance that hinders viewing. Perhaps this was done as an homage but in my opinion it doesn't look very good at all. Choices of 5.1 and 2.0 channel English audio are available as are two 5.1 DUBs - French and Spanish. Well rendered subtitles are also optional.

The DVD starts with skip-able trailers for "Infamous", "Letters from Iwo Jima", "Ocean's 13", "The Painted Veil", and "American Pastime". But after that there are zero extras - no Clooney, Blanchett or Maguire interviews, no behind the scenes featurette - no commentary. With Soderbergh popping up on DVD commentaries all over the place I don't see the reasoning behind nothing being available on one of his own films. This would have been a perfect opportunity to explain what the hell he was thinking of with this film. Has everyone, including Warner, already distanced themselves from this project? Something certainly is up here folks.

I can find no reason to recommend this un-entertaining film or incompetent, bare-bones DVD.
---

DVD Menus
---
Subtitle Sample
Screen Captures