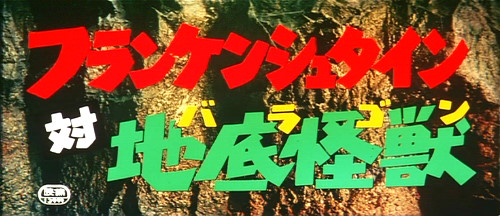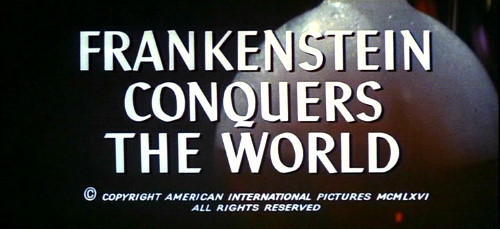 (aka 'Furankenshutain tai chitei kaijū Baragon' or 'Frankenstein Conquers the World' or 'Frankenstein Meets the Giant Devil Fish' or 'Frankenstein and the Giant Lizard' or 'Frankenstein vs. Baragon' or 'Frankenstein vs. Godjirra' or 'Frankenstein vs. the Giant Devil Fish' or 'Frankenstein vs. the Subterranean Monster' or 'Furankensuten to Baragon')
Directed by Ishirō Honda
Japan 1965
During WWII, a human heart taken from a certain lab in Europe (Dr. Frankenstein's) is kept in a Japanese lab, when it gets exposed to the radiation of the bombing of Hiroshima. The heart grows in size, mutates and sprouts appendages, and eventually grows into a complete body and escapes. Later, a feral boy with a certain physical deformity (a large head with a flat top) is captured by scientists who refer to the boy as Frankenstein. The creature grows to the height of 20 feet, escapes again, fights police and army, and is practically indestructible. Later, a reptilian monster goes on a rampage. Eventually the Frankenstein creature and the reptile face off in a terrible battle.
***
The fifties and sixties were a bizarre time for Frankenstein and his creations, with several variations on the theme that were quite offbeat. This was one of the strangest, with the heart of the Frankenstein monster being sent to Japan during World War II, where it is on hand for the bombings of Hiroshima and Nagasaki, causing a giant version of the Frankenstein monster to grow from it. The monster is basically good, but misunderstood, more a victim than an aggressor, Once again I admire the skillful model work that Toho put into their movies; the scenes of him walking through the city are quite effective. I also like the touches of humor and (possibly) good-natured parody; when the heart is taken away from the scientist at the beginning of the movie, he destroys his own lab in much the same way we've known the monster to do so in the Universal movies. Two of my favorite moments are comic in nature, both involving the monster's hunt for food. The first is where he tosses a tree at a wild boar, and the second is when he digs a pit to catch it and what he catches in its place.
Excerpt from Scifilm (Dave Sindelar) located HERE
Posters
Theatrical Release: August 8th, 1965
Reviews More Reviews DVD Reviews
DVD Review: Tokyo Shock (2-disc) - Region 1 - NTSC
DVD Box Cover

CLICK to order from:

Distribution
Tokyo Shock - Region 1 - NTSC
Runtime
1:33:00 (1:29:48) + 1:24:42
Video
2.35:1 Aspect Ratio
Average Bitrate: 4.71 + 5.0 mb/s
NTSC 720x480 29.97 f/s

NOTE: The Vertical axis represents the bits transferred per second. The Horizontal is the time in minutes.

Bitrate:

Japanese version(s)

Bitrate:

US version

Audio

Japanese version - Japanese (Dolby Digital mono), Japanese (Dolby Digital 5.1)

US Version - English (Dolby Digital mono), English (Dolby Digital 5.1)

Subtitles
English (on Japanese version) and for Japanese commentary as well, None
Features

Release Information:
Studio: Tokyo Shock

Aspect Ratio:
Original Aspect Ratio 2.35:1

Edition Details:

Japanese version

• Japanese commentary with English subtitles
• Previews
US version
• Special Announcement
• Theatrical trailer

• Extra International Footage
• Deleted Scenes
• Photo Gallery


DVD Release Date: June 26th, 2007
Keep Case
Chapters: 12
Comments:

This Media Blasters - Tokyo Shock package offers quite a lot for your dollar. There are two discs - the first is dual-layered with the original Japanese theatrical version (Frankenstein vs. Baragon) and the International version of the film. The transfers are progressive and anamorphic in the impressive 2.35:1 Tohoscope ratio. It is not pristine but colors and detail are certainly acceptable. The International cut is the superior of the 2. There is an optional commentary track by a member of the film crew, Sadamasa Arikawa, and a lead interviewer. It is in Japanese with a 2nd track of optional English subtitles. It sheds some light about Hondo and the film production but overall it is nothing exceptional - there is only so much you can say about this film... or so much you can care about.

Disc 2 has the US version which is really the Japanese theatrical with English credits and a weak English dub. The only different scenes in the American release are viewable as extras (on disc 2). The image quality is about the same as the Japanese theatrical. There are some weak supplements (cited as 'extra international footage' and 'deleted scenes') on the second disc but they don't amount to anything significant - snipits that might have been seen on old televised pan and scan versions. There is also a Photo Gallery.

So there you have it - 3 versions of this classic of Japanese monster silliness complete with commentary. For what you are getting for your dollar value here - it is a definite deal. I can't get enough of this stuff as it shoots be right back to my Saturday afternoon adolescence. Certainly Media Blasters - Tokyo Shock should be commended - regardless of the film's lack of cinematic importance and the extra-long fight scenes are a hoot!
---

DVD Menus
Disc 2
---
Subtitle Sample Disc 1 (International and Theatrical)
Screen Captures