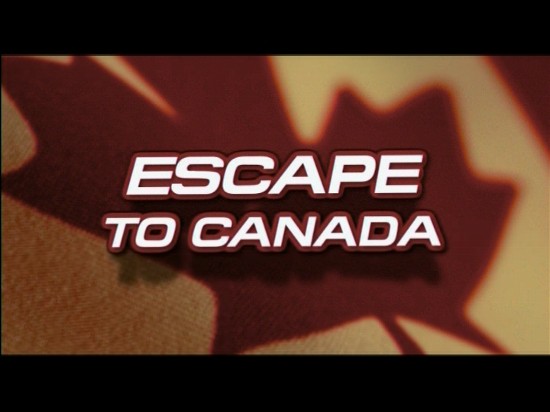 (aka "Land of the Freer" )
directed by Albert Nerenberg
Canada 2005
Ever since I went to the Toronto International Film Festival last year, I've entertained dreams of escaping to Canada. Albert Nerenberg's documentary/promotional video explains why you should want to as well. Provided that you are a gay-rights lovin', pot-smokin' liberal.

As Ann Coulter says in a Fox clip early in the film: "Canada has become trouble recently." Boy has it. In the summer of 2002, Canadians moved to legalize both marijuana and gay marriage, the very thought of which surely has Jerry Falwell spinning in his grave. Nerenberg showers most of his attention on the marijuana movement, as spearheaded by the Prince of Pot, Marc Emery, who blithely smokes giant doobies that once served as props on Cheech and Chong movies right out in front of government buildings, daring them to arrest him. At first, he and his reefer madness army meet with success as first medical marijuana and then regular old MJ are legalize… sort of. Actually, the legal status remains in doubt and then meets with a major reversal just a few years later.

According to the film, "We're not Americans" is a major part of the Canadian identity; it's certainly a major part of the documentary. Nerenberg contrasts divergent movements in these two countries who were once so close (were they really?). As Dubyah moves to alter the constitution to deny gay men and women the right to marry, chicks and dudes are getting all kissy-face with each other in Canada, and nobody seems to really mind.

One striking difference for me as an American is seeing Canadian politicians speak so freely of their drug use and their support of it. One politician laughs: "I tried it once, but I did not exhale." Meanwhile, a politician in British Columbia touts "B.C. Bud" as the province's number one cash crop.

Nerenberg's documentary is both a sincere ode and a tongue-in-cheek look at his home country: "America is the Eagle… We are the beaver!" There's quite a bit of redundancy in the film; either it was originally intended to be shown in two parts on television, or that thick haze in the editing room impaired everyone's short term memory. Nerenberg also briefly touches on the subject of American soldiers seeking asylum in Canada as they refuse to fight in Iraq, but the thread receives scant attention compared to the gay marriage and pot themes.

It's no masterpiece, but the film states its case for Canada as the world's "international freedom destination." Not to mention the nation with the highest density of Tim Horton's restaurants (or was that just Toronto?)

WARNING: Not intended to be viewed by Fox News fans.
Posters
Theatrical Release:
Reviews More Reviews DVD Reviews
DVD Review: The Disinformation Company - Region 0 - NTSC
Big thanks to Christopher Long for the Review!
DVD Box Cover

CLICK to order from:

Distribution

The Disinformation Company

Region 0 - NTSC

Runtime
1:20:57
Video

1.78:1 Original Aspect Ratio
Average Bitrate: 6.25 mb/s
NTSC 720x480 29.97 f/s

NOTE: The Vertical axis represents the bits transferred per second. The Horizontal is the time in minutes.

Bitrate

Audio
English (DD 2.0)
Subtitles
none
Features
Release Information:
Studio: The Disinformation Company

Aspect Ratio:
Widescreen letterboxed - 1.78:1

Edition Details:
• Deleted Scenes

DVD Release Date: 4/17/2007

Chapters 11
Comments:

This isn't the world's greatest transfer, but then again the source material was never going to challenge for any cinematography awards. The non-progressive transfer shows plenty of instances of combing, and the general look is a little on the drab side, though it doesn't really spoil the film all that much.

There are ten rather eclectic extras, totaling approx. 100 minutes running time, ranging from video of the Vancouver mayor calling for legalization of marijuana to interviews with Marc Emery and, of course, Tommy Chong. Which reminds me that, after his recent prison term, Chong penned one of the funniest lyrics I have ever heard (sung to the tune of Folsom Prison Blues: "Well, I hear that train a comin', it's a rollin' round the bend. I hope it's full of women, 'cause I'm tired of fucking men."
---

DVD Menus
---
Screen Captures
DONATIONS Keep DVDBeaver alive and advertisement free:
Mail cheques, money orders, cash to: or CLICK PayPal logo to donate!
Thank You!