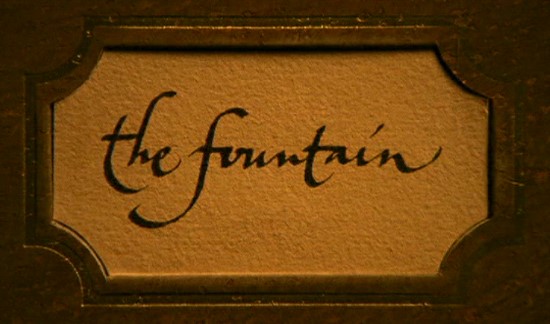 (aka 'The Last Man')
Directed by Darren Aronofsky
USA
2006
Only a truly gifted director can make a movie as flamboyantly bad as The Fountain, Darren Aronofsky's trippy, swooning triptych about a millennium-spanning quest for the secret of immortality. Originally planned as an expensive CGI epic to star Brad Pitt and Cate Blanchett, the film was scuttled several years ago when Pitt, perhaps belatedly recognizing its toxic pretentiousness, abruptly bailed just weeks before principal photography. Aronofsky persisted, though, in the time-honored tradition of filmmakers obsessed with foolhardy, grandiose dream projects, retooling the script slightly and scaling the budget down to a level commensurate with his second-string replacement cast, Hugh Jackman and Rachel Weisz. The result, I must say, doesn't look terribly compromised — at the very least, it's plenty ponderous enough to confirm one's reluctant suspicion that some visions are better left unrealized.

Cross-cutting furiously from distant past to cutting-edge present to hallucinatory future, The Fountain subscribes to a notion of eternal recurrence so clumsily adolescent that its two main characters are assigned variations on the same name in each era. (To be fair, Aronofsky does suggest that two of the stories may simply be wish-fulfillment projections of the third.) Five hundred years ago, Queen Isabel (Weisz) sends a conquistador named Tomas (Jackman) on a sacred quest to locate the Tree of Life, the sap of which is said to have miraculous powers. In the present day, Tom (still Jackman), a research scientist, is desperate to synthesize his own miracle, as his beloved wife Izzy (Weisz) fights a losing battle with a brain tumor. And then there's bald yoga master Tommy (guess who), who, five centuries hence, whizzes through space-time in a translucent bubble that resembles a snow-globe diorama of the Garden of Eden.
Excerpt from Mike D'Angelo's review at The Nerve located HERE
Posters
Theatrical Release: September 4th, 2006 - Venice Film Festival
Reviews More Reviews DVD Reviews
DVD Review: Warner - Region 1 - NTSC
DVD Box Cover

CLICK to order from:

Distribution
Warner Home Video - Region 1 - NTSC
Runtime
1:36:24
Video
1.78:1 Aspect Ratio
Average Bitrate: 6.51 mb/s
NTSC 720x480 29.97 f/s

NOTE: The Vertical axis represents the bits transferred per second. The Horizontal is the time in minutes.

Bitrate:

Audio
English (Dolby Digital 5.1), DUB: French (Dolby Digital 5.1)
Subtitles
English, French, Spanish, None
Features

Release Information:
Studio: Warner Home Video

Aspect Ratio:
Original Aspect Ratio 1.78:1

Edition Details:

• Inside the Fountain: Death and Rebirth--gallery of six featurettes exploring the movie's various periods and settings
• Theatrical trailer

DVD Release Date: May 15th, 2007
Keep Case
Chapters: 23
Comments:

Although I wasn't as harsh in my opinion of this film as Mike D'Angelo - I did find it a bit of a mish-mash and it further supports my contention that Hugh Jackman is not leading man material. I loved him as Wolverine but I think he has trouble carrying a film. Regardless some may enjoy this Aronofsky effort - I wasn't bored as much as left kind of indifferent at the conclusion.

There are a lot of intentional color shifts and camera effects used in The Fountain and I think that Warner have transported them to DVD quite effectively. It is anamorphic, progressive, dual-layered and as detailed as any modern film-to-DVD should look. It appears as strong as one might expect from such a modern transfer. There are optional English, Spanish or French subtitles and a French DUB also in 5.1 - like the main track. There is some Maya spoken with non-removable English subtitles. Overall the soundtrack is strong being quite dynamic and intense at times. I don't expect to find any manipulation and the image is briskly clean and free of annoying artifacts.

There is an interesting supplements featurette divided into 6 segments - each covering the films various time frames and environments. Aronofsky gives thought here and it is interesting to hear the directions he was intending. It ends up being about 1/2 an hour. There is also a theatrical trailer.

I won't recommend the film, but those keen on Aronofsky's work might get some entertainment out of it. The DVD is quite adept but a director commentary might have improved appreciation. Surely it was do-able.
---

DVD Menus
---
Subtitle Sample
Screen Captures