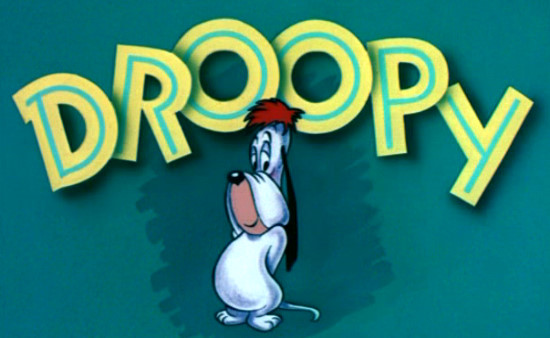 (aka 'Tex Avery's Droopy - The Complete Theatrical Collection')
Directed by Tex Avery (and Michael Lah)
USA 19
43-58
Tex Avery was a descendant of Judge Roy Bean and Daniel Boone, but all his grandma ever told him about it was "Don't ever mention you are kin to Roy Bean. He's a no good skunk!!" After graduating from North Dallas High School in 1927, Avery moved to Southern California in 1929 and got a job in the harbor. After showing samples of his artwork he got a job at Walter Lantz Studios in 1929 as animator. His contributions during the years at Walter Lantz Studios were minor. From 1936 to 1941 he worked as supervisor - another word for cartoon director - of some 60 titles in the Merrie Melodies and Looney Tunes series for Leon Schlesinger at Warner's. From 1942 to 1954 Avery worked as director of cartoons at MGM. He was responsible for practically every MGM Cartoon that did not feature Tom and Jerry. In 1955 he did four cartoons, again for Walter Lantz Studios, before leaving the field for advertising, where, alas, his unique sense of humor went largely unappreciated, but primarily because commercials are not credited for the viewing audience (perhaps his best known commercial work was for Raid bug spray, which always featured the cartoon bugs screaming "Raid!" before getting smashed.)

Among the many cartoon characters Avery created are Daffy Duck, Droopy, Screwy Squirrel and Chilly Willy. Tex Avery is also credited with creating the basic personality of Bugs Bunny. He was the one who coined the phrase "What's up, Doc?"
Excerpt from IMdb located HERE
***
Droopy, a detective basset hound, lulls the bad guys into a false sense of security by acting slow and dumb when in actual fact he is a genius. The shrewd Droopy always outwits his enemies! Droopy Dog was a low-key animated movie character created by Tex Avery at Metro-Goldwyn-Mayer in 1943, this mournful deadpan witty Basset hound detective who spoke in a jowly monotone voice and, though he didn't look like much, was shrewd enough to outwit his enemies - the conniving Butch the Irish bulldog and the thieving, nasty wolf and English Fox.
Titles
Theatrical Release: 1943-1958
DVD Review: Warner (2-disc) - Region 1,2,3,4 - NTSC
DVD Box Cover

CLICK to order from:

Distribution
Warner Home Video - Region 1,2,3,4 - NTSC
Runtime
24 cartoons X approx. 7.5 minutes = about 3 hours
Video
1.33:1 and 2.35:1 Aspect Ratios
Average Bitrate: 6.2 mb/s
NTSC 720x480 29.97 f/s

NOTE: The Vertical axis represents the bits transferred per second. The Horizontal is the time in minutes.

Bitrate: Disc 1

Bitrate: Disc 2

Audio
English (Dolby Digital 2.0)
Subtitles
None
Features

Release Information:
Studio: Warner Home Video

Aspect Ratio:
Original Aspect Ratio 1.33:1 and

where 2.35:1

Edition Details:

• Featurette: Droopy and Friends - A Laugh Back (18:12)
• Doggone Gags (compilation) - (5:03)
• Trailers for three other animated Warner DVDs

DVD Release Date: May 15th, 2007
Clear plastic dual-digipak inside cardboard slipcase box
Chapters: 1 per cartoon
Comments:

I, of course, watched cartoons as a young boy but only in the past few years have I began to appreciate them in a more nostalgic sense. I've been quite fortunate to see a lot of Tex Avery's work and was very anxious to dig into this collection. Droopy doesn't disappoint. The package consists of 2 dual-layered, progressively transferred DVDs with the second disc containing 7 cartoons in their original 2.35 cinemascope ratio - 16 X 9 enhanced. Image quality looks acceptable - colors are quite bright and there is some minor damage marks and even some dullness in the very early features. Digital artifacts are present. Overall though I wasn't unhappy with the result. There are no subtitles. Warner gives a silly PC warning (shown below) at the start of both discs.

These cartons were almost exclusively used to be shown prior to theatrical films of the day... and I use vintage toons like these now for that same purpose. For the review I watched these pretty much straight through and I'll admit they began to grate on me a bit - I certainly don't recommend viewing in that manner. But as an adjunct to a film night with friends I find selections like these to be an enjoyable addition before the main feature.

Extras include two featurettes - Droopy and Friends - A Laugh Back runs almost 20 minutes and gives some decent background on Avery and the formulation of this brand of entertainment with interview input from some experts. Doggone Gags is s bit of filler with a rehash of someone's idea of the best gags in of the 24 cartoons. Also included are some trailers of other Warner cartoon DVDs.

With Droopy (without all the slapstick obviously) I see a bit of Columbo and who knows if the animated basset was a bit of inspiration for the Peter Falk character. I think this package is a great addition to any DVD library - especially for those keen on Tex Avery.
---

DVD Menus
---
Warning
Screen Captures