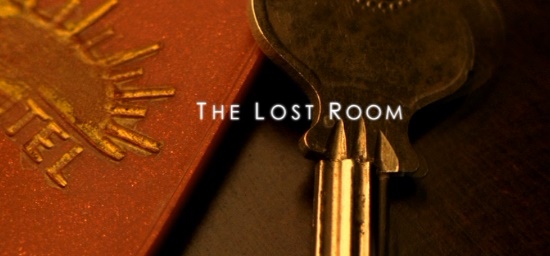 (aka 'Motel Man')
Directed by Craig R. Baxley and Michael W. Watkins
USA
2006
If you're a fan of NBC's 2006 hit show Heroes, chances are you'll get a similar kick out of The Lost Room, a three-part, 4.5-hour Sci-Fi Channel miniseries originally broadcast in December 2006. It's pure hokum (especially when compared to Heroes, which rises from the same creative zeitgeist), and not nearly as clever at it initially seems to be, but there's something undeniably compelling about its premise, which turns everyday objects from the Kennedy era into powerful talismans of supernatural force. The present-day story is rooted in a dark, terrible, and cosmically reverberant incident that occurred in a remote motel room in 1961. Now it's 45 years later, and Detective Joe Miller (Six Feet Under's Peter Krause) has acquired a motel-room key that turns any door into a portal to "the lost room," a kind of alternate-reality no-man's-land, where his young daughter Anna (Elle Fanning, a look-alike for her older sister Dakota) soon goes missing. In his quest to retrieve her, Miller attracts the dangerous attention of various secret factions (with names like The Order, The Legion, and The Collectors) in heated competition to locate the many objects that hold strange powers and could, when gathered together, yield amazing benefits or tear reality apart.

Beginning with Krause, superb casting makes The Lost Room constantly engaging, even when its logic borders on nonsensical. Clearly intended as a potential series, it leads to a let-down ending where too many questions remain unanswered, but getting there is a blast. And while the smart, beautiful Julianna Margulies seems cast adrift as Miller's bland love interest (and a member of the object-seeking underground), the story grows increasingly intriguing with the introduction of a wealthy father (Kevin Pollak) obsessed with curing his cancerous son with the objects; an unstable nebbish (Peter Jacobsen) who's been driven nearly mad by his visits to the lost room; a devious doctor (Dennis Christopher) who falls in with a group of religious zealots convinced that the lost room leads to God; and various supporting characters (including comedian/monologist Margaret Cho)...
Excerpt from Jeff Shannon's review at Amazon.com HERE
P
romo
Theatrical Release: December 11th, 2006
Reviews More Reviews DVD Reviews
DVD Review: Lions Gate (2-disc) - Region 1 - NTSC
DVD Box Cover

CLICK to order from:

Distribution
Lions Gate Home Video - Region 1 - NTSC
Runtime
6 episodes X 45 minutes each = 4.5 hours
Video
1.78:1 Aspect Ratio
Average Bitrate: 5.75 mb/s
NTSC 720x480 29.97 f/s

NOTE: The Vertical axis represents the bits transferred per second. The Horizontal is the time in minutes.

Bitrate:

Audio
English (Dolby Digital 5.1)
Subtitles
English, Spanish, None
Features

Release Information:
Studio: Lions Gate Home Video

Aspect Ratio:
Original Aspect Ratio 1.78:1

Edition Details:

• Featurette: 'Inside The Lost Room' (18:09)
• Promos for other TV series

DVD Release Date: April 3rd, 2007
Keep Case
Chapters: 5 X 6 episodes
Comments:

I think branding this as a kind of extended episode of "The Twilight Zone" or "The Outer Limits" is fairly accurate. If you can overcome the first hurdle and suspend your beliefs through some of the earlier fantastical narrative (that many of the characters seem to accept as 'matter of fact') it can be quite engaging and adventurous.

The two-disc set from Lions Gate is comprised of one dual-layered disc and one single layered. I'm unsure whether it was broadcast in widescreen and this DVD is 16X9 enhanced but is interlaced (possibly a function of the being shot in digital?). The image still looks quite good and the screen captures below give a good representation. Unusually (for TV to DVD) it offers subtitles - in both English and Spanish. A big negative vote for the DVD productions are the forced adverts-trailers (2 of which are rated R). Otherwise I would rate this as standard-competent.

There is an 18-minute supplement entitled "Inside the Lost Room" which interviews cast and crew who give their impressions about the mini-series and its production. If you enjoyed The X-Files - you will probably be very entertained by The Lost Room as well. It develops a strong sci-fi/adventure atmosphere, infusing eccentric characters that help support some fine television viewing if you are keen on this brand of the genre. I am.
---

DVD Menus
---
Subtitle Sample
Screen Captures