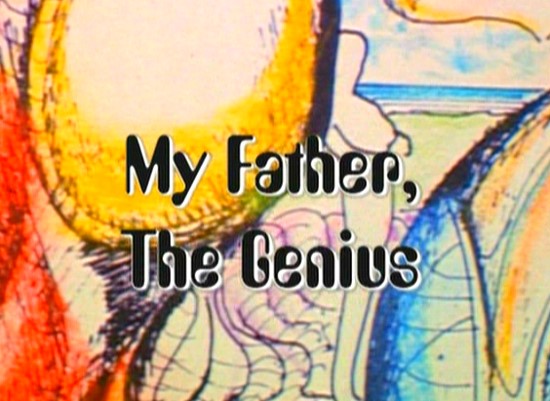 Directed by Lucia Small
USA 2002
When estranged father, dreamer, and visionary architect Glen Howard Small bequeaths his daughter the task of writing his biography, she answers instead with a provocative film about his precarious career and thorny private life. At 31, Glen Small, founder and faculty member of the internationally acclaimed Southern California Institute of Architecture, was a rising star. At 61, he can barely pay his bills.

In the tradition of My Architect and The Royal Tenenbaums, filmmaker Lucia Small digs deep to explore the delicate tension between her father's obligations to family and his life-long passion to "save the world through architecture."
****
Frustrated that society was nowhere near ready to accept this life-defining project, his quest "to save the world through architecture," Small managed to alienate himself not only from his family but from the entire profession. In amazing video footage of a 1976 panel discussion, we watch Small commit career suicide before our eyes, disparaging every other architect in sight including the great and powerful Frank Gehry, whom he kisses off as "a hustler and an opportunist." It goes without saying that Small's career never recovered. Designing actual spaces for real people - a perfectly respectable way of making a living which he calls "serving the rich" - seemed totally beyond his realm of thinking.

The women in his life are another issue the film tackles with unvarnished candor. Three ex-wives and three daughters all weigh in with complaints; Small mostly just seems befuddled by them, eventually sighing, "In general, I find women sort of controlling and yappy."

Yes, he's a bit of a bastard, and his filmmaking daughter would likely be the first to agree. But Glen Howard Small is also a hell of a character, worth every minute the film spends trying to come to terms with him. You end up really rooting for the old fool, and somehow he actually ends up making good on his own terms. He's bitter and he's crotchety and he may in fact not be the genius he thinks he is. He is a true American dreamer, though, and you gotta love that.
Excerpt from FilmThreat.com located HERE
Theatrical Release: January 14th, 2002 - Slamdance Film festival
Reviews More Reviews DVD Reviews
DVD Review: New Yorker - Region 1 - NTSC
DVD Box Cover

CLICK to order from:

Distribution
New Yorker Video - Region 1 - NTSC
Runtime
1:23:36
Video
1.33:1 Aspect Ratio
Average Bitrate: 5.2 mb/s
NTSC 720x480 29.97 f/s

NOTE: The Vertical axis represents the bits transferred per second. The Horizontal is the time in minutes.

Bitrate:

Audio
English (Dolby Digital 2.0)
Subtitles
None
Features

Release Information:
Studio: New Yorker Video

Aspect Ratio:
Original Aspect Ratio 1.33:1

Edition Details:

• Filmmaker and Father interview (14:30)
• 1970's Mini-Movie: Super-8 Biomorphic Biosphere film with commentary by architect Glen Small (16:44)
• Architects on Glen Small: Includes interview with 2005 Pritzker-winner Thom Mayne (20:56)
• Photo Gallery: Narrated slide-show
• Sundance Channelšs Aftereffect (4:41)
• Genius II Teaser

DVD Release Date: April 10th, 2007
Keep Case
Chapters: 12
Comments:

Personally I wasn't that keen on this film - mainly because I didn't like Glen Howard Small, who is portrayed, in my opinion, as an irresponsible malcontent, no genius - and one of the last people I would hire to design a house. He's a guy who believes he deserves recognition and is desperate for someone to care about his opinions.

The dual-layered New Yorker DVD looks about as good as the indie-based film probably does. It shows the same weaknesses as the source print with bleeding colors and minimal detail. There are no subtitles. Audio is unremarkable but close, I'll wager, to the way it was produced.

New Yorker have supplied some strong extras. A good father/daughter interview (15 minutes) that exposes a little more about Mr. Howard. A 'mini-movie' about Howard's Biomorphic Biosphere and another featurette on how three of his colleagues see him. There is a slideshow and a teaser for part 2 of this film (please don't). Although I was interested I couldn't help feeling that this movie was a con-job to help Howard, and his supportive family, out of the financial predicament that he has put them in. I honestly suspect that this aspect of the film was intentionally exposed - which does give the story credit. It has some value just don't expect too much from Howard's smarts - he is not that impressive as a supposed 'genius'.
---

DVD Menus
Screen Captures