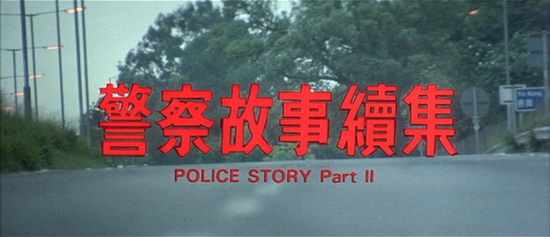 (aka "Ging Chaat Goo Si Juk Jaap" or "Jing Cha Gu Shi Xu Ji")
directed by Jackie Chan
Hong Kong 1988
Jackie Chan has appeared in numerous noteworthy movies, but he seems to be in top form when playing policemen. In a career filled with high points, the Police Story and Project A series feature most of Chan's greatest stunts and best acting. This is true even of the recent New Police Story (not connected to the other Police Story movies), which was a return to form for Chan even though he is no longer able to push his body to extreme limits. Chan is limited to playing a goof in the Rush Hour series and Shanghai Noon/Shanghai Knights, but he emotes mightily and credibly as a dedicated member of the Royal Hong Kong Police.

Police Story was defined by Chan's stunning leap onto a light pole in the middle of a department store. That one stunt is probably his greatest moment. With Police Story 2, Chan tried to top the first movie's department-store showdown with a brawl in an abandoned factory. However, since Chan has not yet found a way to top the light-pole stunt, the action is simply on par with what we saw with Police Story, though to be fair, the scale of destruction is impressive.

The movie's strength lies in the further development of Ka-kui (Chan) and May's (Maggie Cheung) relationship. Ka-kui is so dedicated to his job and so daring/reckless that May feels like an afterthought. Ka-kui and May nearly split, though when the villains kidnap May, Ka-kui finally learns how much she cares for him. Chan is at his best when his characters are forced into impossible situations; the sense of desperation and love that Chan and Cheung exhibit while being tortured is what makes the action so exciting. Because we genuinely care for characters that are simply trying to make a relationship work--something that we all do on a daily basis--we share Ka-kui and May's commitment to each other and to justice.
David McCoy
Posters
Theatrical Release: 20 August 1988
Reviews More Reviews DVD Reviews

DVD Comparison:
Genius Products/The Weinstein Company (Special Collector's Edition) - Region 1 - NTSC vs. Fortune Star (Police Story Series) - Region 0 - NTSC
Big thanks to David McCoy for all the Screen Caps!
(Genius Products/The Weinstein Company - Region 1 - NTSC - LEFT vs. Fortune Star (Police Story Series) - Region 0 - NTSC - RIGHT)
DVD Box Covers

Only available in the Police Story (4-disc) Trilogy Boxset

Thinking of buying from YesAsia? CLICK HERE and use THIS UPDATED BEAVER PAGE to source their very best...

Distribution

Genius Products/The Weinstein Company

Region 1 - NTSC

Fortune Star
Region 0 - NTSC
Runtime
122
121
Video

2.35:1 Original Aspect Ratio

16X9 enhanced
Average Bitrate: 5.78 mb/s
NTSC 720x480 29.97 f/s

2.35:1 Original Aspect Ratio

16X9 enhanced
Average Bitrate: 7.90 mb/s
NTSC 720x480 29.97 f/s

NOTE: The Vertical axis represents the bits transferred per second. The Horizontal is the time in minutes.

Bitrate:

Genius Products/The Weinstein Company

Bitrate:

Fortune Star (Police Story Series)

Audio
Dolby Digital 5.1 Cantonese Chinese, Dolby Digital 2.0 mono Cantonese Chinese, Dolby Digital 5.1 English

Dolby Digital 5.1 Cantonese Chinese, Dolby Digital 2.0 mono Cantonese Chinese, Dolby Digital 5.1 Mandarin Chinese, DTS 5.1 Cantonese Chinese

Subtitles
Optional English and Spanish
Optional Traditional Chinese, Simplified Chinese, English
Features
Release Information:
Studio: Genius Products/The Weinstein Company

Aspect Ratio:
Widescreen anamorphic - 2.35:1

Edition Details:
• audio commentary by Brett Ratner and Bey Logan
• Stunts Unlimited: A Tribute to the Legendary Police Story 2 Stunt Team
• Celebrating the Sequel: A Conversation With Brett Ratner and Bey Logan
• alternate outtakes
• Police Story 2 Location Guide
• trailers for Police Story 2 and other Dragon Dynasty releases

DVD Release Date: 13 Feb 2007
keepcase

Chapters 16

Release Information:
Studio: Fortune Star

Aspect Ratio:
Widescreen anamorphic - 2.35:1

Edition Details:
• trailers for the Police Story movies
• a photo gallery
• an interview with Benny Lai

DVD Release Date: 23 Sept 2004
custom DigiPak

Chapters 20
Comments:

Video:
The R1 Genius Products and R0 Fortune Star discs offer video transfers of similar quality. The picture is a tad soft and has slightly drained colors. The print/s that was/were used for the video transfers has/have several minor scratches and blemishes. Overall, the video is watchable but quite obviously nowhere near reference quality. The R0 Fortune Star DVD has slightly windowboxed video. The R1 release has a slight edge because it has more resolution than the windowboxed R0. (The video transfers appear to be progressive.)

Audio:
Both the R1 Genius Products and R0 Fortune Star have Dolby Digital 5.1 and DD 2.0 mono Cantonese Chinese tracks. The mono track is for purists and is a welcome presence, though low-frequency sounds are muddled and seem silly in this age. The 5.1 track is a simple expansion of the mono track, but the extra breathing room gives the dialogue and music space to be reproduced without distortion.

The R1 Genius disc also has a DD 5.1 English dub. The R0 Fortune disc also has DD 5.1 Mandarin Chinese dub and DTS 5.1 Cantonese Chinese tracks.

Extras:
R1 Genius
Surprisingly, the R1 disc has more and better extras than the Hong-Kong release. As annoying as he is, Brett Ratner doesn't do too much damage in the audio commentary since he is kept in check by Bey Logan, an expert on Hong-Kong cinema. Ratner and Logan also appear in "Celebrating the Sequel: A Conversation With Brett Ratner and Bey Logan", though the two don't appear together in this featurette. "Stunts Unlimited: A Tribute to the Legendary Police Story 2 Stunt Team" features interviews with several key stunt players. The "alternate" outtakes appear to be the same as what is now in the movie, though the end credits appear in the middle of the screen and obscure most of the flubs. Bey Logan shows up again in "Police Story 2 Location Guide", which takes viewers to where the movie was shot. Finally, there are trailers for Police Story 2 and other Dragon Dynasty releases.

R0 Fortune
There are trailers for the Police Story movies, a photo gallery, and an interview with Benny Lai, who played the deaf pyromaniac in Police Story 2.

Summary:
The Police Story Trilogy box set from Fortune Star is very nice and collects all three movies in one package, but those of you in the USA who haven't bought it yet should strongly consider the R1 releases from Genius Products/The Weinstein Company.

- David McCoy
---
DVD Menus
(Genius Products/The Weinstein Company - Region 1 - NTSC - LEFT vs. Fortune Star (Police Story Series) - Region 0 - NTSC - RIGHT)
| | |
| --- | --- |
| | |
| | |
| | |
| | |
| | |
| | |
---
Screen Captures
(Genius Products/The Weinstein Company - Region 1 - NTSC - TOP vs. Fortune Star (Police Story Series) - Region 0 - NTSC - BOTTOM)
---
(Genius Products/The Weinstein Company - Region 1 - NTSC - TOP vs. Fortune Star (Police Story Series) - Region 0 - NTSC - BOTTOM)
---
(Genius Products/The Weinstein Company - Region 1 - NTSC - TOP vs. Fortune Star (Police Story Series) - Region 0 - NTSC - BOTTOM)
---
(Genius Products/The Weinstein Company - Region 1 - NTSC - TOP vs. Fortune Star (Police Story Series) - Region 0 - NTSC - BOTTOM)
---
(Genius Products/The Weinstein Company - Region 1 - NTSC - TOP vs. Fortune Star (Police Story Series) - Region 0 - NTSC - BOTTOM)

---
Report Card:
| | |
| --- | --- |
| Image: | R1 Genius Products |
| Sound: | R0 Fortune Star |
| Extras: | R1 Genius Products |
| Menu: | R0 Fortune Star |