Review by Gary Tooze
Studio: Paramount
Discs:
Region: FREE
Feature Runtime: 2:06:39.592
Chapters: 34
Feature film disc size: 38,186,065,920 bytes
Disc Size: 42,557,483,538 bytes
Average bitrate 40.02 Mbps
One dual-layered Blu-ray
Case: Standard Blu-ray case
Release date: December 30th, 2008
Video:
Aspect ratio: 1.78:1
Resolution: 1080p
Video codec: MPEG-4 AVC Video
Audio:
Dolby TrueHD Audio English 3176 kbps 5.1 / 48 kHz / 3176 kbps / 24-bit (AC3 Core: 5.1 / 48
kHz / 640 kbps)
Dolby Digital Audio French 640 kbps 5.1 / 48 kHz / 640 kbps
Dolby Digital Audio Spanish 640 kbps 5.1 / 48 kHz / 640 kbps
Dolby Digital Audio English 192 kbps 2.0 / 48 kHz / 192 kbps

Subtitles:
Feature: English (SDH), English, French, Spanish, Portuguese and none

Supplements:
• Commentary by Director Jerry Zucker and writer Bruce Joel Rubin
•
Featurette: Ghost Stories: The Making of a Classic
•
Inside the Paranormal
•
Alchemy of a Love Scene
• Cinema's Great Romances
•
Theatrical Trailer in HD
•
Photo Gallery
Bitrate Graph: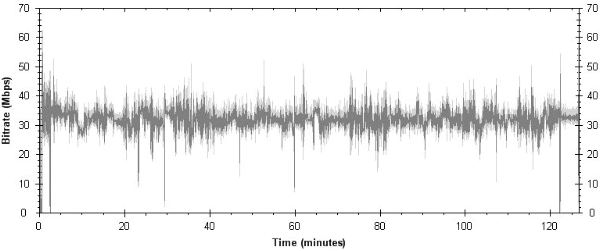 Product Description: Think of the most touching love story you ever saw. Think, too, of the brightest comedy, the most astonishing supernatural tale and a sleek mystery-thriller. Did you come up with four separate films? Or are you among the millions of fans and critics who've discovered Ghost, the #1 film of 1990? Ghost will surprise you, delight you, make you believe. Patrick Swayze plays a ghost who teams with a psychic (Academy Award winner Whoopi Goldberg) to uncover the truth behind his murder - and to rescue his sweetheart (Demi Moore) from a similar fate...
The Film:
''Ghost'' begins by presenting Sam Wheat, an improbably named investment banker (Mr. Swayze), and Molly Jensen, an up-and-coming artist (Ms. Moore), as an idyllically happy New York couple moving into a new loft. But an angel being hoisted into the loft's window, a news report of an airplane crash and even Molly's desire to see a performance of ''Macbeth'' - all these things foretell trouble. Sure enough, Sam and Molly are strolling amorously down a deserted street when a gun-toting mugger appears. Sam's number is up.

The film's attitude about ghosthood is so uncertain that it doesn't allow Sam much chance to adjust. He finds himself in a hospital emergency room, where a fellow ghost (Phil Leeds) talks like a borscht-belt comic; he wanders around dazedly trying to get used to the fact that he can walk through doors and turnstiles. He returns to Molly but can't communicate with her at all. He discovers a terrible secret about a colleague, even though the audience is already miles ahead of him. (For the forseeable future, it looks as though the mere sight of suspenders will be enough to seal a yuppie film character's fate.) Fortunately, the third of the film's three stars is Whoopi Goldberg, the one performer here who seems to have a clear idea of what she's up to. Dressed in a long teased wig and flowing gold robes, Ms. Goldberg plays a disreputable medium named Oda Mae Brown who is horrified to find one of her bogus seances interrupted by a real ghost. Oda Mae becomes Sam's means of communicating with the corporeal world, and Ms. Goldberg plays the character's amazement, irritation and great gift for back talk to the hilt. This is one of those rare occasions on which the uncategorizable Ms. Goldberg has found a film role that really suits her, and she makes the most of it...
Excerpt from Janet Maslin of the NY Times located HERE

Image : NOTE: The below Blu-ray captures were taken directly from the Blu-ray disc.
Almost 20-years old now but the Blu-ray
transfer holds up surprisingly well. While you can tell that this is not a modern film - visual attributes like detail and colors are occasionally excellent. Swayze has some close-ups that really show off the 1080P resolution. Demi Moore, on the other hand - either due to lighting or lens, seems to show a much softer visage in Ghost. The feature takes up almost 40 Gig on the dual-layered
Blu-ray
disc and the bitrate is very high (40 Mbps!) so I expect this looks as good as this film can. Flowers at the funeral and Whoopi's dresses display
some real vibrancy
and skin tones seem faithful without manipulations. If you are a fan of the film - you will be very pleased with this image quality and others may find it equally impressive. The
Blu-ray
transfer shouldn't deter anyone from indulging - Paramount have given us a solid image here. Very strong indeed.
CLICK EACH BLU-RAY CAPTURE TO SEE ALL IMAGES IN FULL 1920X1080 RESOLUTION
Audio & Music:
The True HD track is pretty good too. There are some more exciting moments but there is not an over-abundance that permeates to the rear speakers. I appreciate the subtle touches in the mix and those who know the film - it is quite a passive track. The popularity of the film gave The Righteous Brothers and songs like Unchained Melody and Since I Fell For You a resurgence and the TrueHD gives that music a wonderful clean tight presentation. The commentary is in 2.0 channel and there are 2 optional Foreign language 5.1 DUBs. There are optional subtitles offered in
English (SDH), French, Portuguese or Spanish
.
Extras:
I don't see anything new from beyond the Special Collector's Edition DVD: "This DVD edition includes an audio commentary by director Jerry Zucker and writer Bruce Joel Rubin. Ghost is a professional highpoint for both men (Rubin won an Oscar for Original Screenplay), so their comments are mostly fond recollections of a great time in their lives. "Ghost Stories: The Making of a Classic" is a retrospective featurette with vintage on-the-set video footage of rehearsals and downtime as well as interviews that were shot recently. "Inside the Paranormal" offers interviews with psychics and "mediums". "Alchemy of a Love Scene" focuses on Swayze and Moore fooling around with wet clay. "Cinema's Great Romances" uses the American Film Institute's "100 Great Movies" promotional campaign to advertise other love stories from Paramount. Finally, you get a photo gallery, the trailer for Ghost, and trailers for other Paramount titles. "
The trailer on the Blu-ray, however, is in HD!
Bottom line:
I think it's far too easy to critique the film on a number of 'logic-based' fronts - but if you suspend your disbelief for the story - it's not hard to understand the film's immense popularity.
As most know - this is not classic cinema by any definition I'd be aware, but it does seemed to have carved itself out a healthy niche and loyal fanbase. I was reminded very much of Anthony Minghella's
Truly Madly Deeply
- which I quite enjoyed. It's been out for long enough now that it will have it's detractors and those who love it for what it's worth. I won't say much more than I can see the appeal in the departments of romance and comedy. The
Blu-ray
does a stellar job of presenting
Ghost
in an extremely pleasing transfer (both video and audio). Supplements exist for those who are keen to indulge and whether luck or timing -
Ghost
touched a large number of film fans. The
Blu-ray
does its job - and then some.
Gary Tooze
December 12th, 2008