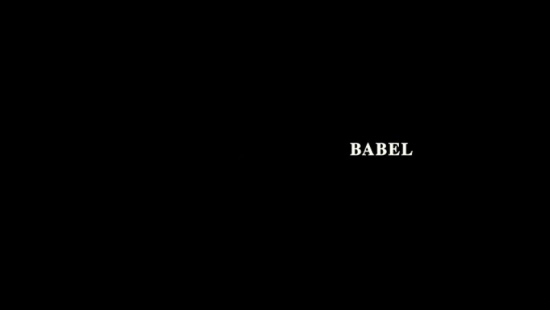 directed by Alejandro Gonzalez Inarritu
USA 2006
Human interconnectivity is a legitimate theme explored with subtlety, wit, and genuine insight by thoughtful directors such as Krzysztof Kieslowski (The Double Life of Veronique, Trois Couleurs) and Stephen Gaghan (Syriana). Unfortunately, this theme is also the driving factor of pandering, clichéd groan-inducers such as Traffic, Crash, and Babel. (I know that Gaghan also wrote Traffic, but Traffic is not as good as Syriana.) Movies like Traffic, Crash, and Babel are content with declaring that we are all related to each other somehow, and that's really all that they have to say about life. On the other hand, movies like The Double Life of Veronique, Trois Couleurs, and Syriana take note of human interconnectivity and move on to other serious matters.

Movies like Traffic, Crash, and Babel (ab)use weighty topics and turn them into bad jokes. Oh, look, the drug czar's daughter sells her body for drugs. Oh, look, the possibly racist white cop saves a black woman. Oh, look, a deaf girl is so alienated from the world that she forces her dentist and a policeman to touch her breasts and crotch. Just because a writer puts his characters through a lot of pain and grief doesn't mean that a movie is automatically "dramatic" or "important". Traffic, Crash, and Babel are what I would call "emotional porn". Oh, look how mightily they're suffering! All those tears are never-ending money shots.

It is especially galling to see a "high-minded" movie like Babel resort to sexist stereotypes about Japanese schoolgirls. Japanese schoolgirls don't wear skirts as short as the ones on display in this movie. Plus, is it really necessary to have Rinko Kikuchi standing naked on a high-rise balcony after already showing that her character feels cold standing naked indoors? Yes, I don't know Alejandro Gonzalez Inarritu personally, but it seems like the director is as much a product of Latin America's male-oriented machismo culture as the next Hispanic guy.

Other problems abound. Babel is one of those misguided "tourist" movies that tries to pretend otherwise. It is painfully apparent that Gonzalez does not even have an incipient understanding of Japan, Japanese culture, and Japanese people, but he tries to make it seem like his movie is "authentic". This is in contrast to the approach that Sofia Coppola took with Lost in Translation; Coppola made the movie from the perspective of an outsider, which she is, instead of pretending that she knew exactly what it was that makes the Japanese tick.

Like Traffic, Babel has nothing substantive to say about social issues. Other than indicating that border controls and illegal immigration are problems without easy solutions, all Gonzalez really does is try to make everyone feel bad about the way that Mexicans are treated by American authorities and the law. While building a wall and having vigilantes hunt down illegal crossers are bad ideas, it is actually sensible and not "wrong" for a country to try to safeguard its boundary lines.

As my friend and fellow DVD reviewer John J. Puccio wrote, the real theme of Babel is dumbness. Only dumb kids would fire a gun at a bus for no reason. Only dumb parents would go to an economically-depressed and socially-repressed country like Morocco to try to feel better about losing a child. Only dumb nannies would try to take other peoples' kids on cross-border trips. Only dumb girls would make crude sexual advances at inopportune times.

There is nothing wrong with making a movie about human interconnectivity. However, the approach taken by movies like Traffic, Crash, and Babel is, as according to my good friend John J. Puccio, dumbness.
Poster
Theatrical Release: 23 May 2006 (Cannes Film Festival
Reviews More Reviews DVD Reviews
DVD Review: Paramount - Region 1 - NTSC
Big thanks to Yunda Eddie Feng for the Review!
DVD Box Cover

CLICK to order from:

Distribution

Paramount

Region 1 - NTSC

Runtime
143 min
Video

1.85:1 Original Aspect Ratio

16X9 enhanced
Average Bitrate: 6.20 mb/s
NTSC 720x480 29.97 f/s

NOTE: The Vertical axis represents the bits transferred per second. The Horizontal is the time in minutes.

Bitrate

Audio
Dolby Digital 5.1 English, Dolby Digital 2.0 surround English, Dolby Digital 5.1 French
Subtitles
Optional English and Spanish
Features
Release Information:
Studio: Paramount

Aspect Ratio:
Widescreen anamorphic - 1.85:1

Edition Details:
• trailers for Babel and other movies

DVD Release Date: 20 Feb 2007
keepcase

Chapters 24
Comments:

Video:
The 1.85:1 anamorphic widescreen video transfer is basically free of source defects, and I didn't see any compression problems. On the whole, it looks like the moviemakers went with an over-lit/over-exposed look coupled with a lot of film grain, which is intentional but never harsh enough to wash out the images.

Audio:
The Dolby Digital 5.1 English track is uncluttered and subdued. While there are some ambient noises that fill the room, overall, the moviemakers opted for a "clean" presentation--perhaps to let the visuals and the story unravel with a minimum of competition from the auditory department. Still, impressive bass extensions are present during a nightclub sequence set in Tokyo, and the dialogue is always clear and intelligible (if you understand the language being spoken, that is).

You can watch the movie with DD 2.0 surround English and DD 5.1 French dub tracks. Optional English and Spanish subtitles as well as optional English closed captions support the audio. Optional subtitles (not burned-in ones) are used for non-English passages.

(In this instance, "English" refers to the characters speaking their native languages. "French" refers to all of the characters being dubbed in French.)

Extras:
All you get are trailers for Babel and other movies.

--Miscellaneous--
There is nothing inside the keepcase other than the DVD itself.
---

DVD Menus

---
Screen Captures
DVD Box Cover

CLICK to order from:

Distribution

Paramount

Region 1 - NTSC